Bihar Political Crisis: As Nitish returns to NDA fold, a flashback of all those times Narendra Modi and JD(U) chief sniped at each other
Even as Kumar is occupied parting ways with the Mahagathbandhan, the fact that BJP and JD(U) have been at loggerheads for a while cannot be overlooked.
Narendra Modi hailed Nitish Kumar on Wednesday immediately after the latter announced his resignation as the Chief Minister of Bihar. Modi tweeted: "Congratulations! Nitish Kumar for joining the fight against corruption."
Modi said that 1.25 crore people welcomed Kumar's decision and said that it was "the need of the hour to rise above political differences" and fight corruption.
But even as Kumar parted ways with the Mahagathbandhan and called his move as that in the interest of the state, the fact that BJP and JD(U) have been at loggerheads for a while cannot be overlooked.
Kumar's JD(U) broke a 17-year alliance with the BJP in June 2013 after the party appointed Modi as the chief of election campaign for BJP's 2014 Lok Sabha elections. After that, Kumar and Modi continued to hold grudge and often targeted each other at public rallies. On similar lines, JD(U)'s view pertaining to BJP, and vice versa, also kept fluctuating after the end of alliance.
Days after BJP revealed Modi as its prime ministerial candidate, speaking on the 2013 Muzaffarnagar riots, Kumar had said, "To govern a country like India, you have to take everyone along; sometimes you will have to wear a topi and sometimes tilak (kabhi topi bhi pehenni padhegi, kabhi tilak bhi lagana padega)," according to The Times of India.  This was seen as a dig at Modi, who had, in 2011, refused to wear s skull cap offered by a Muslim cleric during his sadbhavna fast.
Modi's attack on JD(U)
Attacking the JD(U)-RJD alliance, Modi had dubbed RJD as "Rozana Jungle Raj ka Darr" in July 2015. Modi had then also said that there was something wrong with Kumar's "political DNA".
Modi's address received criticism as JD(U) leader KC Tyagi said, "Aisa laga jaise koi Nitish Kumar se badla lene ki icchha se aaya hua hai. Mujhe unke bhaashan se niraasha hui. PM ke mooh se jaati ki baaten achi nahi lagti. Jis tarah se unhone yadhvansh ka haavala deke Lalu ji ka zikra kiya, ye kisi desh ke shaaleen Pradhaanmantri ko shobha nahi deta. (It looked like the prime minister was in Bihar to malign Kumar. This is vendetta politics and it doesn't suit a prime minister of a country. I was disappointed.)"
Ahead of the Bihar Assembly polls, Kumar had called the RSS the BJP's ideological mentor. "What is the power of the BJP in front of the RSS… the RSS is like the Supreme Court of the BJP and now they seek to instal an extra-constitutional body to review reservation," he was quoted as saying by The Hindu.
In November the same year, Modi had also accused Kumar and RJD supremo Lalu Prasad of jointly demanding a review of the policy to provide for religion-based reservation in 2005. While addressing poll rallies for the last phase of the Bihar polls, he launched a fresh attack against the two, saying 'jungle raj' now had a twin brother in 'jantar-mantar' (black magic), and together the two will "spell doom" for the state.  He also criticised Kumar for meeting a tantrik, saying that he was resorting to "black magic as he does not believe in democracy".
JD(U)'s demand for Sangh-free India
On several occasions,  Kumar called for a Sangh-Mukt Bharat in 2016. " To make India Sangh-free, all parties must come together(Sangh-mukt Bharat banane ke liye sabhi gair BJP parties ko ek hona hoga (to usher in a Sangh-free India all non-BJP parties have to come together)," the new JD(U) chief said at the 'Advantage Conclave', reported The Hindu.
Days after supporting Modi's demonetisation move, Kumar met Hardik Patel, the leader of the quota agitation for Patidars — traditional BJP supporters who are currently at odds with the party. Had decided on a slogan: "Modi harao, desh bachao (Vote out Modi, save the nation)," according to NDTV.
Switching positions
In May 2017, Kumar met Sonia Gandhi to discuss the need for forging unity among the Opposition parties to take on the BJP-led NDA.
However, he kept changing his views on Modi. Nitish had in May also said that he was not as capable as Modi, and that he had no naitonal ambitions. Nitish later skipped Sonia Gandhi's luncheon held particularly in the context of 2017 presidential polls, and instead met Modi a day later.
However, days before International Day of Yoga, Kumar backed out from extending support to Modi's campaign and dubbed the event a "publicity stunt", according to India Today.
In June, JD(U) had slammed BJP for not addressing mob lynching issues, and for making cow the "national agenda" in a bid to polarise votes, India Today reported. However, in the same month BJP had come out to say Narendra Modi and Nitish Kumar had nothing but love for each other. BJP spokesperson GVL Narsimha Rao said, "The coalition in Bihar is riddled with internal contradictions. While there is a natural admiration between the prime minister and Nitish Kumar, the open attacks among the alliance partners signal a massive churn." But now that the JD(U) and BJP have planned to stitch an alliance in Bihar, their take on each other is at least not left to the imagination.
Follow Live updates on the Bihar political crisis
With inputs from PTI
Politics
The cadre has been camping at RLD chief Jayant Chaudhary's house in Delhi that a Jat leader should contest from Siwalkhas instead of SP candidate and former MLA Gulam Mohammad
India
As seen in Punjab, the Congress is brazenly undermining the office of the Prime Minister and by doing so, also damaging the integrity of our democratic institutions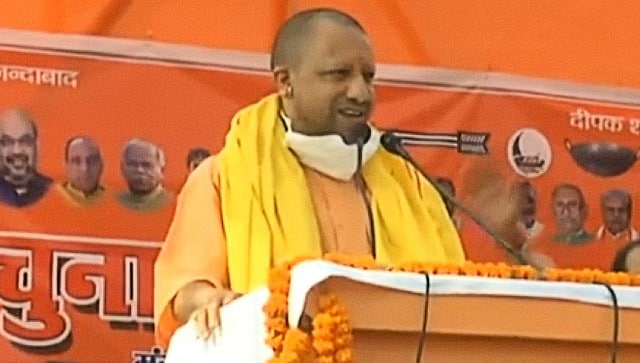 Politics
The BJP after forming government in Uttar Pradesh in 2017, has worked on Prime Minister Narendra Modi's mantra of 'Sabka Saath, Sabka Vikas', Adityanath said