Nitish Kumar sworn-in as Bihar CM for sixth time in 12 years: How drama unfolded in Bihar over 24 hours
Nitish Kumar says he has resigned as Chief Minister of Bihar citing irreconcilable differences with ally RJD.
Wednesday evening saw the metamorphosis of Bihar political crisis, with Nitish Kumar tendering his resignation merely an hour after Lalu Prasad Yadav reasserted that their was no bitterness in the alliance. In a span of less then five hours, Nitish desecrated the Bihar Grand Alliance, and made a dramatic return with the support of former ally, Bharatiya Janata Party. Here is a look back at last night's developments that say the political turf in Bihar change completely.
It all started after news channels reported that the strain in ties within the Mahagathbandhan has reached a point where the beleaguered allies were not even having a joint legislators meet ahead of the Bihar Assembly's Monsoon Session, which was scheduled to begin on Friday.
2.30 pm: Lalu Prasad Yadav calls a press conference to 'clear the air' over the grand alliance. Lalu blames media for kicking up a storm where there is none as he reasserts that all is well within the alliance. Lalu also reiterates his stand that Tejashwi Yadav's resignation is out of question.
3.45 pm: News breaks out that Bihar Governor Keshari Nath Tripathi, who was scheduled to leave for Kolkata in the evening, has decided to stay overnight in the Bihar capital. On any other day, the decision would have blended in the daily news flow, but given the politically charged situation in Bihar, speculations begins that the move could signal big change.
5.30 pm: Nitish Kumar chairs a meeting of all JD(U) MLAs to discuss the future of alliance in the wake of Lalu's fresh assertion that his son adn Bihar deputy chief minister will not resign. Nitish had been insisting that either RJD give a clarification on the CBI case against Tejashwi, regarding a land-for-contract scam, or Tejashwi should step down on moral grounds.
6.00 pm: It was shortly after 6.00 pm that Nitish Kumar was seen leaving 1 Anne Marg, and heading towards the Raj Bhawan, which is barely a kilometre away from the chief minister's official residence.
6.50 pm: Nitish Kumar says he has resigned as Chief Minister of Bihar citing irreconcilable differences with ally RJD. He said he "knocked every door" to salvage the alliance, but in vain. "In the circumstances obtaining in Bihar, it became difficult to run the grand alliance government," Nitish said.
07.09 pm: Prime Minister Narendra Modi tweets lauding Nitish Kumar for "joining the fight against corruption." "Congratulations! Mr Nitish Kumar for joining the fight against corruption. 1.25 crore people are welcoming and supporting his honesty," Modi said. "For the bright future of the country, and especially
Bihar, it is the need of the hour to rise above political differences and join the fight against corruption," the prime minister added.
07.20 pm: BJP MLAs in Bihar hold a meeting to discuss developments in the state politics.
07.24 pm: BJP's Parliamentary board meeting begins. Although the meeting of BJP central leadership in Delhi was pre-scheduled. In light of the developments in Bihar as we know it, the meeting holds importance.
07.35 pm:  Sushil Modi, Bihar BJP state unit chief says that the The BJP does not favour mid-term polls in Bihar and wants all legislators to complete their term.
07.49 pm: A stung Lalu, in a dramatic press conference claims that Nitish's decision to break the alliance is because he is facing trial for murdering a man in 1991. He accused Kumar of working slyly with the BJP-led NDA to destabilise the coalition.
08.22 pm:  BJP senior leader JP Nadda announces that a three-member panel is formed in Bihar to talk to BJP MLAs and report to leadership for final call on the Bihar political crisis.
08.25 pm: First reaction from Congress, the junior partner in the alliance. The party expressed disappointment over Nitish's resignation and said it will continue to strive to resolve the differences in the 'grand alliance.'  "Any differences of opinion that may have cropped up we will try and sort them out by speaking to each other in an amicable and cordial fashion," he said.
09.23 pm: BJP announces support for JD(U) and Nitish Kumar as chief minister. The party also adds that it will be part of the government.
09.50 pm: News breaks that Sushil Modi will be the deputy chief minister of Bihar and will take oath will Nitish on Thursday.
10.10 pm: BJP hands over the letter extending support to Nitish Kumar for forming the next government to Governor KN Tripathi.
10.26 pm: Bihar Governor KN Tripathi hospitalised in Patna, due to an ENT problem.
10.36 pm: News breaks that Nitish will be sworn-in as Bihar chief minister at 10.00 am on Thursday.
11.55 pm: Nitish Kumar reaches residence of Bihar governor to stake claim as Bihar's new chief minister.
12.03 am: Tejashwi Yadav seeks appointment with governor and says that he will also stake claim to form the next government.
01.29 am: Nitish's swearing-in ceremony preponed to Thursday, 10.oo am from 5.00 pm.
2.30 am: Tejashwi Yadav marches to the governor's house. The RJP leader requests the governor to postpone the oath-taking ceremon but draws a blank.   "RJD being the single largest party should have been invited to form the government. We are taking legal advice and will move court against the governor's decision," he told reporters after the meeting. He described Kumar's resignation as a "pre-planned conspiracy" between the former and the NDA, and also questioned the advancing of the oath ceremony timing from 5 pm to 10 am.
03.00 am: Lalu Prasad Yadav says Nitish had "betrayed" him. He said that Nitish was afraid of his son Tejashwi's rise in politics.
9.00 am: Lalu postpones protest march to governor's house after Section 144 is imposed outside Raj Bhawan. RJD chief also appeals to supporters to maintain law and order across state as state-wide protests are planned across all RJD offices in Bihar.
10.00 am: Nitish takes oath as Chief Minister of Bihar; BJP's Sushil Modi  back as his deputy. News reports suggest that the BJP has handed over a list of 14 MLAs for ministerial posts. However, other ministers will take oath only after the trust vote, which is scheduled for Friday.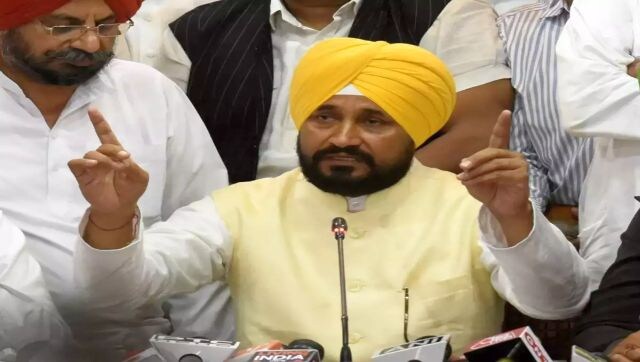 Politics
The Union home ministry has sought a report from the Punjab Government on the security breach during the Prime Minister's visit to Punjab on 5 January, 2022
India
Brahmadeo Mandal said he has used his Aadhaar and voter ID cards on different occasions to get himself registered and does not possess any system-generated vaccination certificate for any of the jabs
India
It has been alleged in the complaint that Mandal misled health workers on different dates and places, on the basis of different identity cards, and got 11 vaccine doses, breaking the rules of vaccination