Nitish Kumar resigns as Bihar chief minister citing 'irreconcilable differences' with ally RJD
Bihar Chief Minister Nitish Kumar resigned citing irreconcilable differences with ally RJD on the issue of corruption charges against his deputy Tejashwi Yadav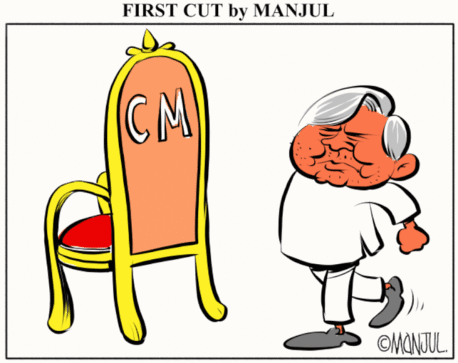 Bihar chief minister Nitish Kumar resigned on Wednesday, citing irreconcilable differences with ally RJD on the issue of corruption charges against his deputy Tejashwi Yadav."In the circumstances that prevail in Bihar, it became difficult to run the grand alliance government," Nitish told reporters outside Raj Bhavan after submitting his resignation to Governor Keshri Nath Tripathi. "I have resigned for the sake of Bihar," the Janata Dal-United leader added.
The JD(U) and the RJD, along with the Congress form the Mahagathbandhan in Bihar which is at present on shaky ground following Nitish's announcement. What makes matters worse for the coalition is that Nitish did not rule out taking BJP's support. Asked if he will now form a government with BJP's assistance, he said,"Whatever had to happen has happened. Now see what happens next."
Regarding the reason for his resignation, Nitish said, "I tried to work it out...I did not ask for anybody's resignation...I just asked Tejashwi to explain the charges of corruption." JD(U) had earlier placed a precondition of deputy chief minister Tejashwi's resignation for continuing the grand alliance. Ever since the CBI filed cases of corruption against Tejashwi, his father Lalu Prasad Yadav and his sister Misa Yadav, pressure had been mounting on Nitish to sack Tejashwi.
The sudden development throws the politics of Bihar into chaos with no party having a majority in the 243-member Assembly. According to IANS, Nitish's JD(U) has 71 seats, while RJD headed by Lalu, has 80. The BJP has 53. Nitish, who led the grand alliance that also included the Congress to a stunning victory, was sworn in on 20 November, 2015.
Just a few weeks ago, the JD(U) chief had played down the rift in the Mahagathbandhan. "In 2015 Bihar election, Mahagathbandhan was strong, and it will continue to be so," Nitish had said. But he was also critical of the Congress in the same meeting, saying that Congress is responsible for the current mess in the Opposition, adding that the "idea of a Sangh-mukt Bharat cannot fructify without taking all Opposition parties into confidence." Tensions have been high ever since.
Bihar BJP chief Sushil Kumar Modi reacted to the matter, saying that the party was "not in favour of mid-term elections in Bihar." According to ANI, he said that a three-member committee has been constituted for making the future plan of action. Taking a jab at Lalu, he said, "We are happy that Bihar chief minister didn't compromise on the issue of corruption and did not kneel down before RJD."
#WATCH Live: BJP's Sushil Modi addresses the media in Patna. https://t.co/B5PerarRVg

— ANI (@ANI_news) July 26, 2017
Prime Minister Narendra Modi was quick to welcome the development, saying in doing so he has joined the fight against corruption. "Many congratulations to Nitish Kumar for joining the fight against corruption. 125 crore citizens of the country welcome and support this honest move," he tweeted. "It is the need of the hour to rise above political differences for the bright future of Bihar and unite in the fight against corruption," he added.
भ्रष्टाचार के ख़िलाफ़ लड़ाई में जुड़ने के लिए नीतीश कुमार जी को बहुत-बहुत बधाई।
सवा सौ करोड़ नागरिक ईमानदारी का स्वागत और समर्थन कर रहे हैं

— Narendra Modi (@narendramodi) July 26, 2017
देश के, विशेष रूप से बिहार के उज्जवल भविष्य के लिए राजनीतिक मतभेदों से ऊपर उठकर भ्रष्टाचार के ख़िलाफ़ एक होकर लड़ना,आज देश और समय की माँग है

— Narendra Modi (@narendramodi) July 26, 2017
Lalu also addressed the media at his residence in Patna about the development. He claimed that Nitish didn't ask for any resignation. "I still have chara ghotala case against me. There is court conviction in the case, and an appeal has been made. Nitish knew about the corruption allegations against me," he said. Bashing the leader, Lalu added, "Nitish knew that he is accused of section 302 and 306 against him, one of India's chief ministers is the main accused in murder and arms case."
#WATCH Live from Bihar: Lalu Yadav addresses the media at his residence in Patna. https://t.co/kXXx0iWb9z

— ANI (@ANI_news) July 26, 2017
He also claimed that Nitish was "involved" with BJP and RSS.
Ye (Nitish Kumar) mile hue hain BJP, RSS se. Kya setting hai, PM Modi turant tweet kar diye, Nitish Kumar ko badhaai de diye: Lalu Yadav pic.twitter.com/u6GDQF2XaS

— ANI (@ANI_news) July 26, 2017
ANI reports that Nitish had not informed Rahul Gandhi about his decision to resign. The report further adds that the General Secretary of AICC, CP Joshi, was informed at the governor's house and he had asked the JD (U) to wait before making the decision. Joshi wanted to have a with Congress president Sonia Gandhi and vice-president Rahul, but Nitish made the announcement before they could be informed.
CP Joshi was informed at the Guv's house, he asked Kumar to wait. Joshi said he'll get back after a word with RG & Sonia Gandhi: Sources

— ANI (@ANI_news) July 26, 2017
As of now, Congress expressed disappointment over the resignation of Nitish Kumar as Bihar chief minister and said it will continue to strive to resolve the differences in the grand alliance. Congress chief spokesperson Randeep Surjewala said the grand alliance was given a mandate for five years and the Congress will strive to respect that.
With inputs from agencies.
India
It has been alleged in the complaint that Mandal misled health workers on different dates and places, on the basis of different identity cards, and got 11 vaccine doses, breaking the rules of vaccination
Politics
Rashmi Varma had made her debut in 2014 when she retained Narkatiaganj for the party in a by-election
India
The Bihar capital had 1,407 new victims of the dreaded virus out of 2,379 cases reported in the entire state on 5 January