Nitish Kumar quits Mahagathbandhan: Sacrificing secularism for clean governance is just myopic
Bihar CM Nitish Kumar's decision to switch from Grand Alliance to NDA has come to signify to many the primacy of anti-corruption over secularism.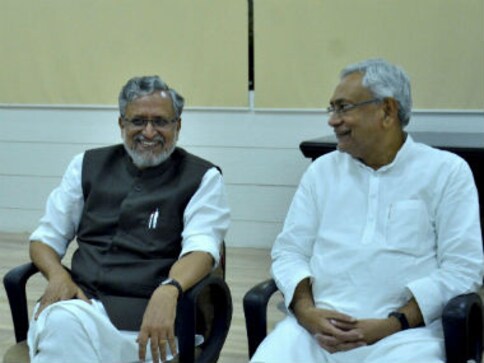 Bihar chief minister Nitish Kumar's decision to switch from the Grand Alliance to the NDA has come to signify to many the primacy of anti-corruption over secularism in Indian polity. It has inspired them to conclude that in the India of 2017, secularism is seen to have lesser importance, even to the point of becoming irrelevant, than what it was, say, even three decades ago. This stream of thought is evident in the responses of readers to my article.
Against the backdrop of Bihar, it is pertinent to ask:
What kind of political consciousness demands we choose between clean governance and secularism or, for that matter, between communalism and corruption? Is this a justifiable choice? If yes, who are the people who assign infinitely greater importance to one over the other, and why?
The Indian version of secularism, unlike the European one, demands the Indian state must pay equal respect to all religions. It has triggered competition among groups to pressure the Indian state to accord greater respect to their religion.
However, this competition has certainly degenerated over the last three years, evident in a series of mob lynchings over the cow and consumption of beef. People sporting markers of religious identity are targeted. Inter-faith courtship is looked askance at, even inviting intimidation. In fact, the issue is now more about humanism than secularism.
Otherwise too, the pathology of communalism is reflected in the spree of rewriting textbooks, often taken by earlier regimes too, to promote their own ideologies. Nevertheless, it does not behove India to discard the principles of rationality and evidence in the endeavour of tailoring the production of knowledge.
Our credulity is indeed tested when it is claimed that Maharana Pratap vanquished Akbar in the battle of Haldighati. It is certainly a one-dimensional approach to history that ignores Aurangzeb supporting temples through land grants even as he destroyed some. It is undeniably ahistorical to claim that the discriminatory caste system emerged under Muslim rule, as so many Sangh ideologues insist.
Corruption in India has as long a history as the sharp contestation over secularism. Corruption mars governance, reduces state resources to waste, harasses people, thwarts competition for jobs, and impedes delivery of goods and services to the people. It skews, even subverts, anti-poverty programmes.
The menace of corruption makes us Indians praise any politician perceived to be clean or who takes a high moral ground on the issue of corruption, which has also become the symbol of degeneration of Indian polity.
But India can be cleansed through systemic changes, not through the intervention of an occasional politician who is billed as a paragon of moral rectitude.
This is because democracy in India has become a prohibitively expensive business. The sheer magnitude of finance required to fight, let alone win elections in India, has the political class taking recourse to black money. You have to be politically naïve or duplicitous to believe that the treasure-chest of any of the political parties is completely legit. This includes the national parties – the BJP and the Congress – and all state-based outfits, including the JD(U).
Given the erosion of our public life because of communalism and corruption, what makes people categorise one of the two as a bigger evil? The answer will vary from individual to individual, depending on the threat corruption and communalism pose to each personally.
For sure, the majoritarian violence, as seen in the spate of mob lynching, worries innumerable Hindus. But it is not hard to imagine why it should pose a greater existential threat to the religious minorities, particularly Muslims.
In India, there is no escaping your name. You may shave off your beard or stop wearing the skull cap or the scarf over your head, but a Muslim name is a giveaway to the person's religious identity.
No wonder, the mushrooming of vigilante groups has fanned the anxieties and fears of the religious minorities.
By contrast, the majoritarian violence has not yet grown to render Hindus vulnerable. Their names and religious markers are their protection, although a few Hindus holding an opinion or acting in contradiction to Hindutva have been lampooned, trolled and attacked. For a good many Hindus, therefore, corruption poses a greater problem than communalism, in the firing line of which they are largely not present.
No doubt, corruption affects Muslims as well, at times in combination with communalism. But corruption does not pose as acute an existential problem as communalism does. This is why a substantial percentage of Muslims will rally behind those who appear tainted as long as they are thought to be their saviour.
Having to pay bribe under a corrupt regime is preferable to feeling anxious whether you might be beaten by fellow passengers in a train only because you happen to be Muslim.
Likewise, a large segment of Hindus will tend to support a leader who appears clean or has no documented evidence of corruption against him or her. For them, Hindu communalism has little salience, but Muslim communalism does. It is seen as a threat to Hindus, to the nation. Beginning the Gujarat Assembly elections of 2002, a concerted attempt has been made to turn democratic battles into one between Hindus and Muslims. Of this, the most recent example is the 2017 Uttar Pradesh Assembly elections.
Muslims bear the brunt of Hindu communalism, but they also bear the burden of Muslim communalism, at times exaggerated, at times very true.
Obviously, both clean governance and secularism become slogans for consolidating vote-banks, as instruments of mobilisation. Many write-ups have pointed out that if Lalu is corrupt, then what about the Vyapam scam in Madhya Pradesh? This week, the 44th accused in the scam committed suicide. Others have died in what is called 'mysterious circumstances'. What about the land that BJP-ruled states gave to Baba Ramdev on hefty discounts that run into crores and crores of rupees, as Reuters pointed out recently?
These do not become headlines because the voters of the BJP, in an example of myopia, do not see it as threatening to their lives. They did not find it objectionable that Adityanath should become chief minister despite having made virulent, menacing remarks against Muslims, who, by contrast, take it as a dire symbol of the future awaiting them.
This is precisely why Nitish Kumar could so easily subvert the principle of secularism to his slogan of combating corruption. He knows that Hindus who support the BJP and even those who support the RJD and the Congress will not take to the streets against him for betraying the 2015 mandate. There will be protests here and there, but it will peter out. But the same Hindu supporters of the RJD – and perhaps in the changed circumstances, those of the Congress too – will vent fury should Kumar, say, seek to roll back reservations.
Sadly then, secularism and clean governance are political conveniences and tactics to win majorities – it all depends on which of the two is more politically advantageous at a given point in time.
This is the calculation that Kumar, rather cynically, made before switching from the Grand Alliance to the BJP.
(Ajaz Ashraf is a journalist in Delhi. His novel, The Hour Before Dawn, has as its backdrop the demolition of the Babri Masjid.)
World
The Russian defence ministry said Tuesday that its forces in eastern Ukraine had advanced to the border between Donetsk and Luhansk, the two Russian-speaking provinces where Moscow-backed separatists have been fighting Ukraine's army for eight years
Politics
Like the BJP, the Congress too just concluded a conclave of its senior leaders called 'Chintan Shivir'— coincidentally also in Rajasthan, at Udaipur
Politics
Under the Narendra Modi dispensation, performance and merit are fast replacing sycophancy and surname politics