Nitish Kumar's PM ambition could mark return of 'Jungle Raj' in Bihar
While Nitish more focused on campaigning outside Bihar, and building a secular coalition as an alternate to NDA, inside Bihar the Jungle Raj could come back
Six months ago, the slogan 'Bihar me bahar ho, phir se Nitise Kumar ho' caught the fancy of people. The stress on 'Nitise' had a touch of local lingo. Sushasan Babu's public image, Lalu Prasad Yadav's electoral might and the Congress' secular push proved to be an unbeatable combination.
Nitish had successfully countered BJP's political onslaught and the people believed that given a fresh five year term in office, he would bring his own version of achche din, or its poetic euphemism 'Bihar me bahar ho'.
But the turn of events in the last few months, more particularly in the last six days, has proved that different people have very different interpretations of his pre-poll catch phrase – with all its poetic euphemism – of "happy days are here again".
For Nitish Kumar, it meant that he could push his prime ministerial ambition more vigorously than ever, and for Lalu Prasad Yadav it meant that he could settle his two sons – Tej Pratap and Tejaswi – in politics and himself be a magnanimous power above.
For Congress, it meant that it could happily piggy-ride on the success wave, and for their muscular social constituents it meant that no one could overtake them in any way. If the rulers and their core constituents are happy, then who cares about the aam janata.
A humble journalist, Rajdev Rajan, bureau-chief Siwan region of the Hindi daily Dainik Hindustan was shot dead on Friday; two bullets pumped in his body, one in the head and one in his neck while he was coming back home from office.
It revived memories of the killing of former JNU Student Union President Chandrashekher Prasad in 1997, among several others. Though the persons behind his killing and the motive is unclear, the very fact that it happened in Siwan, that too to a working journalist has instantly generated a sense of fear in and around the region.
Siwan is known in Bihar for former RJD MP Mohammad Shahabuddin's notoriety and his uncontained reign of terror. He was convicted in several cases of heinous crime and is currently languishing in jail.
But that didn't stop the state Minority Welfare Minister Abdul Ghafoor and RJD's Raghunathpur MLA Harishankar Yadav from paying a courtesy visit to Shahabuddin in the Siwan jail.
The meeting took place over tea and snacks in the jailer's official chamber. A month later, in April, Lalu Yadav honourably rehabilitated Shahabuddin in politics as a national executive member of the ruling RJD.
Nitish Kumar's biggest USP – when he first came to power in 2005 – was his management of law and order. In fact, a decade ago, Nitish began to build his image as Sushasan Babu, following the arrest and speedy trial of Shahabuddin. It meant that the rule of law was in force in Bihar. A decade later, Nitish's USP – in his fifth term in the Chief Minister's office – lays tattered.
Since last week, when Rocky Yadav allegedly killed Aditya Sachdeva simply because he dared to overtake the ruling Janata Dal's (U) Manorama Devi's son, the unofficial slogan for Bihar (as coined by someone on social media in Bhojpuri) has become, "overtake mat kariha Bihar me na tah goli mar detava kapar me" (don't over take in Bihar, else a bullet will be shot in your head)".
Rocky Yadav, his notorious criminal father Bindi Yadav, his ruling party legislator mother Manorama Devi, his over one crore rupees worth Land Rover, guns and pistols, shoot at will tendency, etc have all come to symbolize the kick of power in the present Nitish-Lalu-Tejaswi rule in Bihar.
The message to aspiring teenagers, the youth and their hard-working parents is to remain in a perennial bow-and-behave mode if you want to live in the state, or else leave it to remain alive.
Those in small or big time business are dismissed as 'bania-baikal' by those bearing socially mightier surnames. How could a meagre Swift dare overtake the mighty Land Rover, in all its varied connotations?
Over a decade ago, when Sadhu Yadav and Subash Yadav ruled the roost in the Lalu-Rabri era, a large scale migration of the business community and of those in the upper castes took place. Once again, that kind of fear psychosis is thick in the air of Bihar.
Whether this marks the return of the 'Jungle Raj' is currently being debated. Long back, when the Jungle Raj charge was first levelled on him by the BJP-JD(U) combine, Lalu had laughed it off with a one liner borrowed from Shammi Kapoor's 1960s blockbuster Junglee: 'Chahe koi mujhe Jungle kahe, kanne do ji kahta rahe…'
This time around, when the Jungle Raj charge has returned, Nitish Kumar is busy pursuing his prime ministerial dream and Lalu Yadav is letting his son, Deputy Chief Minister Tejaswi, respond on his and Nitish's behalf.
Nitish is busy building a self-professed secular coalition and be its leader – an unannounced prime ministerial challenger to Narendra Modi in 2019. He has coined the phrase 'Sangh Mukt and Nasha Mukt Bharat', basically borrowing from Narendra Modi's 'Congress Mukt Bharat' phrase to realise his prime ministerial ambitions.
The series of recent incidents in Bihar – including those committed by ruling party leaders – is a clear indicator that Nitish has no problem with criminals, scamsters, casteists, and communalists just as long as they bring political dividend to him.
He is busy campaigning Nashabandi (prohibition) in UP and Jharkhand, hoping that in three years' time this would catapult him to the coveted corner office in South Bloc at Raisina Hills in New Delhi.
He has already been to Banaras – the prime minister's constituency – which is adjacent to Bihar. Little does he realise or is unmindful of the fact that his own legislators are high with liquor stored at their home.
His previous attempt at a grand merger of SP, RJD, INLD, JD(U), JD(S) and some other parties failed ahead of the Bihar assembly elections. His second attempt to make himself big by merging with RLD, JVM, JD(U), Apna Dal into Jan Vikas Party too has hit a rough patch. But nevertheless, he continues to persevere.
Nitish is a brave man – leader of the number two party in the state in a coalition of three, aspiring to emerge as the sole challenger to the incumbent prime minister. But in the process, the governance, once considered his forte has taken a hit.
The RJD has already pitched Raghuvansh Prasad Singh, its best face forward, to take on Nitish Kumar's "selfishness" and political ambitions. Singh blasted his policies and actions, while projecting himself as the leader of a possible anti-BJP front that is "weakening secular forces".
It's time that Nitish should remember his own words, spoken few years ago when Modi was yet to come up on the national radar, "Jo CM rahkar PM banne to khab dekhte hain won a PM bante hain na CM rah pate" (those who dream to become PM while occupying the CM position, end up losing CM's position).
While Nitish is more focused on campaigning outside Bihar, and building a secular coalition as an alternate to NDA, inside Bihar ally Tejaswi is fast catching up in stature.
India
The party has asked its workers across the country to facilitate COVID-19 vaccination drive on the birthday as part of its "Seva and Samarpan" campaign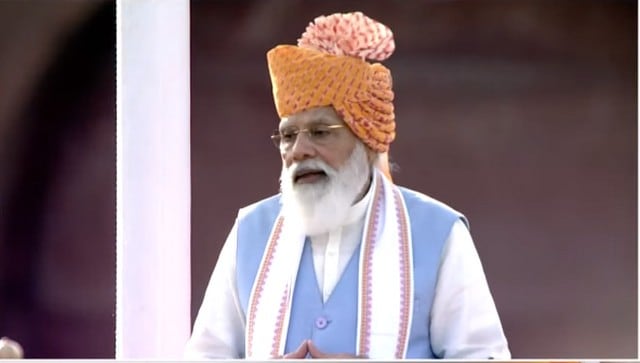 India
At the same time, Modi said, we should not forget the mantra of "Davai Bhi, Karai Bhi' (get vaccinated, strictly follow COVID protocols).'
India
The buildings will provide modern, secure and functional working spaces, the Prime Minister's Office said