Nitish Kumar expands Bihar Cabinet, 27 new ministers administered oath of office
Bihar chief minister Nitish Kumar expands his cabinet with 27 new ministers from JD(U), BJP and LJP sworn-in on Saturday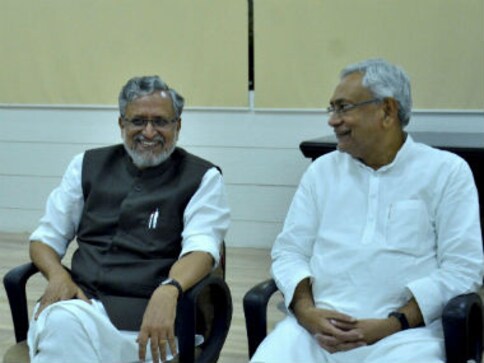 Bihar chief minister Nitish Kumar expanded his cabinet on Saturday with the induction of 27 new ministers from the JD(U), BJP and LJP, PTI reported.
BJP leaders Prem Kumar, Pramod Kumar and Nand Kishore Yadav, as well as Ramvilas Paswan's younger brother Pashupati Paras (LJP), are among those being sworn in. JD(U)'s Jay Kumar Singh and Krishna Nandan Prasad Verma are also among the new pack of ministers.
In the 243-member House, a maximum of 37 ministers are allowed as per the constitutional provisions.
As in the previous government, Nitish Kumar will continue to handle Home and Department of Personnel and Training.
JD(U)'s Jay Kumar Singh & Krishna Nandan Prasad Verma and BJP's Pramod Kumar take oath as ministers in #Bihar government. pic.twitter.com/twkIy2jEsD — ANI (@ANI_news) July 29, 2017
Bijendra Prasad Yadav, Prem Kumar and Rajiv Ranjan Singh take oath as ministers in #Bihar government. #NitishKumar pic.twitter.com/d2uGsy8fUL — ANI (@ANI_news) July 29, 2017
JD(U)'s Maheshwar Hazari & Shailesh Kumar and BJP's Vinod Narayan Jha take oath as ministers in #Bihar government. pic.twitter.com/4WzQKqfWep — ANI (@ANI_news) July 29, 2017
Here is a list of some of the ministers in the new Nitish Kumar government and the portfolios assigned to them:
Sushil Kumar Modi: Department of Finance, Commercial taxes, Forest, and Information Technology
Nand Kishore Yadav: Road Construction Department
Prem Kumar: Department of Agriculture
Lalan Singh: Department of Water Resources
Pramod Kumar: Tourism
Maheshwar Hajari: Building Construction Department
Shailesh Kumar: Rural Development Department
Suresh Sharma: Urban Development Department
Vijendra Yadav: Energy Department
Ramnarayan Mandal: Department of Revenue and Land Reforms
Jai Kumar: Department of Industries
Krishnandand Verma: Department of Education ​
However, no minister from Rashtriya Lok Samta Party (RLSP) and Hindustani Awam Morcha (HAM), the two other NDA allies, was inducted in the cabinet.
Governor Keshrinath Tripathi administered oath of office to 14 ministers from JD(U), 12 from BJP and one from LJP. Nitish Kumar chose not to drop any of the ministers who were part of his cabinet in the previous government. He added two more ministers from his party — Dinesh Chandra Yadav and Ramji Rshidev — in the new government.
Nitish's new cabinet is comparatively young in nature as 17 out of 27 ministers are below 60 years of age. Eight ministers are less than 50 years old. Rana Randheer Singh, BJP MLA from Madhuban, is the youngest minister in the new cabinet.
But no members from former chief minister Jeetan Ram Manjhi's party HAM and Upendra Kushwaha's RLSP were inducted in the cabinet. Manjhi declined the offer saying after serving as chief minister it was not proper for him to be a minister. However, despite being the only MLA from his party, he demanded three berths for his party which did not go down well with the BJP and JD(U).
It was earlier speculated that Kumar would induct 16-18 new ministers from the JD(U) and BJP-allied parties.
Nitish Kumar on Wednesday had resigned as the chief minister, dumping Grand Alliance partners Rashtriya Janata Dal and the Congress.
He again took oath as the chief minister with the support of the National Democratic Alliance on Thursday. Senior BJP leader Sushil Kumar Modi had also taken oath as the deputy chief minister on Thursday.
With inputs from agencies
India
Bhupesh Baghel's father Nand Kumar Baghel urged President Ram Nath Kovind to issue an order to conduct elections using ballot papers in place of EVMs in the larger interest of healthy democracy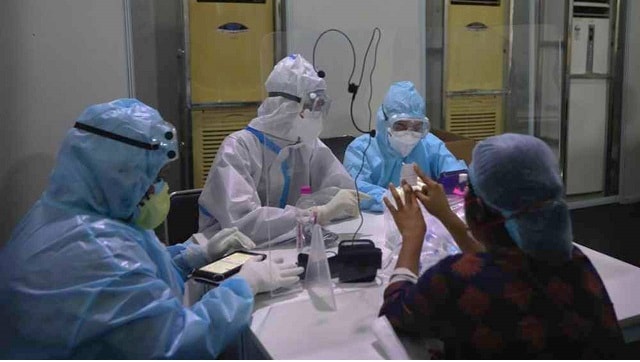 India
Earlier, Health Minister Anil Vij had said that Haryana was 'adversely affected' due to its vicinity to Delhi
India
Brahmadeo Mandal said he has used his Aadhaar and voter ID cards on different occasions to get himself registered and does not possess any system-generated vaccination certificate for any of the jabs