Nitish Kumar ends a 'silly phase' of his politics by kicking Lalu Prasad Yadav and kissing Narendra Modi
Bihar chief minister Nitish Kumar, who just ended his Mahagathbandhan with Lalu Prasad Yadav and Rahul Gandhi, and embraced the NDA led by Narendra Modi, is not given to talking with candour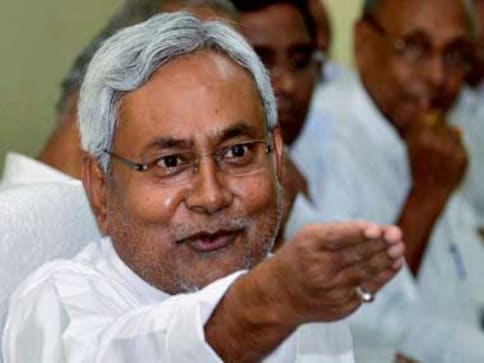 Bihar chief minister Nitish Kumar, who just ended his Mahagathbandhan with Lalu Prasad Yadav and Rahul Gandhi, and embraced the NDA led by Narendra Modi, is not given to talking with candour unlike his political forerunner, the late VP Singh. After rebelling against Rajiv Gandhi, Singh formed a coalition of parties known as the Jan Morcha (People's Front). The Jan Morcha — that later became the Janata Dal — catapulted Singh to the post of prime minister. But at the peak of his popularity, Singh called his political endeavor a "silly experiment".
Nitish will not say it publicly. Yet, in his private moments, he must be sharing his mentor's feelings. Since 2013, when he pulled out of the NDA because of Modi's rise in the BJP, to 26 July, 2017, when he decided to part company with Lalu and family, he must be counting this period as the 'silliest phase' of his political life. He made massive political miscalculations that made him stray in a direction in which he never wanted to go.
Before 2013, Nitish was enjoying a more than cosy relationship with the BJP leadership. He was adored and admired for his no-nonsense image and administrative efficiency right from the then prime minister Atal Bihari Vajpayee down to the last person in the BJP. In the context of Bihar politics, he came across as a leader whose writ ran more effectively in the BJP than any other leader of the state.
But Nitish chose to undo all that in 2013. Apparently, the chain of events that preceded 2013 overwhelmed him and prompted him to completely misread the situation. But the seeds of the blunder were sown much earlier, in 2010. A substantial amount of blame for Nitish entering the silly phase in 2013, lies in his erroneous reading of the 2010 Bihar Assembly verdict that brought back to power with a massive majority. Nitish interpreted this massive electoral victory as a gross endorsement of his line against Modi (he kept Modi at an arm's length and ensured that the BJP did not send him to Bihar for campaigning). Since the election result saw Lalu trounced so comprehensively, Nitish genuinely believed that he would be the new rallying point for Muslims in Bihar and through them, all over the country.
What appears to have led Nitish up the garden path was the goading by a section of BJP stalwarts who had tried to convince him that Modi would not be acceptable to the Sangh Parivar. Given the stature of LK Advani as tallest leader of the party and the fact that the top posts within the organisation were filled by his loyalists, Nitish had gained the impression that Modi would find resistance at every step of the way to Delhi's national politics. His resistance to Modi's emergence stemmed much from his own understanding of the BJP's internal dynamics and his proximity to that party than the ground realities. He did not see the ground shifting. That prompted him to harden his opposition a few degree more each time events took a turn to suggest the imminence of Modi's name as BJP's prime ministerial candidate.
In his understanding of Modi's emergence and the BJP's internal politics, Nitish seemed to be afflicted by limitations that restrict politics to a pure and simple caste calculus. He was given to believing that Modi — coming from an Other Backward Caste (OBC) from Gujarat — would hardly get any support from the Brahmin and upper caste-dominated leadership of the BJP. He had apparently over-relied on this assumption while charting his own political course. However, the Modi wave was so strong that it swept away all conventional political calculation to the great chagrin of Nitish.
After the 2014 Lok Sabha elections, Nitish was politically devastated in his state. His assumption that he would become the rallying point for Muslim votes because of his opposition to Modi, proved completely off the mark. Lalu emerged as a clear favourite of the Muslim-Yadav combine.
Nitish's blunders did not end with the 2014 trouncing. His resignation as the chief minister after the debacle was another miscalculation. He foisted Jitan Ram Manjhi on Bihar in one of his weakest moments. Within six months, Manjhi started challenging Nitish's authority and began charting out his own political course in order to marginalise the JD(U) chief's influence. Manjhi's removal that ensued after a bitter fight was something that was uncalled for.
But his most outlandish political experiment pertained to his tie up with Lalu's Rashtriya Janata Dal (RJD). Through decades of his political journey, Nitish had emerged as a sagacious and acceptable leader in sharp contrast to Lalu's uncouth and casteist political demeanour. While Lalu was accused of patronising criminals and the underworld, Nitish Kumar known to be incorruptible and fair.
His 2015 Mahagatbandhan with Lalu was a mismatch of epic proportions from the word go. Much as Nitish explained his alliance, he seemed to be at odds with himself.
What made the situation completely uncomfortable was the manner in which Lalu used his minions to take potshots at him. There were many private moments when Lalu approached senior BJP leaders and sought their help to topple the Nitish government. Nitish was quite conscious of Lalu's devious ways of getting back at him. But what got his goat was the manner in which gangster Shahabuddin was used to challenge Nitish's authority.
All this while there is little doubt that Nitish has been passing through the worst phase of his political life. With corruption cases staring at the entire Yadav clan and mounting and damning evidence emerging against the family, Nitish had no option but to end the 'silliest phase' of his political life. Nitish is fond of quoting Mahatma Gandhi in explaining his political positions. Gandhi never regarded consistency as virtue and never made a fetish of it. Similarly Nitish's inconsistency will be seen by history as correcting a monumental wrong.
Politics
The BJP has set up teams to supervise the on-the-ground campaigning as part of its strategy to reach out to voters ahead of the upcoming assembly polls.
Politics
Unlike many political heavyweights in Punjab, Bhagwant Mann has a very strong connection with the ground
Politics
The prime minister said that obstacles in the growth journey of the state have been removed and the next 25 years are the 'Amrit Kaal' of Manipur's development