Nitish Kumar calls for Cabinet meet: Fate of Bihar coalition govt likely to be decided on 26 July
Nitish Kumar's cabinet meeting in Patna on 26 July could turn out to be a crucial date in Bihar's political calendar, as Bihar chief minister is likely to make a decision on Lalu Prasad Yadav and family ahead of the Monsoon Session of state Assembly
Chief Minister Nitish Kumar's cabinet meeting in Patna on 26 July could turn out to be a crucial date in Bihar's political calendar. The date has assumed lot of significance, at least that's the way Janata Dal (United) insiders are viewing it.
A cabinet meet should otherwise not strike any alarm bell. In ordinary circumstances it's a routine weekly affair where the cabinet, chaired by the chief minister, meets to discuss and decide on various policy matters. Nitish usually meets his cabinet colleagues on Tuesday, but since he is going to be in New Delhi for the swearing in ceremony of President-elect Ramnath Kovind as the 14th President of India, the meeting has been scheduled on Wednesday and the official agenda is to deliberate on the list of business for the upcoming Monsoon Session of the Bihar Assembly, which begins on 28 July.
To follow live updates, click here.
But then these are not ordinary times in Bihar. The schism between ruling coalition partners — RJD and JD(U) — is growing by the day over corruption charges against both sons of Lalu Prasad Yadav — Deputy Chief Minister Tejashwi Yadav and cabinet minister Tej Pratap Yadav. JD(U) sources have been indicating that Nitish is in no mood to compromise on corruption issues and is not likely to strike any bargain with RJD over the matter. He is also not happy with Congress's (also part of the Bihar Mahagathbandhan) tacit support to Lalu and his family over corruption allegations.
A JD(U) leader said, "Congress' stony silence on the corruption issue has also to be noted. The party is neither concerned about corruption charges against its own chief minister in Himachal Pradesh, Vibhadra Singh nor alliance partner Lalu. Under these circumstances the business can't be as usual for us in the coalition. We can't put blinkers on our eyes. Nitish's stated policy on corruption is of zero tolerance."
Nitish is said to have reminded Rahul Gandhi whom he met recently in New Delhi about his draft ordinance-tearing act against the UPA government. In September 2013, Rahul had made a surprise appearance at a press conference at the Press Club in Delhi and trashed an ordinance which would have favoured the likes of Lalu even if they were convicted by a court of law. "I'll tell you what my opinion on the ordinance is. It's complete nonsense. It should be torn up and thrown away. That is my personal opinion," Rahul had then said.
Nitish was obviously insisting that the Congress vice-president takes a categorical stand on corruption charges against the RJD leaders. If one looks at it from another way, it would appear that Nitish was also forewarning Rahul that in case the alliance partners — RJD and Congress — didn't take required steps then the JD(U) should not be blamed for breaking the coalition.
The Opposition BJP has made it clear that it would take up Tejashwi's benami property and shell company charges in a big way and corner the Nitish government in the upcoming Monsoon session of the Bihar Assembly.
There is great deal of private talk in the informed circles of JD(U) in Bihar that Nitish might make a pre-emptive strike before the Monsoon Session of the Bihar Assembly, and it could be as early as on Wednesday when he chairs his cabinet meet.
On 16 June, 2013, after holding a cabinet meeting, Nitish had sacked all 11 BJP ministers from his government and urged the governor to convene a special session of the Assembly to prove his majority. By then JD(U)-BJP relations had ebbed — Nitish was uncomfortable with the advent of Narendra Modi on the national scene and BJP was peeved at Nitish's uncompromising stand on this new reality. The BJP ministers boycotted the cabinet meeting and Nitish retaliated by unilaterally sacking them. Then the JD(U) had 116 MLAs (only six short of majority mark), the BJP had 91, and the RJD had 22 in the 243-member Bihar Assembly.
Will July-end of 2017 find a parallel in June 2013? According to JD(U) sources things are moving fast in that direction. Nobody can say with surety as to how the future would unfold and when would Nitish pull the strings, but it is being suggested that he is in no way going back from his own words on corruption, and cause damage to his own image that he has earned through decades of hard work. Mark JD(U) spokesman Sanjay Singh's words: "The moment you all have been waiting for will arrive."
There could be two possibilities here: first, Nitish sacks Tejashwi and Tej Pratap the way he sacked BJP ministers? In past he has sacked four ministers on corruption and criminality charges. The question is if he sacks Lalu's political heir, will RJD continue supporting him?
Second, Nitish may write a fresh chapter by resigning himself? He is known for resigning if he is placed in adverse situations. He resigned as a railway minister after the Gaisal train accident in 1999, then as chief minister when he couldn't muster majority support in 2005, and again in May 2014, when JD(U) badly lost the parliamentary election. If he resigns now, for the third time as chief minister, the coalition government would automatically go. It will then unleash realignment of political forces in the state and at the Centre.
The 243-member Bihar Assembly has 80 MLAs from RJD, 71 from JD(U), 27 from Congress, 53 from BJP. Even if the RJD gets support of Congress it will be 15 short of the halfway mark. Meanwhile, the state unit of BJP has already declared that if needed it would extend outside support to Nitish.
According to sources in JD(U), senior leader Sharad Yadav is trying to play the peacemaker between Lalu and Nitish. He is of the opinion that the coalition must be saved at any cost. In fact, his views are similar to that of Congress and RJD. Two days ago Nitish drove to Sharad Yadav's residence in Delhi and it is not known what transpired there but it's assumed that this issue figured prominently in the discussion.
Nitish would be back in Delhi on Monday night and would be at the Rashtrapati Bhawan to witness the change of guard. He has excellent personal relations with outgoing president Pranab Mukherjee and incoming president Ramnath Kovind.
A day later on his return to Bihar, the scene of action would shift to Patna.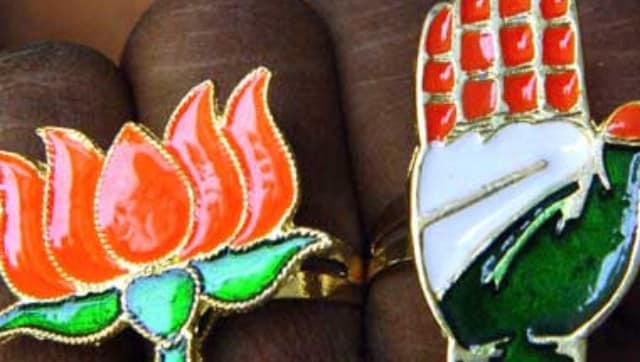 India
Cabinet minister Yashpal Arya and his MLA son Sanjiv Arya quit the BJP to join the Congress. MLA Rajkumar left the Congress to join the saffron party
India
Elections for the 403 Assembly constituencies in Uttar Pradesh will be held in seven phases starting 10 February, the Election Commission said
India
As seen in Punjab, the Congress is brazenly undermining the office of the Prime Minister and by doing so, also damaging the integrity of our democratic institutions