Nitin Gadkari, a man who can't stop dreaming of an Indian wonderland: A Firstpost exclusive
India will be a changed place in terms of infrastructure before 2019, Nitin Gadkari said during a 50-minute exclusive interview with Firstpost
It requires amazing gift of the gab or the consummate skills of a conjurer to sell Nitin Gadkari's idea of India to someone. The Union Transport Minister possesses neither. Yet, he manages it with certain ease.
Much before the end of his government's term in 2019, India will be a changed place in terms of infrastructure, he said during a 50-minute exclusive interview with Firstpost. For instance, he is working on a plan to connect Dehradun with Mansarovar in China by blasting a way through the Himalayas. Similarly, if you have to go to Goa from Mumbai, drive your car onto a Ro-Ro vessel at Bhau Cha Dhakka and drive out at a jetty near Panvel onto the Goa highway near Panvel. In 20 minutes you will be cruising on the highway, he said.
If some disbelief is creeping in already, savour this from the minister: You may soon be able to hire a vessel at Varanasi and cruise along the Ganga for two days along with your friends and family, organise a function and go deep into the sea, far away from the proverbial madding crowd. If this isn't enough, imagine boarding a luxury boat in Delhi on the banks of the Yamuna and alighting at the Taj Mahal in Agra.
"You may not believe it right now, but let me assert that all this will happen. My words are not empty rhetoric," he told Firstpost, a week after he was feted by Prime Minister Narendra Modi, Union Home Minister Rajnath Singh and a section of the media for holding a successful Maritime India Summit (MIS) in Mumbai.
Gadkari's assertions indeed do have a sense of authenticity. In common perception, he is the best performing minister in the Modi government. "I do not say what I cannot do," he pointed out many-a-time in the course of the conversation.
"You see India is a classic case of a rich nation with poor people," he said. It sounded like an oxymoron.
"What do you mean by this?" I asked in a rather bewildered tone.
"We have the problem of management of resources which are aplenty," he replied.
Conversion of knowledge into wealth seems to be the guiding motto for Gadkari. India's waste management will spawn an economy of Rs five lakh crore and create employment for 15 to 20 lakh people, he said, adding "I have given around 15,000 young persons employment in my area through this," he asserted.
But what about the perception of him being the most efficient minister in the government? Though pleased with the flattering question, Gadkari like a seasoned politician did not allow his emotions to show. "No, everyone in the government is doing a good job. My work seems to be getting noticed as it relates to development of infrastructure," he said in an apparent show of modesty which he seems to have cultivated during his stint in Delhi.
The Sagarmala project
Then Gadkari explained the significance of his Sagarmala project which envisages huge transportation of goods through the sea and inland waterways.
"It is going to be a game changer for the country. In India, when we send goods outside the country, we incur huge transport costs which we call 'logistics cost'. Our logistics cost is 18 percent and China's is eight percent. If you send material from Mumbai to London or from Mumbai to Dubai, it costs comparatively less than sending it from Mumbai to Delhi. Whenever we make any product for the world market, the logistics cost makes it comparatively expensive, thus less competitive. If we reduce the cost to 10 percent then our exports will double. What I am doing is a game changer. If you go by road and you spend Rs 1.50 per kilometre and using railways may cost you Rs one, using waterways will cost you only 20 paisa. You see how economical this is," Gadkari pointed out.
Big plans on the rivers
 Statistics come easy to the minister and he overwhelmed me with data. For instance, he said, "One hundred and eleven rivers are being converted into waterways. Work on five rivers has already started. Contracts worth Rs 4,000 crore have been given in the case of the Ganga. Waterways have been built from Varanasi to Haldia (a distance of 1,620 kilometres)."
Giving examples of his projects, Gadkari said, "Work on the Varanasi, Haldia and Sahebganj multi-modal hub is on. Water ports are being built at 40 places between Varanasi and Haldia. Twenty of these water ports are floating and 20 are of concrete. The gate in Farakka is being converted into a water gate that will be used for navigation. At five places we are starting Roll-on/Roll-off (RO-RO) service. Hundred trucks or buses will be ferried on one ship. We have started this service in Assam. This drastically reduces the travel distance."
My skepticism did not wane despite the bombardment of these facts and figures and I said, "You see, all this sounds too good to believe in the face of the fact that I have been hearing these assertions since 1998 but nothing could be done to make rivers navigable."
"I am not talking to you without doing homework," he asserted, adding that "In the middle of the river we are maintaining a width of 45 metres and a draft of three metres. For this we are using very modern foreign technology with the help of World Bank. We will maintain the three-metre draft throughout the year."
When asked whether the three-metre draft will be sufficient, he explained: "A European company has designed the barge in such a way that instead of 1,500-tonne, 5,000-tonne loads of goods can be transported."
When govt ports beat private players
At the MIS, Gadkari he claimed that his PSU ports and shipyards were running huge profits while private ports were incurring losses. "How did you do it?" I asked. "By improving efficiency," he answered.
When asked what he did that the private sector didn't, the minister said, "One day after taking over as the minister, I called chiefs of all ports and shipyards and told them to turn around their projects or face removal within a year. And they turned it around."
"Across the world the growth rate is 0.5 percent whereas we have witnessed a growth rate of 4.6 percent. For the first time, private ports like that of Adani and others have growth in the negative and we have a growth rate of 1.6 percent. We have proved to be more efficient than the private players."
Once again, Gadkari delved deep into statistics and threw figures at me. He said "In maritime, we have till now given out contracts worth Rs 80,000 crore. This year our profit through 12 major ports and three flagship organisations that include Kochi Shipyard is Rs 6,000 crore. Through ports, we have earned a profit of Rs 4,200 crore."
The road to the future
Asked how realistic his rosy projection of the road transport infrastructure is, Gadkari said, "When I assumed office, 403 projects worth Rs 3.85 lakh crore stood stalled. Still there are problems. Currently 22 to 23 projects worth Rs 20,000 to 25,000 crore remain stalled. But I have tried to resolve the issue and get the projects started. You go anywhere in the country and you will see work being done. Ask any Congress person, he will say that roads are being built. Ask our critics, they will also accept that a lot of work is being done."
"After becoming minister I had signed a contract for building 18,000 kilometres of road. Now it must have reached 19,000 kilometres. Rs two lakh crore in roads and Rs 60,000 crore on ports are the investments that we have made till now," he pointed out.
"But from where will the money for these mind-boggling projects come?" I inquired.
Gadkari seemed prepared for this question. "We don't have a shortage of funds. We have a budget of Rs 55,000 crore. Every year it will increase by Rs 20,000 crore. The budget for four years will be around Rs three lakh crore. Of this, I can avail Rs 70,000 crore from tax-exempted bonds from the market. Toll income is around Rs 10,000 crore every year. I have a list of 103 projects that we have completed. We have to securitise the toll tax of 15 years that accounts for Rs one lakh crore. So this is around Rs 5 lakh crore. Then there are few projects that can be in public-private partnership (PPP) mode completely. Money is not a problem at all."
Found encouragement from PM Modi
Gadkari's confidence level indicates that he is given enormous autonomy in his ministry. This is in contrast to the impression that most oUnion ministers either work under restraint or try to second-guess Modi. "Do you second-guess Modi or ever feel any constraints?" In reply, Gadkari spoke his mind, "I do my work and do not look for appreciation. I have never felt any constraints, instead found encouragement from the PM and all colleagues".
"You see I have never gone to anyone with a biodata or sought any post for myself. Whatever I got is more than enough for me," he added.
The plan for Delhi
When asked for his thoughts about the odd-even formula of the Delhi government, Gadkari said, "Don't drag me into this, I will not comment." However, he explained his own vision of Delhi in the future and said, "Let me tell you that we are spreading a maze of roads around the NCR to divert traffic from Delhi and shortly, you will find roads in Delhi with smooth traffic flow," he said, adding that there is a slew of projects of elevated roads that have been commissioned in Delhi. "Unfortunately we have consistently ignored even fundamental problems of traffic management in Delhi," he said.
And outsider makes Delhi his home
Gadkari's tryst with Delhi was never smooth.
When he came over to the National Capital as BJP president, he was quite averse to staying here and was uncomfortable with its political cabal. "Yes I was not enamoured of Delhi and wanted to stay in Maharashtra," he admitted.
"Have you started liking Delhi now?"
"Now staying in the city is my destiny and I like it very much," he replied. He ruled out the possibility of going back to Maharashtra.
At the end of the conversation, Gadkari literally conjured up an image of an India which is incredibly modern and advanced in infrastructure.
"Will it fructify?"
Gadkari assured me that it would not be long before we can test the veracity of his claims.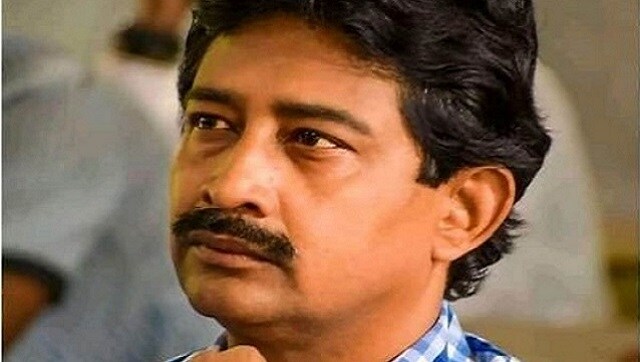 Politics
Banerjee, who unsuccessfully fought the Bengal Assembly polls on BJP ticket, described his meeting with the TMC general secretary as a 'courtesy visit'
Politics
The UP CM's visit to Delhi comes close on the heels of the BJP holding a series of review meetings in Lucknow, which had fuelled speculation of a ministerial reshuffle in the state
Entertainment
Naomi Ackie opens up on her emotionally open character in Master of None season 3, and how she perceives the show's focus on Black women: 'This was the first time that I felt quite stripped back, in terms of my performance'