Nirmala Sitharaman to present Budget 2019: All you need to know about 2nd woman finance minister after Indira Gandhi
Nirmala Sitharaman holds the distinction of being India's second woman defence minister and the first one to take charge of this key ministry full time; she was also commerce minister during the first tenure of the Modi govt in 2014
Nirmala Sitharaman holds the distinction of being India's second woman defence minister and the first one to take charge of this key ministry full time.

Nirmala Sitharaman holds Masters and MPhil in Economics from Jawaharlal Nehru University, Delhi.

In the past, she has served as the Minister of State for Finance and Corporate Affairs under the Ministry of Finance and the Minister for Commerce and Industry with independent charge
Nirmala Sitharaman became the second woman leader to take charge of the Ministry of Finance last month after the Narendra Modi government appointed her as a Cabinet minister in the ministry. Former prime minister Indira Gandhi was the first woman leader to head the ministry.
Sitharaman also holds the distinction of being India's second woman defence minister and the first one to take charge of this key ministry full time. She has also served as the Minister of State for Finance and Corporate Affairs under the Ministry of Finance and the Minister for Commerce and Industry with independent charge.
Sitharaman did not contest the Lok Sabha Elections 2019, however, she is a Rajya Sabha member from Karnataka since 2016. She completed her graduation from Seethalakshmi Ramasamy College, Tiruchirappalli in economics and obtained her Masters and MPhil in the subject from Jawaharlal Nehru University, Delhi.
She then worked in the Agricultural Engineers Association, UK in London, Senior Manager, Research and Analysis with PricewaterhouseCoopers, also in London and briefly with the BBC World Service.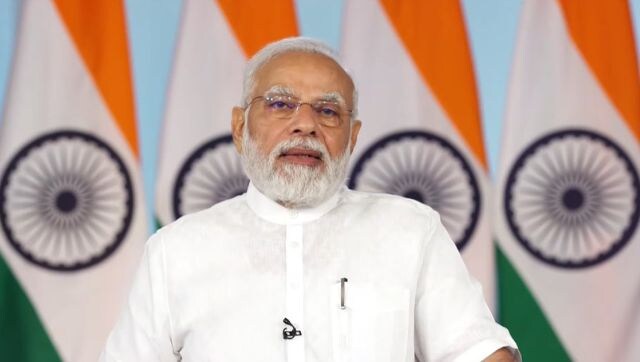 Explainers
Prime Minister Narendra Modi, on a two-day trip to Gujarat, laid the foundation stone for the terminal expected to be operational in 2026. The Bhavnagar project will be developed through a public-private partnership with Padmanabhan Mafatlal Group and the UK's Foresight Group taking the lead
India
From welcoming eight cheetahs from Namibia to launching National Logistics Policy, Prime Minister Modi's birthday will be once again remembered in history
India
While Sudarsan used sand to create the right profile of PM Modi, innumerable mud cups can be seen placed around his sculpture in a beautiful formation