News18 Rising India Summit: Meghalaya was looking for a change, alliance with BJP natural, says Conrad Sangma
Just crowned the chief minister less than two weeks back despite his National People's party winning lesser number of seats at 19 against Congress' 21, Sangma said that it did not go against the democratic spirit.
Take me to the magic of the moment/On a glory night. When Meghalaya chief minister Conrad Sangma signed off by singing a few lines of that eternal number of Scorpions, Wind Of Change at the News18 Rising India Summit in New Delhi on Saturday, it was quite in concert with the political change that the North East has witnessed of late through a resurgent BJP.
Sangma, who was crowned the chief minister less than two weeks back despite his National People's party winning lesser number of seats at 19 against Congress' 21, said that it did not go against the democratic spirit.
"If you look at the results, out of the 60 seats, a majority of the seats have gone to non-Congress parties. The majority has gone against them. In the results of the North East, a majority of people voted against Congress. There was a natural alliance," he said referring to the support from two BJP MLAs in the Meghalaya Assembly.
The chief minister, however, accepted there were indeed discussions with the Congress before the alliance with the BJP came through.
"Meghalaya was looking for a change. It was natural for the other parties to ally together. When a coalition is being formed, discussions happen and we did talk to Congress. But we had to keep the mandate in mind. When a coalition is formed, discussion does happen at different level, but we have to keep peoples mandate and our ideologies in mind," Sangma said.
He also justified why he accepted the support from the BJP.
"The BJP is a development-focused party. The aspect of development focused policy is something I appreciate," the Meghalaya chief minister said.
Sangma did admit that developing a hilly state is not an easy task with challenges at multiple levels.
"For us, infrastructure is one vertical we are very keen on to develop. There are challenges but we will work towards it. Roads, social welfare and youth are very important to us. We have constraints and we are working towards solving issues despite that," he said.
Coming from a political family, Sangma said he learnt a lot from his political lineage.
"There is something to learn from everyone in politics. My defeats have taught me a lot," he said.
The Meghalaya chief minister did agree that North East suffers much less these days from what is described as the tyranny of distance from the country's mainland.
"India is a diverse nation. I studied in Delhi and have faced problems there. But I can tell you, with social media coming in, there is a lot of connecting with the North East. The new generation wants to connect to the North East. The current generation has a lot of connections. Going to North East is part of their bucket list today," Sangma said.
Sangma's Uttarakhand counterpart Trivendra Singh Rawat, who also participated in the session called North East Reset, used the opportunity to launch a relentless attack on the Congress, particularly its president Rahul Gandhi.
"The country doesn't take Rahul Gandhi seriously. In terms of politics, he still has a lot to learn. It'll take a lot of time for him to learn politics. People look at Rahul Gandhi as a source of entertainment. Rahul Gandhi has reached a respectable age but his political vision is still not clear," Rawat said.
Taking potshots at his predecessor, senior Congress leader Harish Rawat, Trivendra Singh said, "Harish Rawat does the opposite of what he says. We have produced more than 1100 doctors in the state. We have employed more than 1,100 doctors, we have got more than 900 nurses. Tomorrow, I am going to give Rs 25,000 to ASHA workers. 36 hospitals in the states are linked to tele-medication. Respected doctors provide their help via television. NDA government's focus is on those distant, backward villages and regions that were neglected by the previous government."
Like Sangma, Trivendra Singh also listed out his priorities. "Education, health and jobs — these are the demands of a hill state. The biggest challenge in front of every government is unemployment," he said.
The Uttarakhand chief minister also had a word to say on the BJP's surge in North East delinking it with politics.
"The government has not focused on North East for political reasons. Our focus is on economically backward states. We won in Tripura because of our prime minister's focus in smaller states. However, we lost in Gorakhpur because of gath jod," he said.
India
An FIR has bee lodged by the the Badrinath-Kedarnath temple committee's CEO at the behest of its president Ajendra Ajay. The committee said that the viral video has hurt the religious sentiments of people and the pilgrims
India
The accident took place near Lal Ghati when the jawans were on way to their unit in Didihat from Thal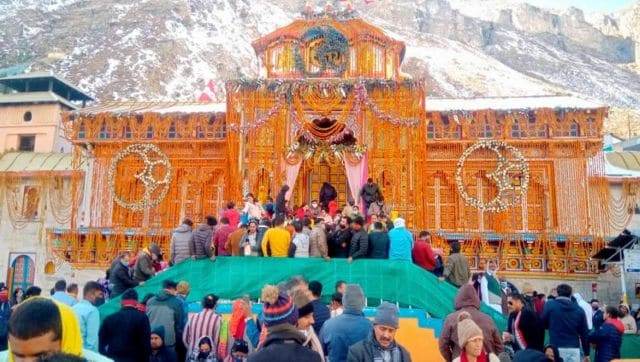 India
People associated with the tourism department say that Kedarnath Yatra is very important from an economic point of view