'Need more teams and more domestic players': Bhutia bats in favour of a more 'Indian' Super League
Ex-India captain Bhaichung Bhutia said that FPAI has asked IMG-Reliance to increase home grown players' quota in the starting XI of ISL matches from 5 to 6
Mumbai: Former India captain Bhaichung Bhutia said that the Football Players Association of India (FPAI) has asked IMG-Reliance to increase the home grown players' quota in the starting XI of Indian Super League matches from five to six. The former FPAI president also said that the association is in favour of there being more teams playing in the annual competition.
Speaking at the FPAI annual awards function at Cooperage on Monday night, Bhutia said, "We want to work with the ISL and I-League. We want more and more teams to join the I-League and ISL. With this, the two competitions will get stronger. We need more teams, so that more players get chances," he said. "We have (also) requested for six Indians in the ISL (against the current norm of five) in the starting XI," said the former Sikkimese striker, to an audience comprising several current I-League footballers, including foreign ones.
FPAI vice-president and former India international Abhishek Yadav said they were striving hard for the betterment of the lot of players, including providing them an easier pathway to earn coaching norms and medical insurance. "We have also decided to start a rehabilitation centre to counsel the footballers who get injured and are frustrated at being unable to play. We are trying our best but there's always scope for improvement," he said. "We will also help footballers who want to start coaching camps in their home towns. We do a lot of work and we also have our own set of problems, but we are trying to improve every year," he added.
Bengaluru FC's English coach Ashley Westwood, who was nominated as the winner of the best coach award at the function, said he has seen a lot of interest in football in India over the last three years he has been present in the
country. "I have seen many improvements. It's not only cricket now. Professional football is rising. That will help Indian football," he said.
Later, at a press conference, Westwood sounded cautious about his chances of continuing in his present position with the I-League team. "I have still got a contract till 31 May," he said. When pressed further if he would stay with the club next season, he added, "Hopefully yes. There are no concerns. The club is a professional club. We do things correctly. I work for a very good owner (Parth Jindal) and a very good management. The only concern to be honest is that I am an ambitious coach. Like any player, if Manchester United come in for (FPAI Indian Player of the Year) Jeje (Lalpekhlua), he is not going to stay at Mohun Bagan and that's football," he said candidly.
Asked about the Indian national team's poor ranking on the Fifa chart, Westwood was diplomatic and said it was "disrespectful" for him to comment on national coach Stephen Constantine. "It's not my job. I don't want to insult the coach. He (Stephen Constantine) doesn't comment on Bengaluru FC and I don't comment on India. It is disrespectful. It's his and Patel's business, not mine. I'll do my job and let them do theirs. It's not under my umbrella, it's under Constantine. He's working hard and doing a good job. That's fine with me," said the 39-year-old.
Asked again whether he would take up the national team coaching job if it were offered to him, Westwood said, "Again, I wouldn't disrespect my club. I've got a contract to coach Bengaluru FC. To comment on jobs with managers in jobs is really distasteful. I wouldn't like it if someone said that I could do a good job at Bengaluru FC because that is my job."
He also brushed aside questions whether he saw the practical side of a possible merger between I-League and the
ISL which has been bandied about by the All India Football Federation. "Honestly, I don't make the rules here. I'm just a coach. I coach football games, and business details and mergers — I'm not really interested in them, to be honest. I'm just doing my job," he said.
He, however, did speak in favour of a longer league. "I would like to coach as many matches as possible, so longer the league and more teams there are, the better it is for me as it will be more competitive. I would like to play different
teams, week in week out. That's just what we do. Players like to play as many games as possible and we like to coach as many games as possible. Again, you won't catch me commenting anything scandalous," he declared.
Sports
With close to two decades of coaching experience, Garcia has worked with the likes of Vicente del Bosque at Real Madrid between 1993-94 and Rafa Benitez in Real Madrid and Real Valladolid between 1994-1996 as both football conditioning and assistant coach.
Sports
Namgyal Bhutia (45th) and Leon Augustine (71st) turned out to be the heroes for the Naushad Moosa-coached side even as Kerala Blasters were eight men down by the end of the dramatic clash at the Vivekananda Yuba Bharati Krirangan (VYBK).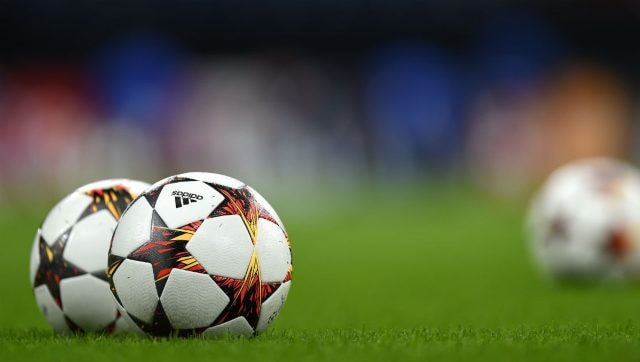 Sports
The Brazilian striker started his professional career with Madureira before making the jump to the first team in 2015 and was loaned out to clubs like Barra da Tijuca and Boa Esporte in his initial years.