NDA catapulted India to bright spot as Congress reduced to fringe party, says Arun Jaitley on govt's 4 years
Taking a direct dig at Rahul Gandhi, Jaitley said the 'Congress President must remember that taxes don't go into the pocket of the government. They go back to the people for better infrastructure, better social sector expenditure and poverty reduction programmes.'
New Delhi: Hailing NDA government's policies on its fourth anniversary, BJP leader and Finance Minister Arun Jaitley on Saturday said India had transformed from being a part of the "fragile five" to the "bright spot" on the global economic scene under this regime and had established 'scam-free governance'.
But as the Congress is rejoicing its political move that helped it form government in Karnataka along with JD(S), Jaitley said the Congress party has moved into a 'fringe' party from a mainstream one.
"The preceding 10 years of the UPA rule had unquestionably witnessed the most corrupt government since Independence," said Jaitely in a Facebook post even while recovering from a kidney transplant in AIIMS, where he was shifted out of the ICU on Friday.
He added that Prime Minister Narendra Modi had created "transparent systems through legislative and institutional changes, which have given this country a scam-free governance."
Jaitley said that to clean up the economy, India had to transform from a tax non-compliant society to a tax-compliant society. During Jaitley's hospitalisation, Minister of Railways, Piyush Goyal, has been given additional charge of the finance ministry
"The enactment and implementation of the Goods and Services Tax, the impact of demonetisation, effective tax compliance are all steps against black money, steps which are formalising the Indian economy. The Insolvency and Bankruptcy Code has changed the lender-creditor relationship. The creditors no longer have to chase the debtors. If you cannot pay your creditors, you have to exit through a statutory mechanism."
Taking a dig at the UPA government, he said: "During the UPA government, India had fallen off the global radar. In its initial years when the world economy was booming, India grew on the strength of global tailwinds. When the global situation became challenging, the UPA's decisiveness and performance collapsed."
The Current Account Deficit (CAD) saw an unprecedented 6.7 per cent deficit in the year 2012-13, he said adding that the NDA has consistently maintained a CAD of under 2 per cent on an annualised basis.
"The poor economic management was visible when under the UPA fiscal deficits remained alarmingly high. The government was spending more and earning less. We witnessed fiscal deficits of 5.8 per cent, 4.8 per cent and 4.4 per cent in the UPA's last three years. Having inherited the mess, the NDA, year after year, has brought it down to 3.5 per cent and shall, this year, try and deliver a 3.3 percent fiscal deficit," Jaitley said.
Taking a direct dig at Rahul Gandhi, Jaitley said the "Congress President must remember that taxes don't go into the pocket of the government. They go back to the people for better infrastructure, better social sector expenditure and poverty reduction programmes."
He emphasised that leaders of the industry are no longer seen repeatedly visiting the South Block, the North Block or the Udyog Bhawan. Environmental clearance files don't pile up. And Foreign Investment Promotion Board has been abolished.
While criticising the Congress, Jaitley said: "The Congress is in desperation without the perks of office. From the dominant party of Indian politics, it is moving towards the "fringe", its political positions are not of a mainstream party but one usually adopted by "fringe" organisations. Fringe organisations can never hope to come in power."
"Its best hope lies in becoming a supporter of regional political parties. State level regional political parties have realised that the marginalised Congress can at best be either a junior partner or a marginal supporter. Karnataka had witnessed a telling example of this," he said.
"A regional political party whose base at best is confined to a few districts was able to extract a Chief Ministership of the Congress to which the Congress meekly surrendered. It had even lost its bargaining capacity. It is today putting on a brave face in Karnataka where the losers are masquerading as a winner," Jaitley said.
He said the last few days had witnessed a discussion about a "fictional alternative".
"A group of disparate political parties are promising to come together. Some of their leaders are temperamental, the others occasionally change ideological positions. With many of them, such as TMC, DMK, TDP, BSP and the JD(S), the BJP has had an opportunity to share power. They frequently change political positions. They have supported the BJP claiming that it is in larger national interest and then turned turtle and oppose it in the name of secularism. These are ideologically flexible political groups."
Jaitley said stable politics is far from their political track record of these parties.
He also explained that a federal front is a failed idea for India.
"It was experimented under Charan Singh, Chandrasekhar and by the United Front Government between 1996-98. Such a front with its contradictions, sooner or later, loses its balance and equilibrium. Remembering 1996-98 as perhaps one of the worst period of governance, the aspirational India which today occupies the high table in the world shall never accept an idea which has repeatedly failed. History teaches us this lesson. Aspirational societies with vibrant democracies do not invite anarchy."
A strong nation and the requirements of good governance abhor anarchy, the minister said.
Jaitley exuded confidence of winning future elections. The country will go for next general elections within a year's time.
also read
World
Prime Minister Narendra Modi has redefined foreign diplomacy during his nine years in power. He has many firsts to his credit, visiting nations no Indian premier has gone to before and forging stronger ties with leaders the world over
Politics
Although he has kept up a constant string of criticism against the ruling dispensation, Rahul Gandhi seems to agree with Prime Minister Narendra Modi and the BJP on one critical issue – India's foreign policy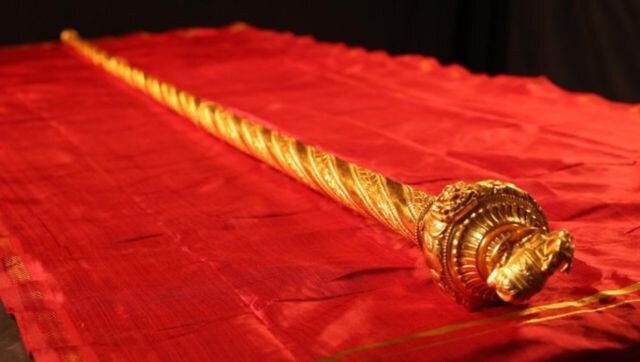 India
Prime Minister Narendra Modi will install the golden sceptre near the Speaker's seat. Traditionally called the 'Sengol', it has roots in Tamil culture