Navi Mumbai airport land deal: Virtually cashless, so priceless
Had there been a cash component in the acquisition deal for 670 hectares, there could have been further delays.
The agreement thrashed out between landowners and the Maharashtra government to acquire some 670 hectares to facilitate the construction of the new airport at Panvel, Navi Mumbai, puts the project first conceived in 1998, on track.
It will spur at least two things – a decongested Mumbai airport along with higher passenger capacity expected at 60 million a year in the Panvel utility, involving an investment of over Rs 14,000 cr; provide a stimulus to growth of Navi Mumbai with resultant investment in real estate development.
Huge investments would both lead and follow growth. The demographics too would change which hitherto had seen growth only north of Belapur to which the civic corporation's activity is confined. South of that spot, it has been a relatively somnolent city project area.
There is going to be more cash flowing into the local economy when landowners would monetise their compensation – 22.5 per cent parcels of developed land against what is going to be acquired. They would build on it or they would sell them at prices that can now go only upward.
Though the lands to be taken belong to as many as ten villages, there seems to have been an understanding that the compensatory land would be provided to the owners close to the airport itself which would be a value addition hard to estimate now.
After Vashi, the airport zone would be a new attraction.
The striking aspect of the accord worked out yesterday is, the landowners who had earlier demanded as much as Rs 40 cr per hectare, settled for a no-cash deal, perhaps the first in the country. This by its nature speeds up the process and speeds up the airport plan.
The mere intent to build an airport had spurred a hike in real estate prices around Panvel, a small town of which one part is governed by the CIDCO and another by a local body. With this deal, the pace of growth of the area could be spectacular and profits ensured.
They stand to gain further by a higher floor space index – the ratio of space one can build compared to the land area on which the space is to be created – of 2 as against the 1.5 mandated for the area. Those who lose their houses on the land are to get permission to build three times the space they lose.
Only such of those who lose their owned homes on the lands parted with would be entitled for Rs 1,000 per sq ft. which would relieve them of the burden of bearing the costs. That Rs 1,000 per sq ft is a substantial subsidy even in a high-cost construction. Had a cash component been involved in the entire deal for 670 hectares, there could have been delays.
The icing on the cake, at least in terms of principles, is assigning 100 shares in the company that would build the airport and run it, making them part owners of the entire project. There has been no word on employing the locals in jobs there, which if it were to be, can be an absurd and impractical idea.
Hitherto, CIDCO – City and Industrial Development Corporation – which is a quasi-statal entity , involved in building Navi Mumbai, almost equivalent to the land area of Mumbai, has been lurching from one policy to another without a long term vision for it. Navi Mumbai is arguably world's single largest modern city being built.
It first acquired all lands bar the village habitats and used it as a land bank to monetise for building the new city. However, it has failed to protect this asset, allowing for slums – at least a third of the population are in it. It built small houses of poor quality, already dilapidated, and ignored the villages while towers were built on expensively sold plots.
These acquisitions were on a cash plus kind basis, that is, some cash compensation and a promise to return 12.5 per cent of the developed land to the landowners. It is only now that a new team of officials has started to focus on delivering on this promise. The one grouse of the PAPs was that this accord was not honestly implemented – delays and bribes being its main feature.
Speedy development of lands to be acquired in this no-cash deal is likely to happen because a private airport builder is likely to show efficiencies where time too would be of the essence and not take time-overruns as a given which is the central working philosophy of all government undertakings.
How soon the parts of the developed spaces are handed over to the PAPs would be essential to avoid sudden emergence of disruptions because the landowners of Navi Mumbai have a tradition of agitation. The 22.5 per cent of returnable land comprises 10 per cent – that is about half of the total – from CIDCO's existing land bank.
Subscribe to Moneycontrol Pro at ₹499 for the first year. Use code PRO499. Limited period offer. *T&C apply
Entertainment
In the letter to Anil Deshmukh, IMPPA states that producers from the Marathi film industry are facing financial problems due to the non-payment of the subsidy amount by the Maharashtra government.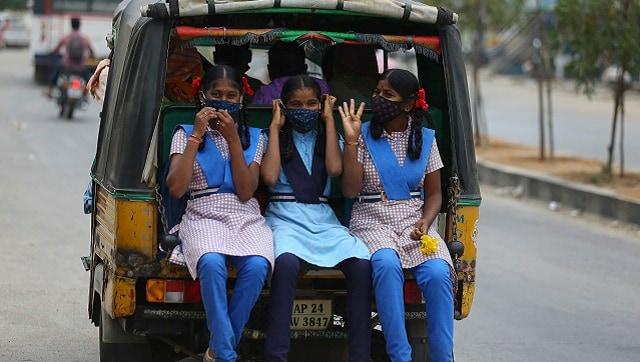 India
Four school staffers have also tested positive, an official said, adding that the school premises have been declared a containment zone
India
Home Minister Anil Deshmukh said a four-member high-level committee of officials has been formed to conduct the probe, and that a report is expected in two days