National Anthem guidelines for persons with disabilities are regressive, compromises right of individual autonomy
After passing the historic Rights of Persons with Disability Bill in the Lok Sabha in 2016, the new guidelines on how people with disabilities can show respect when the national anthem is being played in movie halls or public functions, shows that perhaps nothing has changed when it comes to respecting the basic human right of individual autonomy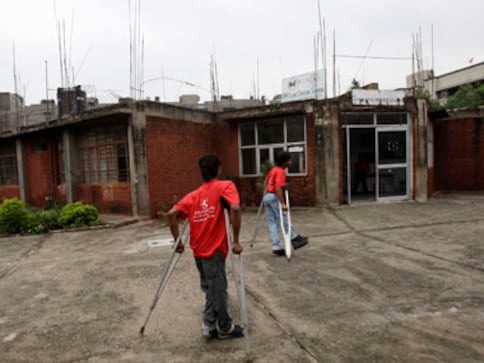 16 December 2016 went down in the history of India as one of the landmarks in the disability rights movement. The Persons with Disability Act (1995) was finally replaced with the Rights of Persons with Disability Bill, and was passed by the Lok Sabha. This legislation, which came into being after years of activism, debates and discussions, will impact at least 80 million persons with disabilities living in India, a figure suggested by the World Bank. The bill has been brought to comply with the UN Convention on Rights of Persons with Disabilities, to which India has been a signatory since 2007. The bill provides for imprisonment of at least six months up to two years, along with a fine ranging between Rs 10,000 and Rs 5 lakh for discriminating against persons with disabilities.
Fast forward to a month, the Union home ministry issued guidelines on how people with disabilities can show respect when the national anthem is being played in movie halls or public functions, saying they should not move and position themselves "maintaining the maximum possible alertness physically".
In October 2016, Salil Chaturvedi, a writer with a disability was assaulted by a couple at a movie theatre in Goa for not being able to stand up for the national anthem. This incident created an uproar and started discussions around how enforcing "standing up" for the national anthem can work against people with disabilities who may not be able to do so because of the nature of the disability. Post this, the Supreme Court had exempted persons with disabilities from standing up for the national anthem.
"After the SC had exempted persons with disabilities to stand up for the national anthem, what was the necessity for the Government to make these guidelines?" questions Jayna Kothari, an eminent lawyer and author of the book, The Future of Disability Law in India.
Jayna also goes on to say, "The language of these guidelines is completely offensive and shows disrespect and disregard for so many different conditions/disabilities that people may have. Having a government guideline like this will instil fear and stress in people with disabilities and their families alike who want to go out and enjoy a movie, whether or not any action is taken."
In response to the guidelines statement of "maintaining of maximum possible alertness", Mansi Mehta, mother of 20-year-old Yash Mehta who is living with Down Syndrome in Mumbai, shared with Firstpost that "these guidelines are redundant on many levels. Persons living with certain disabilities such as Cerebral Palsy, Down Syndrome, Autism may be characterised by involuntary movements which are very much a part of their anatomy."
Mansi also shared that she has not encountered apathy when she and Yash visit cinemas in the country and that he stands up for the national anthem not only because his disability permits him to do so but also because he wants to. "I don't instil or bind it on Yash to stand up for the national anthem. I have made him aware of the protocol but it is ultimately his choice. Bu how does this depict patriotism?" she says, adding, "The Special Olympics made India proud this year. Isn't that a real measure of service to the nation?"
In India, basic infrastructure and public spaces are inaccessible to persons with disabilities thereby leading to severe restrictions on a person's movement in and out of their homes. This has led to many people across different disabilities to remain invisible and directly impacts their right to full and effective participation and inclusion in the society, which is one out of the eight guiding principles that underlie the UNCRPD.
In the light of the fact that the basic rights of the people are not being fulfilled, the government is preventing people with disabilities from claiming their equal right to public spaces by instilling fear in them through these guidelines and making standing up for the national anthem a mandate.
The disability rights movement in India has been fighting for decades now to shift the perspective from a medical model of disability that expects the person with disability to "adjust" and "fit in" to existing structures to a more human rights-based approach that acknowledges that people with disabilities are rights holders and that the onus is on social structures and policies to become accessible and inclusive.
These guidelines are a clear example of how there has been no consultation or involvement of people with disabilities themselves in the process of drafting guidelines. They do not make logical sense, are discriminatory, and go against the work done by the disability movement. They give out regressive messages and violate the most basic human right of individual autonomy. There is no question of accepting such a guideline and the larger movement in India has to call for its withdrawal.
also read
World
In a new report, the World Meteorological Organisation said there was a 66 per cent chance that global temperatures would breach the crucial 1.5 degrees Celsius-mark in the next five years. El Nino and human activities are the likely reasons for pushing the mercury levels into 'uncharted territory'
Explainers
Ukraine has long begged for the sophisticated fighter to give it a combat edge as it battles Russia's invasion, now in its second year. The US has once again buckled under pressure from European allies and Ukraine's leaders and agreed to provide F-16s to the war effort
Opinion
An uncertain monsoon, high inflation until February, but a confident growth potential call on the regulator to wait at least until August, keeping the repo rate unchanged in June