Narendra Modi's unfulfilled promises: In 5th year, PM must take a hard look at opaque political funding rules
Prime Minister Narendra Modi's four years in office have never been unexciting as far as the government's reform-intent is concerned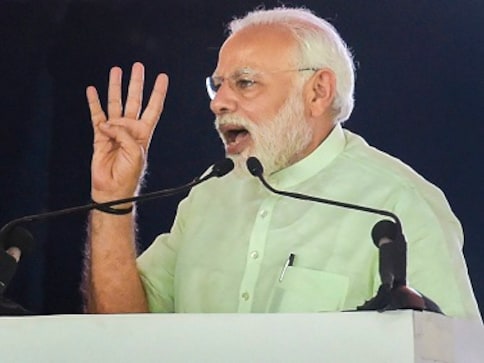 Call it incremental reform, cosmetic changes or political optics, Prime Minister Narendra Modi's four years in office have never been unexciting as far as the government's reform-intent is concerned. There has been constant action. Aadhaar-linked bank account progammes to push DBT (Direct Benefit Transfer), subsidy rationalisation policies, Goods and Services Tax (GST) and demonetisation are the key highlights of Modi's reform package in the past four years. Of course, how much of these have yielded results, so far, is debatable.
For instance, while DBT is a clear winner — it has saved Rs 90,000 crore so far for the government, demonetisation has arguably led to the expansion of the tax base, but when it comes to recovering black money and reducing cash use, it has been a flop show. GST, again, is a winner in laying down the framework for a unified indirect tax regime, but the initial hiccups and technical challenges have slowed business activity.
What course will the reform juggernaut take in the fifth year of Modi's term? Typically, governments do not risk their political prospects going on a reform drive in an election year and tend to stick to populist policies to appease vote banks. Modi, who still has his popularity largely intact even after four years in office, has an opportunity to do things differently and not opt for political populism.
Let's look at the unfulfilled promises.
Of the unfulfilled items on the list, the first and major one is to clean up non-transparent political funding, which has been a grey area so far. This was one of the major unfulfilled promises of this government from the very beginning, but no significant steps have been taken so far to make the whole process transparent. The government brought down the limit of cash donations to Rs 2,000 from Rs 20,000 earlier and introduced electoral bonds that can be purchased from select banks by donors and deposited in the accounts of political parties. But none of this brings in transparency in the public domain as to who is funding whom.
Such opacity gives room for a corporate-political nexus and is the fundamental factor that leads to black money generation. For these reasons, the continuation of an opaque political funding system should send warning signals to any democracy. Under the current laws, a company doesn't need to explain even to shareholders the identity of the recipient. In 2017, the government had scrapped a ceiling that earlier restricted a corporate entity from donating more than 7.5 percent of its average net profit in the three immediate preceding fiscal years to a political party. Also, it proposed to cancel an existing rule that required corporate entities to disclose, in the profit and loss account, the name of the political party to which the funding is made. Both made it easier for political parties to make their election funding more opaque.
In March this year, the government, without a discussion, amended a law in Parliament to protect political parties from any kind of scrutiny with respect to the foreign funds they may have received from 1976 onwards. Remember, this was only one among the 218 amendments Lok Sabha cleared without a debate. The law, the Foreign Contribution (Regulation) Act, 2010, that prohibited foreign funding for Indian political parties, has now been amended to exempt parties from any scrutiny. This means there will be no scrutiny on such funding, including possible illegal transactions.
As of now, almost 75 percent of political funding takes place in a non-transparent manner, according to Association of Democratic Reforms (ADR).
All this is happening in the backdrop of hundreds of crores flowing into the coffers of political parties every year. According to the latest report from election watchdog ADR, the BJP has seen its income rise from Rs 570.86 crore during FY 2015-16 to Rs 1,034.27 crore during FY 2016-17, while the income of Congress decreased by 14 percent (Rs 36.20 crore) from Rs 261.56 crore during FY 2015-16 to Rs 225.36 crore during FY 2016-17.
Since it came to power in 2014, the BJP moneybag has expanded by around 53 percent — from Rs 673.81 crore in 2013-2014 to Rs 1034.27 crore in 2016-2017. The Congress, during the period, has actually seen its income decline by 62 percent — from Rs 598.06 crore to Rs 225.36 crore. If the Modi government musters the political will to call a spade a spade and overhauls rules on political funding, it can be a historic steps as no government has thus far dared to do this.
Remember, both the Congress and BJP have been accused in the past of accepting money through suspicious channels. In 2014, both the parties were found guilty by a Delhi court for accepting foreign funds between 2004 and 2012, from Vedanta Resources Plc. The firm allegedly donated Rs 879 lakh to the Congress and Rs 790 lakh to the BJP through its Indian subsidiaries. Hence, the reluctance of political parties to set rules for themselves is quite understandable. But, as Modi approaches the 2019 polls, he will face questions on the absence of meaningful steps by his government to make political funding transparent. In the fifth year of his term, this remains a major unfulfilled promise.
World
Fumio Kishida will hold talks with Prime Minister Narendra Modi. Both sides will discuss bilateral and regional issues of mutual interest. They will also discuss their priorities for their respective Presidencies of the G7 and G20
First Cricket News
PM Narendra Modi and Australian PM Anthony Albanese were in attendance at the start of fourth India vs Australia Test in Ahmedabad.
Opinion
India under Prime Minister Modi has fully endorsed the United Nations in its "Think equal, build smart, innovate for change', motto, with regard to women's empowerment