Narendra Modi's LS speech: Rhetoric aside, PM is bracing for demonetisation repercussions
Despite the robust defence of his deeply disruptive policy, it appeared that Narendra Modi is acutely aware of the repercussions that face BJP during the ongoing Assembly polls.
There is no doubt that Narendra Modi is an orator par excellence. He adjusts his tone in accord with the audience and can alternate between statesmanlike addresses and scathing jibes with élan. His communication skills and deft handling of oratorical tools allow him to draw blood from his targets even as he demands stunning admiration from listeners. Much of the popularity that he enjoys as a mass leader stems from his ability to influence the audience. And the prime minister is just as comfortable speaking within the confines of Parliament as he is off it.
It wasn't surprising, therefore, to see him rip Rahul Gandhi to shreds once again while replying to the motion of thanks on President's 31 January address. Modi lampooned the Congress vice-president's threat of "causing earthquake" if allowed to open his mouth and connected it to Monday's earthquake in northern parts of India. In December last year, Rahul had threatened to cause "a quake" with "explosive evidence of prime minister's personal corruption" which later turned out to be old allegations that the Supreme Court had found no merit in.
Speaking at the Lok Sabha on Tuesday, Modi said: "There was finally an earthquake yesterday. While we will do whatever we can to aid those affected, I was wondering where did the quake come from? The threat was issued a long time ago. There must be some reason for Mother Earth to be so angry."
In what should come as a veritable lesson to the Gandhi scion on the rules of public speaking, Modi took up his own poll acronym for UP Assembly polls that Rahul had sought to modify, and twisted the knife.
In reply to Modi's jibe that 'S-C-A-M' in UP stood for 'Samajwadi Party, Congress, Akhilesh and Mayawati', Rahul tried to give it a new spin by defining it as 'Seva, Courage, Ability and Modesty.' Modi wondered in Parliament, on Tuesday, how on earth could someone see seva (service) in SCAM. Unwittingly perhaps, by seeking to subvert his message, Rahul was giving Modi's barb greater political legitimacy.
These intricacies of political messaging were also evident in the way Modi targetted Congress leader of Lok Sabha Mallikarjun Kharge for uttering an unsavoury remark. Speaking on the floor of the House on Monday, Kharge said that when it came to patriotism, Congress leaders like Indira Gandhi had sacrificed their lives for the country while not "even a dog from BJP" could claim such feats. The Congress leader's barb was possibly aimed at reclaiming patriotism as a concept which the party feels has been usurped by the BJP.
Modi chose to take the high moral ground on Tuesday, saying, "Hum kutton wali parampara se pale bade nahin hain" (We haven't been brought up in a tradition of sycophancy) and added that "there are many like me who were born after Independence and wasn't lucky enough to take part in the freedom struggle but have been living and working for India."
He suggested that culture of sycophancy in Congress is such that everything is attributed to "one family".
As mentioned above, these oratorical victories are easy meat for Modi since neither Kharge nor Rahul can hold a candle to him when it comes to public debate.
While dissecting an orator's speech, therefore, we must read between the lines.
In this regard, prime minister's defence of demonetisation timing is of special significance. In his addresses to the nation during and since the decommissioning of high value notes and in his plethora of public rallies since the move, Modi had never defended the timing of demonetisation in the way he did on Tuesday. He offered strong defence and said the post-Diwali timing was "perfect".
"Some people have said why was this (demonetisation) decision taken when the economy was doing well… It was the best time as the economy was strong. Had it been weak, then we could not have done it successfully," he said, proffering the analogy of operating on a patient.
"Before subjecting a patient to surgery, a doctor checks all the parameters and only when those parameters are fine, is the operation undertaken," he said. Modi dismissed suggestions that it was done in a haste. "Don't assume that Modi does anything in haste. For that you will need to study Modi."
The post-Diwali time of 8 November was "perfect", said the prime minister, because the peak trading season of Diwali is usually followed by a natural dip in sales and the business cycle reboots. Modi said he was fully aware that the economy would face a contraction for 15-20 days and slowly return to normalcy after 50 days or so. "We are moving in the exact direction as envisaged," he said.
Modi added that he was aware of the political risks but didn't lose his sleep over it since he wasn't "concerned about the elections" but about the country. The decision is a "movement to clean India (of corruption and black money) like Swachh Bharat," he added.
He also defended the many changes in rules and regulations (some suggested it amounted to 150 or more during his speech) during the implementation and said it was done either to make life easier for citizens based on constant feedbacks or to outsmart the "looters" who are adept at subverting the system. He didn't spare the Congress for making it an issue, saying that UPA had quietly changed the rules that governed a social benefit scheme like MNREGA 1,035 times without even "half the pressure" of demonetisation.
Despite the robust defence of his deeply disruptive policy, it appeared that Modi is acutely aware of the repercussions that face BJP during the ongoing Assembly polls. His painstaking justification of the move indicated that he expects some sort of an adverse effect, hence the repeated stress that he "didn't do it for political benefit".
That may well be true.
Demonetisation may have long-term advantages and in the long run our economy may emerge cleaner, stronger and more compliant to taxes. But for all his charisma and long-term planning, Modi cannot ignore the urgency of the moment. If BJP loses in UP, for the first time in his tenure his leadership will come under a lot of questions.
Modi's speech showed today that he is aware of that possibility.
India
India vaccinated 2.5 crore people in a single day on Friday to mark Prime Minister Narendra Modi's birthday.
Politics
Addressing the foundation day of the All India Mahila Congress, Gandhi said that the ideology of the Congress was completely opposite of the BJP-RSS and only one of the two ideologies can rule the country.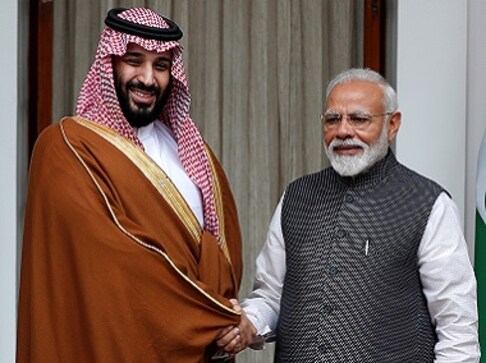 World
India's ties with Saudi Arabia, one of the world's leading oil producers and host to nearly three million Indians, have generally been on an upswing