Critic Sushma to friend Rajnath: Decoding Narendra Modi's cabinet
The Modi cabinet does not have as many surprises as one expected. What it shows is that Modi is the man in charge, and no matter who runs which ministry, he will have a decisive say in all key ministries.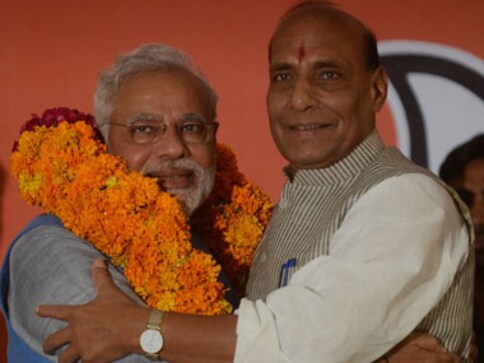 If there is one thing that marks out the Narendra Modi cabinet from all previous ones, it is this: almost till the end, there is no official confirmation about the ministers and their portfolios. To be sure, a list has gone to the President, and many names are doing the rounds. But even four hours before the swearing in, the media is still talking about the cabinet in iffy terms.
According to ANI, the key cabinet ministers will be Rajnath Singh, Arun Jaitley, Nitin Gadkari, Sushma Swaraj, Venkaiah Naidu, Sadanand Gowda, Uma Bharti, Najma Heptullah, Gopinath Munde, Ram Vilas Paswan, Kalraj Mishra, Maneka Gandhi, Ananth Kumar, Ravi Shankar Prasad, Ashok Gajapathi Raju, Anant Geete, Harsimrat Kaur Badal, Narendra Singh Tomar, Jual Oram, Radha Mohan Singh, Thawar Chand Gehlot, Smriti Irani, Harshavardhan.
The Ministers of State, 10 with independent charge, will be VK Singh, Rao Inderjit Singh, Santosh Kumar Gangwar, Shripad Naik, Dharmendra Pradhan, Sarbananda Sonowal, Prakash Javadekar, Piyush Goel, Dr.Jitendra Singh, Nirmala Sitharaman, GM Siddeshwara, Manoj Sinha, Upendra Kushwaha, Pon Radhakrishnan, Kiren Rijiju, Krishan Pal Gujjar, Sanjeev Baliyan, Mansukhbhai Dhanjibhai Vasava, Raosaheb Dadarao Patil Danve, Vishnu Dev Sahai and Sudarshan Bhagat.
A cursory look at this list—assuming it is correct—indicates five things.
First, Uttar Pradesh, Bihar and Maharashtra have got a significant chunk of ministries. This is not only because of the big gains made by the BJP in these states, but because elections to the Maharashtra assembly are due later this year. Madhya Pradesh, Rajasthan and Gujarat are seriously under-represented - despite the massive mandate they gave the BJP.
Second, the BJP's allies are minimally represented, with Shiv Sena, LJP, TDP and Akali Dal being given one cabinet post each. This shows that they will be given more posts at a later stage – once the working part of the ministry settles in and gets to work.
Third, there are almost no big surprises in terms of too many new faces, but the exclusions seem more important: Arun Shourie and Suresh Prabhu, for example. Both were super-competent ministers in the Vajpayee governments of 1998-2004, and their exclusion seems to be the result of their over-exposure in the media of late. Prabhu, of course, is a Sena member who is not a favourite of the Thackerays. It is possible that Shourie and Prabhu will be tapped later in different roles.
Fourth, since many of the small ministries will be merged to create more synergies,some of the cabinet ministers heading such omnibus ministries will be come super-cabinet ministers - possibly ministers like Nitin Gadkari. This suggests that even within the cabinet ministers, there will be a class of super ministers.
Fifth, since many of the ministers are old faces from previous governments, and all of them owe their positions to Modi, it means even after becoming minister, Modi will have a decisive say in how they run their ministers. The Prime Minister will be supreme.
Here are brief comments on Modi's ministry.
Rajnath Singh: A no-nonsense and competent administrator who has served as Chief Minister of Uttar Pradesh, he is clearly No 2 in the Modi cabinet. What he lacks in political charisma he makes up for it with administrative competence. He will be a good choice in home – a difficult ministry to handle at the best of times. He is said to become home minister. Modi preferred him to be in his cabinet instead of being a powerful party boss standing in contradiction to government. He will also be the RSS's link with government along with Nitin Gadkari.
Arun Jaitley: The BJP's most articulate advocate and the man who connects best with metro aspirations, Jaitley as Finance Minister will give the markets confidence about the direction of fiscal policy. He is expected to start the process of cleaning up the messed up finances left behind by P Chidambaram. In the Vajpayee ministry, he distinguished himself as a very good law minister. Together with Rajnath, he is part of Modi's key political brains trust.
Nitin Gadkari: Despite his allegedly "corrupt" image, Gadkari is actually a politician with strong administrative skills and business-like efficiency. Not surprising, since he is indeed a businessman. As PWD minister in the Sena-BJP government in the 1990s in Maharashtra, he executed the Mumbai flyovers project and the Mumbai-Pune Expressway with great competence. Would make a very competent infrastructure or railway minister - especially if the ministry's brief is expanded. Gadkari is also close to the RSS in Nagpur - and so he will be their eyes and ears in the cabinet.
Sushma Swaraj: A non-Modi camp follower, she will be eager to prove she is no lightweight in government. In her last stint as cabinet minister in Vajpayee's government, Sushma headed the high-profile, but lightweight, I&B ministry. This time she will head one of the most important ministries in Modi's cabinet, possibly external affairs. Good choice. Will help neutralise the Advani camp after government formation. She is expected to get the ministry of external affairs. Also, as an elected MP from Vidisha in Madhya Pradesh, she will represent that state.
Ananth Kumar: As someone who downed Nandan Nilekani this time in Bangalore South, Ananth Kumar continues his run in central cabinets. He has been a veteran Union minister, having served in civil aviation, tourism, and urban development. His tenures were not exactly momentous, but he has tremendous energy levels that Modi can use. With arch-rival BS Yeddyurappa being left out of the ministry, Ananth Kumar's performance this time will be watched more closely than before. Also close to Advani, his presence serves the same purpose as Sushma Swaraj.
Harsh Vardhan: His cabinet post in the Modi ministry - health - is testimony to the fact that Modi wants a strong and clean face from Delhi to gain visibility before the forthcoming assembly elections. Some people believe that Harsh Vardhan is in the ministry to make way for someone like Kiran Bedi to head the BJP in the Delhi elections – but this is unlikely since Bedi is a late entrant to the party, and does not have the support of the cadres. Most probably Harsh Vardhan will be given a profile to enable him to lead the party to a win in Delhi, now that the Aam Aadmi Party is struggling to find momentum.
Gopinath Munde: Munde was a Deputy Chief Minister in the Sena-BJP government in the 1990s, and is more interested in the Chief Ministership of Maharashtra than a central cabinet berth. But he has solid administrative experience, and lends heft to the Modi ministry. Will remain in ministry till the Maharashtra elections, but that is some months away. With Gadkari and Geete (of Shive Sena), Maharashtra will have huge clout in the Modi ministry.
Maneka Gandhi: A devoted animal welfare activist, Maneka – widow of Indira Gandhi's son Sanjay – is an experienced ministerial hand having served in the VP Singh and Vajpayee cabinets as environment and social empowerment minister. She is a dedicated minister and has always made waves in her ministries. Her being there will also ensure that her son, Varun, toes the Modi line.
VK Singh: A controversial former army chief, whose tenure was marked by acrimony between the ministry and the army brass, Singh is being kept away from the defence ministry to avoid unnecessary friction. But he is clean and his competence is not in doubt. He should make a good minister for internal security, if that is the portfolio he is given. The profile of the ministry could modelled on the US Ministry of Homeland Security.
Ravi Shankar Prasad: Another stalwart of the BJP-RSS, Prasad had been a junior minister in Vajpayee's cabinet, having served in the coal, law and I&B ministries as minister of state. As a likely law minister this time, he has a tough job in seeking to roll back the inroads made by the judiciary in policy-making areas. He will also have to pilot a judicial accountability bill through parliament.
Uma Bharti: A former Chief Minister of Madhya Pradesh, the one who dethroned Digvijaya Singh, she has been rudderless in the years out of power. She also led the BJP unsuccessfully in the last UP assembly elections. Has been passionate about issues dealing with the Ganga, and is not known to be close to Modi. But she is probably easier to manage inside the government than outside. She has tremendous energy, and can make for a good minister is she gets her head down and focuses on her work.
Smriti Irani: As a Rajya Sabha member, Smriti Irani shot to fame in the last three months as the BJP's candidate who took on Rahul Gandhi and reduced his margin of victory to something inconsequential. She has no ministerial or administrative experience, and her sole claim to fame is her growing closeness to Modi. But she is a go-getter. Will make waves whatever she does.
Nirmala Sitaraman: Best-known as a stout and aggressive defender of the BJP on TV, Sitaraman is probably being rewarded for her past loyalty. She has no ministerial or administrative experience in government, and her performance will be closely watched in her new ministry. He devotion to the party will ensure she gets a good ministry. She will first have to become a Rajya Sabha member, though.
Anant Geete: A bad choice for any ministry, but Modi probably had to listen to the urgings of his biggest long-term ally, the Shiv Sena. In Vajpayee's ministry, Geete was sent as replacement for Suresh Prabhu, who turned out to be an incorruptible power minister. Bal Thackeray wanted Prabhu replaced with Geete as he felt that Prabhu was not doing enough for the party.
Najma Heptullah: A Muslim face not known for any administrative strengths – but this is not to say the choice is wrong. We have to wait and watch how she performs. A former deputy chairperson of the Rajya Sabha and a grand-niece of Maulana Abul Kalam Azad, Heptullah is a Rajya Sabha member. Her portfolio may be inconsequential - but her presence is not.
Ashok Gajapati Raju: As the Telugu Desam's nominee for cabinet berth, Raju has administrative experience at the state level, but not at the centre. He is likely to serve as the man who will push the Seemandhra case in cabinet, as his boss N Chandrababu Naidu will be CM of the new state. He is senior enough to merit watching in a key ministry.
Venkaiah Naidu: A rural development minister in the Vajapyee cabinet, Naidu has also served as president of the BJP. He is widely seen to be a hard worker and follows the party line studiously. Modi will lean on him to deliver in his ministry. Along with Bandaru Dattatreya, he will also play a role in the BJP's growth in Telangana.
Bandaru Dattatreya: The BJP's Secunderabad MP has served as minister of state in Vajpayee's cabinet. He has worked in the ministries of urban development and railways, and his tenures were not marked by any major achievements or bad developments. His place is the ministry is to give regional representation to Telangana, where the BJP has some growth ambitions.
Ram Vilas Paswan: A Dalit face in the ministry, Paswan has been part of many governments of varied stripes. He was a minister in the VP Singh ministry, the United Front Ministries of Deve Gowda and IK Gujral, and the Vajpayee and UPA governments. Only in UPA-2 was he out in the cold, having lost his Lok Sabha seat in 2009. Said to be a decisive minister, he is said to have collateral interests related to his politics.
Piyush Goyal: A Rajya Sabha member and BJP national treasurer, Goyal is key to Modi's economic revival plans. A man of ideas and competence, Goyal has never served in government, but has proved his abilities in managing the party's communications strategy and other organisational responsibilities. He has strong linkages to India Inc and represents the youthful, modern face of the new BJP under Modi. Will get a key economic ministry to handle - probably independently.
Harsimrat Kaur Badal: The wife of Punjab Deputy Chief Minister Sukhbir Badal, Harsimrat is a forceful speaker and has been active in the last Lok Sabha - doing overtime most days. Her administrative experience is nil, but she will make up for this lack by bringing greater enthusiasm for the job.
Radha Mohan Singh: A three-time MP from Motihari in Bihar, he belongs go the Rajput community and has also been Bihar BJP president. Considered a clean politician with a good organisational linkages, his ability to perform in a ministerial role will be watched closely.
Manoj Sinha: A former Benaras Hindu University students' union president and two-time MP, he won from Ghazipur - and won handsomely. He is the lone Bhumihar candidate from UP. An unknown quantity in terms of ministerial performance.
Kalraj Mishra: He is the BJP's Brahmin face from Uttar Pradesh. He was miffed for being shunted out of Lucknow to Deoria, but he won anyway in the Modi wave.
Narendra Singh Tomar: He is the Madhya Pradesh BJP president. He has been close to Chief Minister Shivraj Singh Chauhan, and he is the state's second representative after Sushma Swaraj. He is there for regional balance.
Thawar Chand Gehlot: He is the BJP's scheduled caste face and a party parliamentary board member.
Sadananda Gowda: He was briefly Chief Minister of Karnataka after the ouster of BS Yeddyurappa. As a Vokkaliga, he serves as a counter-weight to the Lingayat lobby in Karnataka, but is politically a lightweight in the BJP's state unit.
Rao Inderjit Singh: A Congress import before the election, he trounced Yogendra Yadav of the Aam Aadmi Party in Gurgaon. He is critical for the BJP's plans in Haryana, where assembly elections are due by October. He was the first one to speak against Robert Vadra.
Krihnapal Gujjar:  He won from Faridabad in Haryana, with huge Gujjar support.A key future player in Modi's Haryana plans.
Shripad Naik: An MP from Goa, he is there for regional representation purposes.
Dharmendra Pradhan: A BJP general secretary, he represents Odisha even though he is a Rajya Sabha MP from Bihar. The BJP has made big strides in Odisha, and has plans to grow the party there in future.
Jual Oram: He has two identities - one as the BJP's tribal face and as an Odisha leader.
Upendra Kushwaha: He is part of Modi's outreach to other backward castes in Bihar and UP. His party won two seats in Bihar in alliance with BJP.
Kiren Rijiju:  As the BJP's MP from Arunachal Pradesh, Rijijuwon especially because Modi showed a huge interest in the development of the north-east, and wanted the party to grow there. He is Modi's look-east candidate.
India
Amid China's growing assertiveness on maritime issues, the Defence Minister also reaffirmed India's call for a free, open and inclusive order in the Indo-Pacific region
Politics
"Congress is using inappropriate words. Using inappropriate words isn't a sign of healthy politics. Words used by Congress chief Kharge for PM isn't only his mentality but result of entire Congress's mentality," Rajanth Singh said
India
Rajnath Singh said the Indo-Pacific region remains important for the economic development of not only the regional but also the wider global community