Narendra Modi is unlikely to suffer Vajpayee's fate: Three reasons why BJP may rule beyond 2019
Is there a possibility of Congress making a return in 2019? The Opposition's inability to remain united, BJP's hegemonic rise under Narendra Modi and Amit Shah, and the prime minister's mass appeal make this unlikely
In her piece for The Indian Express, columnist Tavleen Singh raised a pertinent question. Looking at BJP's pan-India rise, the shifting of power equation and the frequent chest-thumping by senior leaders on the "absolute certainty" of a second term for Prime Minister Narendra Modi, she asked whether the triumphalism could be misplaced.
She offered anecdotal logic. "The more I have heard this said, the more I am reminded of the summer of 2004 when Atal Bihari Vajpayee seemed invincible. Just before the election results, I remember being asked by CNN if there was any chance of Sonia Gandhi springing a surprise, and me recklessly declaring that there was none. We know what happened."
The question is interesting primarily because we have still not fully understood the reasons behind Vajpayee's unexpected loss. Most conventional explanations about the NDA ignoring its base or 'India Shining' backfiring as a campaign slogan do not adequately capture the turn of events. Vajpayee was riding a wave of confidence and the party's internal assessments had favoured early elections.
There is not an iota of doubt that Vajpayee's shock defeat reset Indian politics to a socialist median with far-reaching implications. A Congress government fronted by "free-market hero" Manmohan Singh and led by Sonia Gandhi summoned the ghosts of India's socialist era, but eventually paid the price for this. The repercussions of that defeat still linger, with even Modi's ostensibly Right-of-Centre government struggling under its shadow. Socialism champion PM Modi has buried CM Modi's 'business friendly' credentials six feet under the ground.
Be that as it may, the question central to this piece is how likely is it for Modi to suffer Vajpayee's fate. Is there a possibility of Congress making a return in 2019, albeit propped by an alliance of varied interests? Let us approach the question from three angles: Opposition's ability to remain united and offer a counter-narrative; BJP's hegemonic rise under Modi and Amit Shah; and the prime minister's mass appeal.
Between 2004 and now, Congress has undergone more of a transformative change than BJP has. It is now an apparition led by a dynast who has failed to step up. An unwell Sonia Gandhi may well be ready to hand over the family business to her son, but nothing in Rahul Gandhi inspires confidence. As Congress grapples with a million mutinies and a rapid erosion of its mass base, Rahul comes across as a flippant politician, the most serious flaw in a leader.
For instance, addressing a farmers' rally in Rajasthan on Wednesday, the Congress vice-president blasted the government for refusing to discuss the farmers' distress in Parliament, the very day that agitation and sloganeering over the agrarian crisis forced adjournments of both houses. The government, it appears from media reports, was ready to answer "all questions" from the Opposition under Rule 193. The Speaker had stressed that a debate was scheduled for later in the day, but Opposition leaders from Congress, NCP, TMC, Left, RJD and National Conference — who had been interfering with proceedings by running repeatedly into the Well, ultimately staged a walkout.
So either the Congress vice-president wasn't aware of the House proceedings or he decided to anyway press ahead with the rhetoric no matter how ridiculous it makes him appear.
Umm... On the day that the Lok Sabha discussed 'agrarian crisis' for hours. Might've been better to have participated ?? pic.twitter.com/q7Juq9wpMv

— Baijayant Jay Panda (@PandaJay) July 20, 2017
This cognitive dissonance is symptomatic of a party gripped with panic. On the organisational side, it sways between centralised decision-making and a free run to local power centres; it tramples on the egos of senior leaders and fails to retain talented ones. On the ideological side, it has failed to counter BJP's "nationalism" narrative, appearing far too often on the wrong side. Here, Congress' biggest problem is that it needs to restore the sanctity of a "secularism" debate. Right now the word is discredited beyond repair.
As far as Opposition unity is concerned, Modi is in a better position compared to Vajpayee. The subaltern movement was enjoying high noon in the early part of the millennium and Mayawati was in firm control of the Dalit narrative. That she now has to stage a resignation drama in the Rajya Sabha to reclaim her base speaks volumes about the shifting of sands that has taken place. Mayawati's fall isn't just the fading away of a Dalit leader, it is the biggest symptom yet of the changes that took place among the subaltern underclass since the '90s, which one of the tallest Dalit leaders failed to appropriate.
The assertion of identity has given way to a search for economic opportunities, which the BJP has been able to tap through social engineering and careful messaging. BJP has split Mayawati's base and carved its own niche, a project that is likely to gain more force with Ram Nath Kovind's ascension to the presidency.
At the other end, Mulayam Singh Yadav is now a rebel in a party he founded, while Lalu Prasad Yadav's transgressions are catching up with him and his progeny; Nitish Kumar, one of the tallest Opposition leaders, is cleaved between saving his government and protecting his image; and Naveen Patnaik is feeling the heat in Odisha. In the South, the BJP has emerged as a major player by gaining strength in Kerala and smelling an opportunity to break the AIDMK-DMK duopoly in Tamil Nadu. Except Mamata Banerjee in the East, none of the Opposition leaders appear to be comfortable.
And while the Opposition is struggling to stay relevant in national politics, BJP has substantially gained in strength compared with what it was during the Vajpayee-Advani era. The party of the elite upper classes is now claiming the pro-poor mantle. Modi and Shah obviously feel that this spread will give them better insurance against future uncertainty, and both have moved aggressively to recast the party's core base. In fact, there are murmurs among the trading community that the BJP has abandoned them — a result of the rapid formalisation of the economy hastened by demonetisation and GST — but a lack of options might end up serving BJP's cause.
Finally, while well-being, security, infrastructure, policies, implementation and governance are all important determinants during an election, we tend to underestimate the importance of communication. And it is here that Modi scores big. He is the most talented politician among his peers and his communication skills and strategies are second to none. It is difficult to imagine any other leader pulling off as disruptive a stunt as demonetisation and yet come out largely unscathed.
Early signs indicate that even GST might not be as disruptive a change as was feared, though the last word on this has not been heard yet. Short point is, Modi has grasped the truth better than any of his peers, that sustained communication with the masses (talking and listening to them and not just talking down at them) provides a surprising leeway for mistakes.
This could explain why Modi government in its third year retains the trust of 73 percent Indians — the third highest in the world after Indonesia and Switzerland.
Using social media and his monthly radio programmes, Modi has remained in constant touch with the people throughout his tenure, and has relentlessly worked on his communication strategy — frequently co-opting technology to serve his purpose.
As Arun Jaitley said recently during the launch of a book on the prime minister's Mann Ki Baat programme, "Merely giving an interview to half a dozen TV anchors or addressing a ritual or a press conference in Vigyan Bhawan is not the art of communication. Do you have the ability to go above their heads and talk to the people directly? I think his (Modi's) experience in Gujarat, particularly from 2001 and 2002 onwards, helped him replicate that example, that talk to the people directly over the heads of over a half a dozen people who thought that they have sole monopoly in conveying and communicating."
So, we find people are far more receptive to Modi's radical ideas, far more willing to forgive his mistakes, and ready to give him a longer rope than they would give to his rivals — a puzzle which the Opposition could never really crack. It is always hazardous to prophesise on politics and it is possible that we could be wrong again. But a combination of these factors suggest that Modi may retain power in 2019.
Politics
Mann was miffed with the Congress over 'no action' against perpetrators of alleged multi-crore post-matric SC scholarship scam and non-grant of district status to Phagwara
India
As seen in Punjab, the Congress is brazenly undermining the office of the Prime Minister and by doing so, also damaging the integrity of our democratic institutions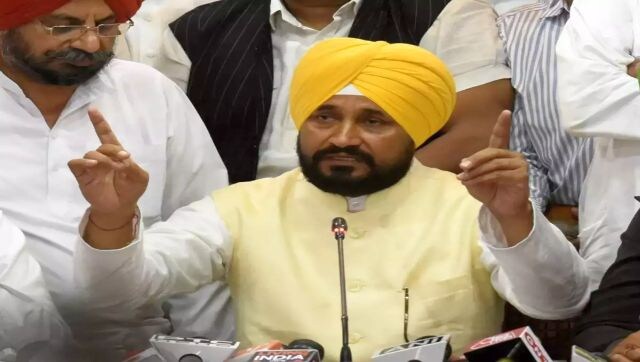 India
The committee comprising Justice Mehtab Singh Gill (retired) and Principal Secretary, Home Affairs and Justice, Anurag Verma will submit its report within three days