As BSY, Siddaramaiah war it out on Twitter, Narendra Modi says Congress' countdown in Karnataka has begun
Narendra Modi at the Palace Grounds in Bengaluru on Sunday said that the Congress' countdown has begun in Karnataka, and that they are standing at the exit door.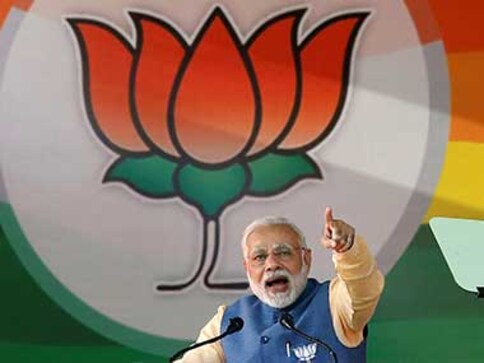 Prime Minister Narendra Modi at the Palace Grounds in Bengaluru on Sunday said that the Congress' countdown has begun in Karnataka, and that they are standing at the exit door.
"While the entire country is progressing, Karnataka is going in the opposite direction," he said at the culmination of the Parivartan Yatra.
In a speech that was largely focussed on rural development, the prime minister listed out schemes for farmers, healthcare and SMEs – some of the big ticket announcements from the Union Budget – emphasising that these will help raise the standard of living in rural India and stem migration into cities. "We have youngsters from across the country who come here (Bengaluru) and start their own businesses. Today's youngsters are not job-seekers but job generators. To ease their woes, we have made the loan-sanctioning process easier," he said.
Modi didn't forget to make a special mention of the allocation of Rs 17,000 crore for the development of Bengaluru's 160-kilometre suburban rail network in the Budget.
Pakoda row
The pakoda controversy found its way outside the venue where a group of students dressed in graduation robes set up a stall to sell the snack. They were detained soon by the police. The prime minister had in an interview recently asked, "If a person selling pakodas earns Rs 200 at the end of the day, will it be considered employment or not?"
The street vendors of Bengaluru, under the AICCTU-affiliated Bengaluru Jilla Beedhi Vyaapaari Sanghatanegala Okkuta, too came out in the open with an open letter to Modi on Sunday. Starting off with a mention of the pakoda remark, they criticised the approval of 100 percent FDI in single-brand retail, GST, Smart Cities Mission and demonetisation. "Sir, we do not want a 'Smart City', we do not want a 'Digital India', we do not want 'Make in India' or your 'Swachch Bharat', if it doesn't allow municipal workers, construction workers, slum dwellers, and street vendors to live with dignity. We want public education, public health system, and public housing! You are shirking your responsibility to provide us all of this and are instead privatising our entitlements," they wrote.
Cong vs BJP on Twitter
Meanwhile, a Twitter war erupted between Chief Minister Siddaramaiah and BJP state chief BS Yeddyurappa over the former's comment on the development in the state veiled as an invitation to the Prime Minister. "I welcome PM @narendramodi to Namma Karnataka - the no. 1 state in investments,innovation & progressive policies," the chief minister tweeted.
To this, Yeddyurappa replied, "Thanks for the welcome CM @siddaramaiah! Yes. Karnataka indeed has scripted several firsts - No.1 Corrupt State, 3,500+ farmer suicides, collapse of law & order, mysterious deaths of officers, transfers of honest officials, crumbling infra of Bengaluru. #KarnatakaTrustsModi"
Siddaramaiah, over tweets, had also appealed to the PM to find a solution to the Mahadayi river water row, to which BJP-ruled Goa is a party. However, the issue did not find a mention in Modi's speech.
Vatal Nagaraj, the pro-Kannada activist who had called for a Bengaluru bandh on Sunday to "seek justice" for North Karnataka farmers on Mahadayi, was detained by cops later in the evening. The Karnataka high court had on Friday termed the call for bandh illegal.
Farmers mince no words on Congress
Endorsing Yeddyurappa as the chief ministerial candidate, Modi said the "kisan ka beta" will work for farmers if he is elected.
Many farmers had come to the venue from Chitradurga, Bidar and Belgaum districts hoping that Modi would refer to the water issues they faced. "We have lost hope from the Congress. We do not have any water for our crops, and that means we can't feed our children as we have no money. How can we still hope that Congress will do anything?" said Samarappa L from Belgaum.
A similar view was held by the farmers around who said they were living in drought-stricken districts without any government help. "We have to keep trying. If the Congress failed, maybe the BJP will help us," Kiran Patil from Belgaum said.
Gurudas Ram, from Chitradurga, said, "They (Congress) come to our homes and ask us what is our problem. We ask them to bring water to the district, but do they really do so? No. If we have no water, how will farmers survive? I cannot bring Congress to power again."
'Cong-mukt Karnataka not possible'
Karnataka Pradesh Congress Committee (KPCC) president G Parameshwara reiterated that the Mahadayi issue was ignored by Modi in his speech. He said Modi was misguiding people and "they (BJP) are only dreaming that they would come be to power".
"Karnataka will not be Congress-mukt, we will come to power again," he declared.
(Nivedita Niranjankumar and Ayswarya Murthy are Bengaluru-based reporters. Both are members of 101Reporters.com, a pan-India network of grassroots reporters.)
Business
Calling out former Reserve Bank of India (RBI) governor Raghuram Rajan in a tweet, BJP leader Amit Malviya claimed that NPAs of the Pradhan Mantri Mudra Yojana - also known as Mudra loan scheme - are lower than the banking sector average 7 years after it was launched by Prime Minister Narendra Modi
India
The family members of the businessman told the police that he had left the house saying that he would be visiting his daughter-in-law, but when he did not return they filed a missing person's complaint
Opinion
For the Opposition, the hope is that regional leaders set their egos and ambitions aside. If they don't — as they did not in Gujarat — they could face a rout in 2024