Narendra Modi refers to 'certain circles' at Hamid Ansari's farewell in Rajya Sabha, says outgoing V-P now free to speak his mind
Modi's comments come in the backdrop of Ansari's recent interview to Rajya Sabha TV wherein he cautiously broached the subject of the growing intolerance in country
Constitutional posts, often conferred upon politicians, comes with a statutory obligation - to remain apolitical till the end of the term.
Prime Minister Narendra Modi, speaking in the Upper House on the farewell of Hamid Ansari as Chairman of Rajya Sabha and Vice-President of India, remarked that now the outgoing vice-president, a Congressman for decades, will feel more liberated in exerting his political identity.
The prime minister observed that Ansari, hailing from a family of Congressmen, must have felt rather constraint by the chains of Constitution, as it mandated him to play an apolitical role for the past decade, during his tenure as the Vice-President of India. "From now on you will be free to act, talk and work in accordance with your basic political ideology and instinct," Modi said.
The prime minister said Ansari would have a leaning towards 'certain circles' as he has been on diplomatic missions, mostly to West Asian countries besides being the vice-chancellor of Aligarh Muslim University and chairing the Minority Welfare Commission. "In sabhi zimmedariyo ko nibhate hue aap ek prakar ke dayre me rahe jiski vajah se apki kuch bhavanayein rahi hongi, kuch soch rahi hogi, (You have held responsibilities and been associated with a certain 'cirlcle' because of which you have certain opinions and perception,)" Modi said.
Modi's comments come in the backdrop of Ansari's recent interview with Rajya Sabha TV wherein he cautiously broached the subject of the growing intolerance in the country, without being critical of any political party or individual.
As the outgoing vice-president, Ansari had on Wednesday said that there was a feeling of unease and insecurity among the Muslims in the country, asserting that the "ambience of acceptance" was under threat. Ansari, 80, also described as a "disturbing thought" that Indianness of citizens was being questioned.
In the interview, Ansari referred to incidents of lynching and 'ghar wapsi' and killings of rationalists as a "breakdown of Indian values, breakdown of the ability of the authorities at different levels in different places to be able to enforce what should be normal law enforcing work and over all the very fact that Indianness of any citizen being questioned is a disturbing thought."
Ansari, whose second five-year term as the vice-president ends on Friday, made these remarks in the backdrop of incidents of intolerance and cow vigilantism and comments made by some saffron leaders regarding the minority community.
He also said that according to him the propensity to be able to assert your nationalism day in and day out was "unnecessary". "I am an Indian and that is it," he had said.
When asked about the government's response to his concerns over growing intolerance, Ansari had deflected the question with a diplomatic quip, rather than taking a critical view of the ruling party.
"Well, there is always an explanation and there is always a reason. Now it is a matter of judgement, whether you accept the explanation, you accept the reasoning and its rationale," the seasoned diplomat responded when asked to specifically comment on the response of the government.
Responding to a question on comments made by some BJP leaders related to minorities, he had said he would not talk about political people or political parties.
"But to me, every time such a comment appeared or came to my knowledge; I mean my first reaction was that, A: the person is ignorant, B: that he is prejudiced and C: he does not fit into the framework that India has always prided itself on, which is to be accommodative society," he said.
The prime minister's comments on the liberty to exert political opinion, perhaps, comes in line with these comments that Ansari made only yesterday (Wednesday).
Modi praised the diplomatic insights of Ansari, a career diplomat, as the Rajya Sabha bid an emotional farewell to the outgoing Chairman of the Upper House.
Modi said that Ansari was leaving behind "great memories" and his "contributions have been important".
"You have been a career diplomat, what it means I got to know when I became the prime minister. Observing you I saw mannerisms of a career diplomat.
"Your diplomatic insights were invaluable, especially when I discussed with you before and after my bilateral visits. I appreciate your insights. I am grateful to you and your talent in leading the way for the nation," Modi said.
Ansari chaired the House on the last day of his second term, and members cutting across party lines praised how he conducted the Rajya Sabha for a decade, upholding constitutional and parliamentary values. Ansari has served as India's ambassador to several countries and was India's Permanent Representative to the United Nations.
With inputs from agencies
Find latest and upcoming tech gadgets online on Tech2 Gadgets. Get technology news, gadgets reviews & ratings. Popular gadgets including laptop, tablet and mobile specifications, features, prices, comparison.
India
In his autobiography, "A Road Well Travelled', the then head of the SIT said that the Modi did not parry any questions and kept his cool throughout
Politics
At a campaign meeting on Sunday in Gwalior's Dabra town, where the BJP has fielded Imarti Devi, Kamal Nath had said the Congress candidate was a "simple person" unlike his opponent who was an "item".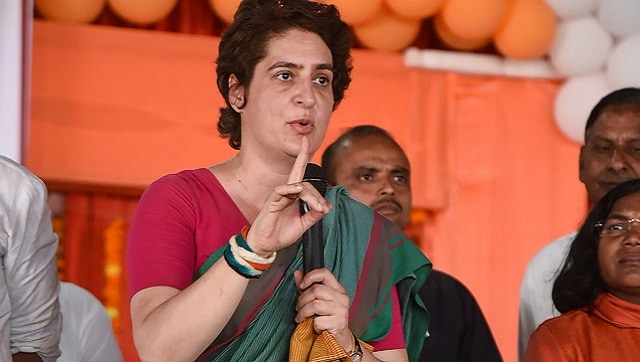 Politics
The Congress leaders made the comments in reference to reports of a BJP MLA and his son allegedly taking away a man accused of harassing a woman from police custody on Saturday