Narendra Modi reacts to Rahul Gandhi's remarks on Sardar Patel statue, says Congress is spreading lies
Prime Minister Narendra Modi on Saturday reacted to Rahul Gandhi's remarks on the Sardar Patel statue in Gujarat.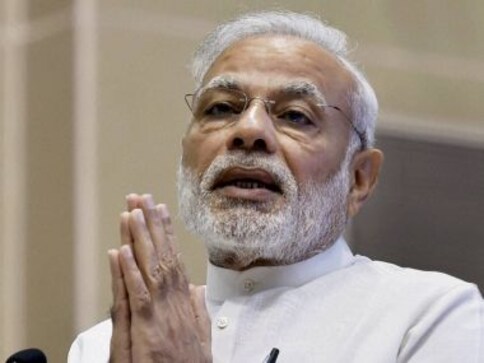 Prime Minister Narendra Modi on Saturday reacted to Rahul Gandhi's remarks on the Sardar Patel statue in Gujarat and said that the Congress was only interested in spreading lies.
"Can the statue of Sardar Patel be compared to that of shoes made in China?" said the prime minister during his interaction with BJP booth workers from Bilaspur, Basti, Chittorgarh, Dhanbad and Mandsaur.
"Congress hates Sardar Patel so much that they have started mud-slinging on the statue too," Modi said. "Congress has insulted icons like Sardar Patel. It never bothered to remember Sardar Vallabhbhai Patel earlier but now that the entire nation is remembering him, Congress is unable to digest this fact," he also said.
"After demonetisation, Congress spread lies that your money is not secure in the banks," he said. "Congress is also spreading lies about Ayushman Bharat."
"Congress destroyed the eco-system of the nation," Modi said, adding that BJP workers have to face Congress lies "courageously".
Modi was responding to Gandhi's claim made on Thursday that Sardar Patel's mega statue in Gujarat, a pet project of Modi, was being built by China, evoking stinging reactions from the BJP and the Gujarat government.
The 182-metre statue, being built at Sadhu Bet in Narmada district and tipped to be the world's tallest statue, is slated to be inaugurated by Modi on the icon's birth anniversary on 31 October.
Named as the 'Statue of Unity', the monument is a pet project of Modi who had laid the foundation stone for it in October 2013, when he was the chief minister of Gujarat.
"The prime minister used to say that we will install the statue of Sardar Patel in Gujarat. It is unfortunate that the iron man's statue will be inscribed with 'Made-in-China' as it is being made by China," Gandhi had said at a rally in Satna in Madhya Pradesh.
With inputs from PTI
Opinion
While India is broadly in favour of globalisation and free trade, the Modi government has placed the national self-interest stage centre in the mix. It wants reciprocity and mutual advantage, or it tends to lean towards Aatmanirbharta
Entertainment
In response to a Twitter user's appreciation post for Gandhi, Agnihotri wrote, "I like the ease with which he wears warm jackets indoors and goes without jacket outdoors. Also, ease with which he drinks chai outdoors and 5 course meal indoors. Easy drama. Easy followers. Good one."
Opinion
The UK broadcaster's 'Modi Question' holds as much water as Jack Straw's WMD lie on Iraq. It may also be the British establishment's assault against an Indian-origin prime minister at 10 Downing Street