Narendra Modi, Manmohan Singh exchange greetings on 16th anniversary of Parliament attacks after bitter war of words
What was interpreted by many as an awkward interaction went on to show just another day in Indian polity, as both leaders stepped forward and greeted each other
Days after their bitter war of words over a meeting with Pakistani officials, Prime Minister Narendra Modi and his predecessor Manmohan Singh greeted each other and shook hands on Wednesday as parliamentarians gathered to pay homage to the victims of the 2001 attack on Parliament.
What was interpreted by many as an awkward interaction went on to show just another day in Indian polity, as both leaders stepped forward and greeted each other, with the animosity from the high-pitched Gujarat election campaign now behind them.
Eyebrows were raised at the clash between the the serving prime minister and his predecessor during the Gujarat election campaign. Modi insinuated that Singh was colluding with Pakistan in the Gujarat polls. Singh responded by saying Modi was setting a "dangerous precedent" and asked him to apologise to the nation, adding that he did not need any sermons on nationalism from a prime minister with a "compromised track record on fighting terrorism".
Meanwhile, Congress president-elect Rahul Gandhi and the outgoing party chief Sonia Gandhi were also present on the occasion marking the 16th anniversary of terror attack. They too met and greeted Modi and other BJP leaders at the event in Parliament House.
A smiling Rahul went ahead and met Union ministers Sushma Swaraj and Ravi Shankar Prasad, who had been lashing out at the Congress president-elect until Tuesday in the heat of the election campaign in Gujarat. Vice-President M Venkaiah Naidu, Lok Sabha Speaker Sumitra Mahajan and Home Minister Rajnath Singh were also present. Rahul also greeted BJP veteran leader LK Advani at Parliament House.
The prime minister also paid respect to the victims of the attack after the event.
We pay homage to those who laid down their lives protecting the temple of our democracy on 13th December 2001. Their sacrifices will never be forgotten. pic.twitter.com/Fn4RYDvqxL

— Narendra Modi (@narendramodi) December 13, 2017
President Ram Nath Kovind also remembered those "martyred while defending Parliament from terrorists on this day 16 years ago".
Gratefully remember those martyred while defending Parliament from terrorists on this day 16 years ago. Forces of hate and terror targeted what we cherish most — India's democracy and democratic values. They did not succeed. And we will never let them succeed #PresidentKovind

— President of India (@rashtrapatibhvn) December 13, 2017
On this day 16 years ago, five heavily-armed gunmen stormed the Parliament complex indiscriminately firing and killing nine persons. Those killed included five Delhi Police personnel, a woman Central Reserve Police Force (CRPF) officer, two Parliament watch and ward staff and a gardener. A journalist, who was injured, died later. All five terrorists were shot dead.
A year later, four accused, including Afzal Guru, were arrested for the attack and were found guilty after a trial. Guru was hanged on 9 February, 2013.
With inputs from agencies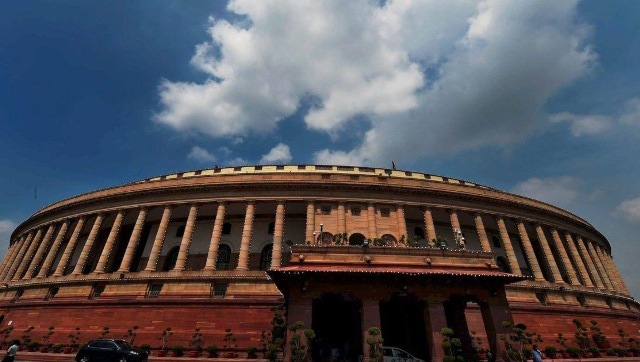 India
Parliament Session Live Updates: Lok Sabha adjourned till 11 am tomorrow as Opposition MPs raised 'Khela hobe' slogans
India
Paying respects to the Indian soldiers, Home Minister Amit Shah said that it was because of their sacrifice that the tricolour was hoisted again on the hills of Kargil
India
Rahul, along with party MPs Pratap Singh Bajwa, Ravneet Singh Bittu, Deepinder Singh Hooda, Gurjit Singh Aujla, Jasbir Singh Gill and other leaders like Randeep Surjewala, also carried banners and raised slogans