Narendra Modi inaugurates ferry service in poll-bound Gujarat, slams Opposition's criticism of GST, demonetisation
Unfazed by the Opposition's attack, Modi vowed to continue the process of taking 'important decisions', as he as he launched infrastructure projects in Gujarat
Unfazed by the Opposition's attack over demonetisation and GST, Prime Minister Narendra Modi on Sunday vowed to continue the process of taking "important decisions" regarding reforms, as he as he launched several infrastructure projects in poll-bound Gujarat.
Modi reached out to traders, assuring them that their past records will not be checked by the Income Tax department if they join the formal economy by getting themselves registered under the new tax regime. "After all reforms and hard decisions, the economy of the country is on track and is going in the right direction," Modi, said on the day-long visit to Gujarat.
"If we have a look at the figures which have come recently, the production of coal, electricity, natural gas and other items has increased tremendously. Foreign investors are making record investments in the country. The foreign exchange reserves of the country have reached 40,000 crore dollars from 30,000 crore dollars," Modi said.
Modi also inaugurated a Rs 650 crore roll on-roll off (Ro-Ro) ferry service on Sunday that reduces travel time by six hours between Saurashtra and South Gujarat.
He said the ferry in the Gulf of Khambhat of the Arabian Sea would reduce the travel time between Bhavnagar district in western Gujarat's Saurashtra and Dahej in Bharuch district in south Gujarat from seven hours to just one hour, cutting the distance between two places to 31 km from 360 km. "It is a landmark project not only for India but also for the entire South-East Asia. It is a dream come true for the people of Gujarat."
The dream of 6.5 crore Gujaratis has come true as the ferry service would lead to social and economic development in the region and bring thousands of new job opportunities, he said. "Imagine how much time and petrol this ferry service will save," he said, adding the facility would not be restricted to just one route.
"We are planning to link other places," he said, noting that plans were afoot to expand the service to Hazira and the union territory Daman and Diu at a later stage and various places in Saurashtra. The prime minister added that the Ro-Ro ferry was like "amrit" — the drink of immortality — bestowed upon to the people Gujarat as a blessing from Hindu god of oceans Varuna.
Addressing a gathering in Bhavnagar after the inauguration, Modi blasted the Congress saying the previous Congress-led government in the Centre had stalled all development projects in Gujarat by creating procedural hurdles in the name of the environment.
"When I was chief minster, I faced hostility from the then central Government. People at the Center were like that. From Vapi to Mandvi in Kutch, they (the UPA government) had banned development in the entire coastal area of Gujarat. They had threatened to lock all our industries in the name of environment."
Modi said this situation changed since he took power in Delhi and gave importance to the state's development. "It seems implementation of all good works are my luck. Changes don't come from cliched attitude but by new thinking. We changed the way of thinking."
The Opposition has also been attacking the government specifically over demonetisation and GST, which was rolled out on 1 July. Congress vice-president Rahul Gandhi had attacked Modi during his recent campaign tour in Gujarat, after the growth rate slipped to 5.7 percent in the first quarter of 2017-18.
Talking about GST, Modi said the number of traders joining the new indirect tax regime is increasing day by day. "In the last few months, 27 lakh additional people have registered themselves for this indirect tax. No businessman wants to indulge in tax evasion. But tax rules, system, tax officials and even politicians are forcing them to do it," Modi said.
He also said that the GST has stopped corruption at check posts on borders of each states. "The GST has eliminated check posts on borders. Trucks do not have to wait for days and corruption at check posts has stopped. Now, those who used to take contracts for ensuring passage of your trucks through the check posts are naturally very angry with me," he said.
Modi also slammed Congress' attack on the Election Commission for delaying the announcement of election dates in the state. "The Congress has no moral right to question the Constitutional body," Modi said addressing a gathering in Vadodara.
"Some of them (Opposition) are worried why Modi is coming to Gujarat after Diwali. They can't say anything to me, so they are targeting the Election Commission," the prime minister said and asked the gathering, "You tell me, should I not come to Vadodara?"
Election to pick a new 182-member Gujarat assembly is due before January 22, 2018 when its term ends. The Election Commission has not announced the poll dates as of now even citing it would bring in the imposition of the model code of conduct that would disrupt relief operation for flood-hit victims.
The opposition parties have alleged that the poll panel has given time to the ruling BJP to announce sops for the people of Gujarat.
With inputs from agencies
Opinion
The UK broadcaster's 'Modi Question' holds as much water as Jack Straw's WMD lie on Iraq. It may also be the British establishment's assault against an Indian-origin prime minister at 10 Downing Street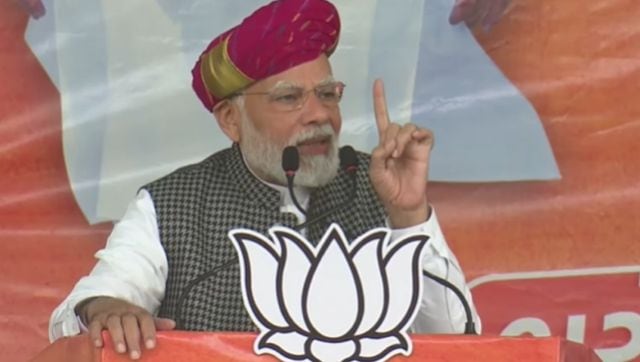 Opinion
In every way, Narendra Modi gains from this needless controversy before the nine state elections this year and the general election next year. And a master politician like him will not let this opportunity for his opponents to malign themselves go waste
Entertainment
In response to a Twitter user's appreciation post for Gandhi, Agnihotri wrote, "I like the ease with which he wears warm jackets indoors and goes without jacket outdoors. Also, ease with which he drinks chai outdoors and 5 course meal indoors. Easy drama. Easy followers. Good one."