Prime Minister Narendra Modi arrived in Varanasi on Thursday to lay the foundation stone at the Mahamana Pandit Madan Mohan Malaviya Cancer Centre.
We thought, why not have a cancer research institute here itself. Why should patients from here have to travel far for cancer treatment: PM

— PMO India (@PMOIndia) December 22, 2016
His visit came in the wake of scathing allegations against the prime minister levelled by Congress vice-president Rahul Gandhi on Wednesday, and ahead of next year's Uttar Pradesh Assembly election. While he sidestepped the accusations, Modi made a mockery of the Opposition, particularly former prime minister Manmohan Singh, former finance and home minister P Chidambaram and Rahul.
However, it was a sombre Modi who began his address at the Banaras Hindu University by paying tribute to the foresight of Chanakya and stating the importance of art and culture in today's world. "To save a human from becoming a robot, art and culture is needed," he said.
It was around 10 minutes into his speech that the prime minister began to speak about the need for better healthcare in the country and a familiar smile flashed across his face. Switching swiftly from talking about the Swachh Bharat Abhiyaan to demonetisation, Modi said, "You must have noticed these days that a major safai abhiyaan (cleanliness initiative) is underway in the country."
"When you walk past a pile of garbage, a great stench emanates from it. But you know that once you walk past it, the smell will dissipate. However, it's when the garbage is being removed that the stench is so unbearable, it becomes impossible to walk past there. These days, you know only too well how strongly that stench is being felt," he said to rapturous applause.
Alongside praising the resolve of Indian citizens to bear the brunt of all the inconveniences imposed by demonetisation, Modi turned his attention to the Opposition, to even more applause.
"I took a lot of things into consideration (before announcing demonetisation), but one thing I wasn't able to factor in — something I could never have imagined — was that some of the country's politicians and political parties would bravely stand up for the dishonorable and corrupt," he said before drawing a headline-grabbing analogy: Comparing the Opposition's tactics in Parliament to Pakistan's tactics on the border.
"When Pakistan wants to send infiltrators, it starts firing on the border. That way our army is kept occupied and they can sneak in. They get cover," explained Modi, "These days in Parliament, you must have seen the arguments. It's now that I understand who is really benefiting from all the disruptions."
Training his guns on specific members of the Opposition, he said, "Our former prime minister (Manmohan) said, 'It's the need of the hour to bring change'. There was a time when silver coins were currency, now it's paper money. And technology has enabled us to move forward and beyond all that. He (Manmohan) also said that in a country where 50 percent of the population is poor, you can't expect technology to be incorporated across the board. Was that (his allusion to poverty) a report card of his government or mine?"
When they say large parts of India did not get access to education, whose report card are they giving: PM @narendramodi

— PMO India (@PMOIndia) December 22, 2016
"I'm pleased he's providing a report card of his own government," said Modi before switching focus to Chidambaram and calling him out for apparently criticising the work done by his own government.
But it was Rahul for whom the prime minister saved his best (or worst, depending on how you see it) remarks. "Yuva neta bhaashan dena seekh rahe hain (the young leader is learning how to give speeches)," mocked Modi, even imitating the Gandhi scion's style of gesturing during his own speeches: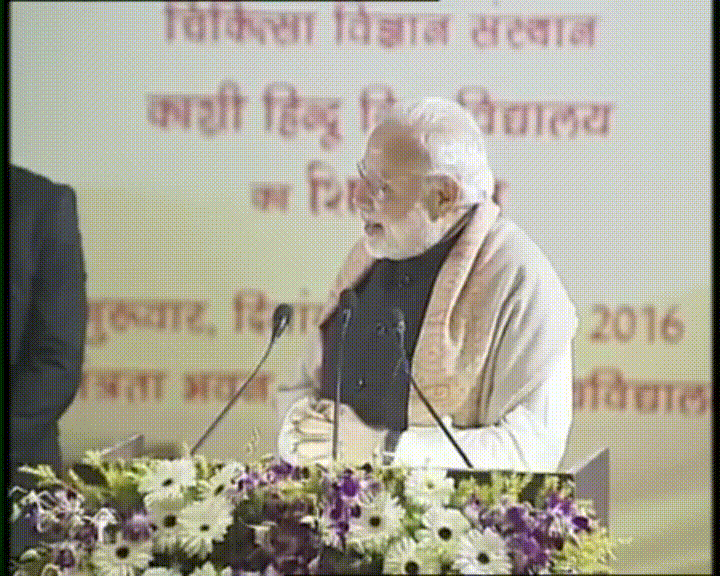 "Now that he's learned to speak and started to speak, my joy knows no end," grinned Modi, long having shed his sombre tone, and added, "In 2009, 'no one know what was in this packet'. Now we know. If he'd kept silent, there'd have been a major earthquake – one the country couldn't have recovered from in 10 years. But it's good he started speaking, because we know that there's no possibility of an earthquake."
With Rahul also in Uttar Pradesh on Thursday, it'll be interesting to see what he has to say after the prime minister's latest salvo.
Your guide to the latest election news, analysis, commentary, live updates and schedule for Lok Sabha Elections 2019 on firstpost.com/elections. Follow us on Twitter and Instagram or like our Facebook page for updates from all 543 constituencies for the upcoming general elections.
Updated Date: Dec 22, 2016 12:33:18 IST