Narendra Modi in Madhya Pradesh: 'Bitter medicine' of demonetisation used to 'treat' corruption, PM says at Jhabua
Addressing a poll rally at Jhabua for the upcoming Assembly elections, Modi also said his government has so far disbursed loans to 14 crore people without guarantee.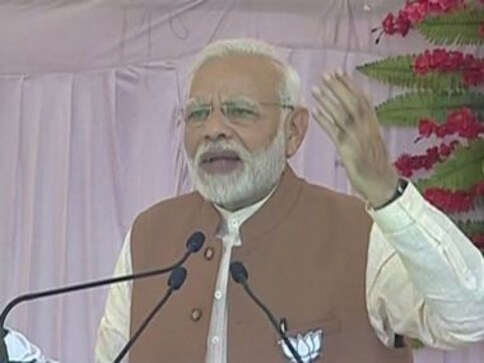 Jhabua: Prime Minister Narendra Modi on  Tuesday said he used the "bitter medicine" of demonetisation to bring back money into banking system and to give "proper treatment to deep-rooted corruption system" in the country.
Addressing a poll rally at Jhabua in Madhya Pradesh for the 28 November Assembly elections, Modi also said his government has so far disbursed loans to 14 crore people, "that too without guarantee", under the ambitious Pradhan Mantri Mudra Yojana.
"The amount of work we (BJP-led government) have done in four years, Congress would be able to do it in 10 years," Modi said.
"Remember the time when Congress was in power here in Madhya Pradesh, what was the condition of people? Madhya Pradesh does not deserve a government which never thinks about the state's welfare," Modi said, targeting the Congress party.
Modi said that during the Congress' 55 year rule in Madhya Pradesh, 1,500 schools were made, but chief minister Shivraj Singh Chouhan established 4,000 schools in the state in just 15 years.
"Our mantra is to provide education to boys and girls, income for youth, irrigation facility to farmers and medicines to elders," Modi said.
Modi said the Congress promised to waive farmers' loans in Karnataka, but instead of doing so, issued warrants against peasants and sent them to jail.
"My government is aiming to double farmers' income by 2022," the prime minister said.
On 'housing for all', Modi said, "My dream is to provide 'pucca' houses to everyone in the country by 2022. We have so far given keys of such houses to 1.25 crore people".
Find latest and upcoming tech gadgets online on Tech2 Gadgets. Get technology news, gadgets reviews & ratings. Popular gadgets including laptop, tablet and mobile specifications, features, prices, comparison.
India
Drug firm Zydus Cadila also received the go-ahead to conduct phase-3 trails for its vaccine candidate ZyCoV-D — the country's first DNA vaccine candidate against the novel coronavirus infection.
India
Governments can ensure that religious processions don't end in violence. For that though, the lives of innocent citizens, especially minorities, should matter to them
India
The chief minister also said that parents of children abducted in Madhya Pradesh will soon be able to track the progress of the case including the status of the investigation by police