Narendra Modi in Gujarat: PM attacks Congress over 'Gabbar Singh Tax' remark, says only looters think of dacoits
Attacking Congress vice president Rahul Gandhi for calling GST 'Gabbar Singh Tax', Prime Minister Narendra Modi said in Morbi on Tuesday that those who looted the country could only think of dacoits
Morbi (Gujarat): Attacking Congress vice president Rahul Gandhi for calling GST 'Gabbar Singh Tax', Prime Minister Narendra Modi said in Morbi on Tuesday that those who looted the country could only think of dacoits.
Resuming his campaign for the assembly polls in his home state, Modi also accused the Congress of taking credit and political mileage over minor schemes, like providing hand-pumps, while saying that the BJP rule brought major projects like the Narmada project for the benefit of the people.
"Those who have looted the country can only think of dacoits," he said addressing a rally at Morbi in Saurashtra, which votes in the first phase of state Assembly elections on 9 December.
Gandhi had earlier dubbed the Goods and Services Tax 'Gabbar Singh Tax', recalling the iconic villain in the Bollywood blockbuster "Sholay".
Attacking the opposition party, Modi said, "The Congress' development model was giving hand-pumps. For BJP it is the SAUNI scheme (the Narmada water project for Saurashtra region), where we will fill dams of Saurashtra through huge pipelines."
Modi had on Monday pushed the BJP's campaign in Gujarat into high gear by addressing four back-to-back rallies.
The elections to the 182-member Gujarat Assembly will be held in two phases on 9 December and 14 December. The counting of votes will be on 18 December.
Politics
For nearly two decades, it has only been Narendra Modi who could provoke intense debates about his next mystery move. But with Hardik Patel, one can sense that something different is happening.
Politics
The biggest reason behind his unwavering appeal is his commitment to the root cause of his existence--the demand for reservation for Patidars.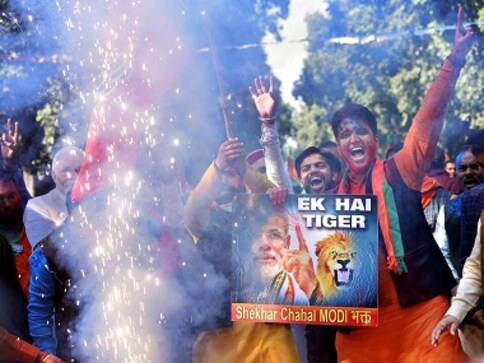 Politics
BJP's win in Gujarat and Himachal Pradesh, nine months after their victories in Uttar Pradesh and Uttarakhand, would settle the demonetisation and GST debates for good in Modi's favour