Narendra Modi in Gujarat updates: Have no attachment to position, want to bring happiness to Indians, says PM
LIVE NEWS and UPDATES ONLINE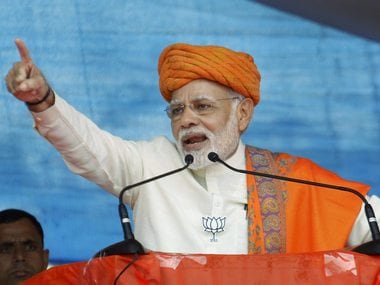 14:49 (IST)

Modi concludes his speech

14:48 (IST)

'Congress insulted me over my origins'

"Those who insulted me over my poverty and lower caste origins have insulted Gujarat as well as the PM's position," says Modi.

14:45 (IST)

Congress is finished from India, says Modi

"I was not born for a Prime Minister's post. I am here to bring happiness to people of India. Now Congress is nowhere now. Even if you use a microscope.. you cannot see them. I ask them to put their house in order rather than insulting me," Modi said.

14:42 (IST)

I resolved urea crisis in India, says Modi

"Urea used to go to major industries and not to farmers. We decided to bring 100% neem coating as a policy.. All the corrupt practices are now over. Now these people are attacking me as their source of illegal income is over.. Now I get no urea-related issues from chief minister. This is the change in three years," Modi said while saying that Congress was hand in gloves with urea mafia.

14:30 (IST)

We ensured 10% agriculture growth rate: Modi

"Gujarat was nowhere in agriculture as most of the time there were droughts. Before I came to power, there was a agricultural growth rate of 1%. We took it to atleast 10% each year. Through PMKSY (Pradhan Mantri Krishi Sampada Yojna), we helped Gujarati farmers to gain more money by selling byproducts," Modi said while talking about Gujarat's agricultural development.

14:27 (IST)

We made Gujarat into a manufacturing hub

"We were known for being entrepreneurs and businessmen but there was no manufacturing industries here. After we came to power, now we are a manufacturing hub. We are also a hub of engineering,"

14:23 (IST)

'Those who indulged in caste politics, now talk of development,' says Modi

"Those who had made corruption their habit cannot help the country. I took the states to new economic height but these Congress leaders used caste politics to break Gujarat.. I remember Viramgam used to have a lot of curfews. We brought the positive change," Modi said.

14:13 (IST)

We developed Sanand, says Modi

"Could anyone have imagined that sanand a small village would reach such great levels of development," Modi said while begining his speech. Modi said that Congress governments of the past only developed the Ankleshwar-Vapi "golden corridor". "We also developed Sanand Viramgam and other areas too. This area is now a hub of automobile industry, " Modi said while adding that companies like Tata Nano. Maruti Suzuki, Ford, Bharat Forge have their factories in the region.

13:35 (IST)

Narendra Modi attacks Mani Shankar Aiyar

The same Mani Shankar Aiyar, who insulted Gujarat, held secret meetings with Pakistan High Commissioner. What was the reason? Why are people who previously held high posts in military-intelligence establishment of Pak writing that we should help make Ahmed Patel the CM?: PM Modi pic.twitter.com/lc9G57NlKI

— ANI (@ANI) December 10, 2017

13:17 (IST)

Modi talks of Delhi-Mumbai Industrial Corridor

"With the coming of the DMIC, Banaskantha will become a transport hub. This will provide opportunities to the youth of this region," Prime Minister Narendra Modi said while concluding his speech in Palanpur.

13:12 (IST)

BJP manifesto stays clear of extravagant promises

Releasing the manifesto, BJP's election in-charge for Gujarat, Arun Jaitley, said it was prepared keeping in mind the party's resolution to maintain and improve on the 10-percent growth clocked by the state under the party's rule. Unlike the 2012 manifesto, the BJP has chosen not to make any extravagant promises, as the present poll document largely revolves around "overall development" and "resolutions" instead of getting into details.

12:59 (IST)

Modi slams Congress over Padma awards

"Just compare the names who were given the Padma Shri, Padma Bhushan and Padma Vibhushan In the 10 years of UPA government and in the three years of NDA government. You will realise who works for the common man," Modi said while taunting the Congress over its 'suit-boot sarkar jibe'.

12:52 (IST)

Modi ends his speech

Prime Minister Narendra Modi was apparently suffering from a bad throat and hence could not talk properly. He ended his speech and urged the gathering to vote for BJP.

12:46 (IST)

Modi slams Pakistan for helping Congress, interfering in Gujarat polls

"Have you read about Mani Shankar Aiyar. Didn't they insult me and people of Gujarat? Now news is that Pakistan HC and foreign minister and Manmohan Singh met at his house just before the Gujarat polls. This is a serious issues that I want to ask what is reason for secret meeting with Pakistanis," Modi said.

"Former Pakistan Army director general Arshad Rafique was willing to help make Ahmed Patel the chief minister.," Modi alleged.

"On the second day of the meeting, they planned to insult the people of Gujarat and Modi. This is a serious issue and Congress needs to answer it," Modi added.

12:35 (IST)

Vote Congress out, urges Modi

"Last time in 2012 when everyone voted for me, the five Assembly constituencies here voted for Congress. I know you people are regretting it now. Now is the opportunity to vote the Congress out," Modi said.

12:32 (IST)

Modi thanks people of Palanpur

"Wherever I go in Gujarat, they don't think of Prime Minister Narendra Modi but of our own Narendra bhai," Modi said while thanking the gathering for their love and affection.

12:28 (IST)

394 crorepati candidates in fray for 182 seat Assembly, BJP fields highest 142 millionaires

As many as 397 crorepati candidates are in the fray for the Gujarat Assembly elections, an analysis of their election affidavits done by two NGOs has found.

Of the total 1,828 candidates trying their luck in the two-phased Assembly polls, 1,098 nominees have passed class 12 or below. Also, there are only 118 women candidates in the fray, according to the report by the Association for Democratic Reforms (ADR) and Gujarat Election Watch (GEW).

While 198 out of the total 977 candidates of the first phase have declared assets worth more than Rs 1 crore, 199 nominees out of the total 851 of second phase have emerged as 'crorepati' as per the analysis of their affidavits conducted by the NGOs.

12:23 (IST)

Voters complain of EVM, VVPAT glitches across state

Earlier on Saturday, there were reports of technical glitches in EVMs in some of the polling booths in Surat and other areas. Last year, the Election Commission had approached the government to buy nearly 14 lakh new electronic voting machines. The Election Commission said it received several complaints against malfunctioning EVMs and VVPATs.

The poll panel received several complaints of EVM malfunctioning in Kosamba region of Valsad district as well. An EVM was also tampered with in Rajkot East constituency, a complaint to the EC said.

A Congress candidate from Pardi also filed a complaint with the EC for a Voter Verification Paper Audit Trail (VVPAT) not showing the paper slip while voting. The polling process was resumed after the EVMs were replaced, an EC official told PTI.

12:16 (IST)

Modi lands in Palanpur

12:14 (IST)

Rupani slams Rahul's old 'Hindu terror' remark

"He said that Hindu terrorism will affect India. He has an anti-Hindu mindset. But now he is going to several temples and praying there. No issues with it," Rupani said while referring to Rahul Gandhi's temple visits in Gujarat.

12:05 (IST)

Rupani slams Congress

They (Congress leader) know that they are going to lose this elections. This is why they are blaming EVM machines now," Rupani said.

12:02 (IST)

Vijay Rupani slams Congress MLAs

"When there were floods in Banaskantha, these Congress MLAs were enjoying in a 5-Star hotel in Bangalore. In the last election, this area elected five Congress MLAs but they did not help in the their bad times. This is the time to teach them a lesson," Chief Minister Vijay Rupani said.

11:54 (IST)

WATCH: Modi's Palanpur rally begins

11:48 (IST)

Narendra Modi questions Congress over Patidar quota

Questioning Congress' assurance of reservation to Patidar community in Gujarat, Prime Minister Narendra Modi on Saturday said it will either have to "snatch" the share of SCs, STs, and OBCs or is making a "false promise" like it did on Muslim quota issue in several states.

"Either they (Congress) have to snatch it from others or they are spreading lies," Modi said in his first major direct attack on Patidar quota issue, which has rankled the BJP especially after the agitation spearhead Hardik Patel backed the Congress in the Assembly polls.

11:41 (IST)

Rahul Gandhi alleges Narendra Modi of diverting attention from main issues

Congress vice-president Rahul Gandhi on Saturday said Prime Minister Narendra Modi leads people away from real issues like a magician diverts audience's attention while performing tricks. At a rally in Modi's hometown Vadnagar, Rahul claimed the prime minister was frequently changing the planks on which the BJP wanted to contest the Gujarat polls.

"A magician also tries to hide something. When he performs tricks, he tries to divert the (audience's) attention. Similarly, Narendra Modiji has in the last 10-15 days tried to divert your attention from actual issues," Rahul alleged.

11:36 (IST)

68 percent voting on Saturday

The maximum polling was seen in Navsari and Morbi districts with 75 percent, whereas the minimum was in Bhavnagar and Botad districts with 60 percent. The polling percentage in 2012 Assembly polls stood at 70.7 percent, while in 2007 it was around 60 percent.

11:31 (IST)

Second phase of polling on 14 December

Prime Minister Narendra Modi will be addressing four rallies on Sunday in Palanpur, Sanand, Kalol and Vadodara. These four areas are situated in north and central Gujarat, which goes to polls on 14 December.
After the first phase of polling ended on Saturday with around 68 percent of the electorate casting their votes, Prime Minister Narendra Modi is once again on the campaign trail. Modi will be addressing four rallies on Sunday in Palanpur, Sanand, Kalol and Vadodara.
These four areas are situated in north and central Gujarat, which go to polls on 14 December.
प्रधानमंत्री श्री @narendramodi आज गुजरात के पालनपुर, साणंद, कलोल और वड़ोदरा में चुनावी जनसभाओं को सम्बोधित करेंगे। लाइव देखें https://t.co/vpP0MI6iTu पर। लाइव सुनने के लिए डायल करें 022-45014501 pic.twitter.com/tNT3tclCRa

— BJP (@BJP4India) December 10, 2017
Gujarat on Saturday held the first of its two-phase polling. The election was peaceful, barring some incidents of skirmishes, while around 100 complaints of EVM malfunctioning were received.
Till late in the evening, the Chief Electoral Officer (CEO), Gujarat office, BB Swain was still gathering data on the final polling figures for the first phase, which would decide the fate of 977 candidates for 89 Assembly seats in 19 districts of Saurashtra-Kutch and South Gujarat.
Barring two or three incidents, the first phase went off peacefully. "We are very happy that despite apprehensions, everywhere the elections were carried out very peacefully, except a couple of incidents, but that too were outside the polling booths," said Swain.
A clash occurred between two individuals outside a polling booth in Jaar village in Bhayavadar taluka of Rajkot district. While coming out from the polling booth with his wife, a person, Jann Mohammad Sora, had an altercation with Piyush Babubhai, both aged around 30. The two were rushed to the Upleta general hospital after receiving injuries in the clash.
In Surendranagar's Sayla taluka's Chorvira vilage, a clash occurred between two groups outside the polling area. In another incident in Junagadh, a person named Mitbhai Arunbhai who was not a voter, accompanied a person, Amitbhai Thummar, inside the polling booth and started taking pictures, which was stopped by a woman constable on duty. An altercation followed. An FIR has been filed by both the persons against the constable, Vijetaben Parmar.
In Amod near Jambusar, a voter told the Returning Officer (RO) that the Voter Verified Paper Audit Trail (VVPAT) was showing a different voting preference than the one for which he had voted. However, when the RO asked him to file a written complaint, he refused.
The final hour of ballotting saw an increase of about 10 percent voting. In Amreli, in the last hour, polling increased from 56.38 percent to 67 percent, while in Rajkot at 4 pm it was 60.32 percent which increased to 70 percent at the close of polling at 5 pm. Similarly, about 10 percent increase was seen in Devbhoomi Dwarka during the final hour. In Surat, it was 60.64 percent at 4 pm and rose to 70 after an hour. The polling was carried out even after the declared time of 5 pm in some places as people were still lined up in queues at polling booths, which went on till 6.30 pm.
The maximum polling was seen in Navsari and Morbi districts with 75 percent, whereas the minimum was in Bhavnagar and Botad districts with 60 percent. The polling percentage in 2012 Assembly polls stood at 70.7 percent, while in 2007 it was around 60 percent.
With inputs from IANS
For LIVE updates on the first phase of Gujarat election click here
Your guide to the latest election news, analysis, commentary, live updates and schedule for Lok Sabha Elections 2019 on firstpost.com/elections. Follow us on Twitter and Instagram or like our Facebook page for updates from all 543 constituencies for the upcoming general elections.
Updated Date: Dec 10, 2017 16:38:23 IST