Narendra Modi hits back at Rahul Gandhi over his 'bhagidar' remark, calls it a compliment
Prime Minister Narendra Modi, addressing Rahul Gandhi's 'chowkidar-bhagidar' comment in a meet in Lucknow, said that he considered it a compliment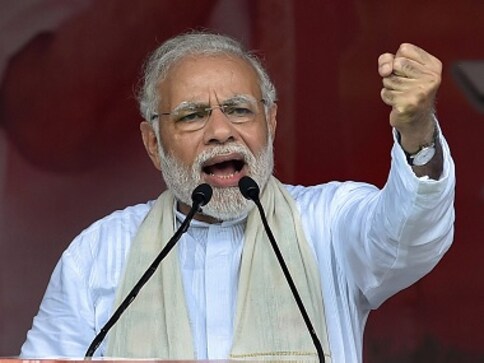 Lucknow: Prime Minister Narendra Modi on Saturday hit back at Congress president Rahul Gandhi for his 'chowkidar-bhagidar' remark, saying he took it as a compliment.
"These days I am dubbed a 'bhagidar' (partner) and not 'chowkidar' (watchman). I feel honoured to be a 'bhagidar' of the problems of the poor," the prime minister said, referring to Rahul Gandhi's insinuation that he was a 'collaborator' in corruption.
"I take this allegation as an honour, I am proud to be a 'bhagidar' of the pain suffered by the poor, the hardworking labour class, the agony of a sad mother, a poor farmer whose crops get destroyed by natural calamities, of soldiers who brave bone-chilling weather as well as scorching heat," he said.
"I am a 'bhagidar' of that poor family which is forced to sell its land for medical treatment, of the homeless, of illiterate children, and of the unemployed," he said. The prime minister was speaking at an event in Lucknow to mark the third anniversary of three government initiatives related to urban development. He said the government will provide a roof to all homeless people by 2022, reiterating his government's promise.
Prime Minister Narendra Modi will be back in Lucknow on Sunday to attend a groundbreaking ceremony for projects involving an investment of Rs. 60,000 crore, pledged after an investors' summit here earlier in 2018.
In an attack on prime minister  Modi on several issues, including the controversial Rafale jet deal, during the recent debate on the no-confidence motion against the government, Rahul Gandhi said the prime minister had promised to be a 'chowkidar' but had become a 'bhagidar'
Prime minister Modi was speaking at a programme in Lucknow on "Transforming Urban Landscape", marking the third anniversary of three key government initiatives related to urban development — Pradhan Mantri Awas Yojana (Urban), Atal Mission for Rejuvenation of Urban Transformation (AMRUT) and the Smart Cities Mission.
He also went around an exhibition on Flagship Missions of Urban Development and interacted with PMAY(U) beneficiaries and launched various projects related to urban housing and infrastructure and the Smart City scheme.
In his 30-minute speech, prime minister Modi highlighted his government's efforts to build houses for the poor.
"By 2022, we will try to ensure that everyone has a house. In order to meet this target the government has approved 54 lakh houses in the cities and also provided more than one crore houses to people in villages," he said.
He slammed the non-Uttar Pradesh governments before Yogi Adityanath took over as the chief minister for their work culture. Prime minister Modi said the previous governments in Uttar Pradesh prioritised bungalows for their leaders over homes for the poor. "I know how people used to live earlier. That is because they (those in power) had a one-point programme, which was how to decorate their bungalows,"  Modi said, in an apparent reference to a row after former chief minister Akhilesh Yadav vacated his official accommodation.
Modi blamed the Congress governments for unplanned urban development, suggesting that they could have done better right after independence when the country didn't face such population growth.
"The population was allowed to expand in an unplanned manner. Concrete jungles were allowed to grow. Today, the entire country is bearing the brunt," he said.
Lauding former prime minister Atal Bihari Vajpayee,  Modi said, "There is very close relationship of our mission and Lucknow city. Lucknow has been the 'karmabhoomi' of 'mahapurush' Atal Bihari Vajpayee.
He said Vajpayee made Lucknow the laboratory to improve urban life in the country.
Modi laid out his 'five Es' mantra for the development of India's youth. "We are bound to build a system for future generations, where life is based on five Es: ease of living, education, employment, economy and entertainment," he said.
Earlier this month,  Modi has visited his parliamentary Lok Sabha constituency Varanasi, Azamgarh and Mirzapur of Uttar Pradesh. He had visited Sant Kabir Nagar on 28 June.
India
The AIPOC is celebrating its 100th year in 2021 and to commemorate the occasion, its 82nd edition will be held in Shimla. The first conference was also held in Shimla in 1921
India
Details accessed by News18 show that the main airport access will have a public transportation centre, a Metro station and a high-speed rail station.
Politics
From prominent faces like Sushmita Dev and Jitin Prasada jumping ship to a mass exodus in Uttar Pradesh, the Congress party has gone through crisis after crisis this year.