Narendra Modi greets Rahul Gandhi on party elevation: BJP, Congress show some political civility amid heated poll battle
Narendra Modi congratulated Rahul Gandhi on his election as the Congress president even as the two are engaged in a political battle in Gujarat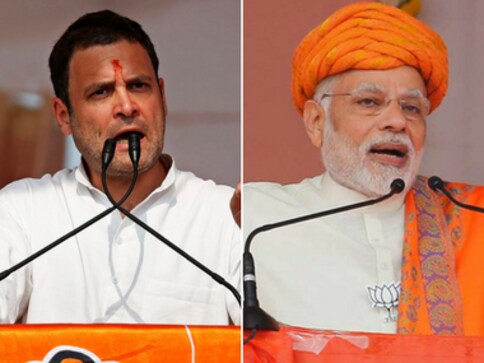 The BJP and Congress are gearing up for the second phase of Gujarat elections which is slated for 14 December. While Narendra Modi and Rahul Gandhi have been regularly hitting out at each other in the course of the poll campaign, both the leaders chose political civility over vociferous acrimony on some occasions in the recent past.
Prime Minister Narendra Modi on Monday congratulated Rahul Gandhi on his election as the Congress president.
"I congratulate Rahul Ji on his election as Congress president. My best wishes for a fruitful tenure," Modi tweeted from his personal twitter handle @narendramodi.
I congratulate Rahul Ji on his election as Congress President. My best wishes for a fruitful tenure. @OfficeOfRG

— Narendra Modi (@narendramodi) December 11, 2017
Modi's congratulatory message came on a day when a row broke out over his insinuation on Sunday that former prime minister Manmohan Singh was colluding with Pakistan to influence the state polls. Singh shot back, saying Modi was setting a "dangerous precedent", and asked him to apologise to the nation.
On the other hand, Rahul last month had also instructed Congress workers in Banaskantha to conduct "dignified campaigning" and respect Modi. "I wrote an email to Ashok Gehlot, asking him to instruct all our social media campaigners not to say anything undignified about Modi ji. He is the prime minister of our country and he must be respected. I remember how Manmohan ji was ridiculed when he was the PM. I said we will not do that to Modi ji. We will not go beyond a point," Rahul said, according to India Today.
"I would like to tell everyone from both the BJP and the Congress that Rahul Gandhi respects the position of the prime minister," Rahul had also said at a rally in Kalol.
However, the BJP and Congress have consistently levelling charges against each other. Recent examples were Mani Shankar Aiyar referring to the prime minister as 'neech' and Modi's claim of Pakistan interfering in the Gujarat polls.
With inputs from agencies
Politics
Shashi Tharoor is likely to face Ashok Gehlot in the upcoming Congress presidential election as Rahul Gandhi remains disinclined. But what is the process to elect Congress chief?
Politics
Singhvi's statement comes after party leader Gourav Vallabh taunted Shashi Tharoor over his probable bid for the post of All India Congress Committee president
Politics
The response that Rahul Gandhi received for his ongoing 'Bharat Jodo Yatra' is a good reason to persuade him to return as the Congress President, senior party leader Salman Khurshid said on Wednesday.