During a brief stopover at Ghazipur on Saturday, Prime Minister Narendra Modi made the best of the opportunity to launch another broadside at the Congress. This time he was speaking on farm loan waivers, but as usual, as has become customary, he was big on rhetoric and seriously short on facts. His elision of his own party's record, another form of prevarication, was also exemplary.
Referring to the farm loan waiver that helped the United Progressive Alliance (UPA) return to power in 2009, Modi asked the crowd whether they had benefited in any way. He then went on to ask, rhetorically one presumes, whether or not farmers had been forgotten once the UPA came back to power. "Will you believe such people? Will you trust a lollipop company?" he finished, without, of course, having established in any remote manner that the UPA's loan waivers had not helped farmers or that the UPA had forgotten them.
There was much more amiss, however. Modi went on to say that the HD Kumaraswami government's loan waiver had benefited only 800 farmers. The agronomist-economist prime minister went on to assert that loan waivers would not solve 'the problem' that is the steadily deepening agrarian crisis. What would help the farmers, he added, was the hike in minimum support price (MSP) to one-and-a-half times the cost of production and the modernisation of procurement alongside the creation of cold-storage chains. That analysis sounds, on the face of it, admirable.
Well, let's begin with some ascertainable facts. Modi's 800-farmers figure seems to have been made on the basis of a statement made by the Karnataka co-operatives minister on the floor of the Assembly, as reported by a newspaper on 13 December. The farm loan waiver was announced in July by the new coalition government, which came to power in May. In December this year, however, several media investigations revealed that the number of beneficiaries were in the region of 27,000, while one newspaper reported that 70,000-odd farmers had availed of the benefits of the scheme. Karnataka chief minister HD Kumaraswami has himself claimed that 60,000 farmers have benefited, and that this week another 100,000 farmer would come under the purview of the scheme. The entire process of writing off the loans, he has promised, will be completed by the end of January. So much for prime ministerial exactitude.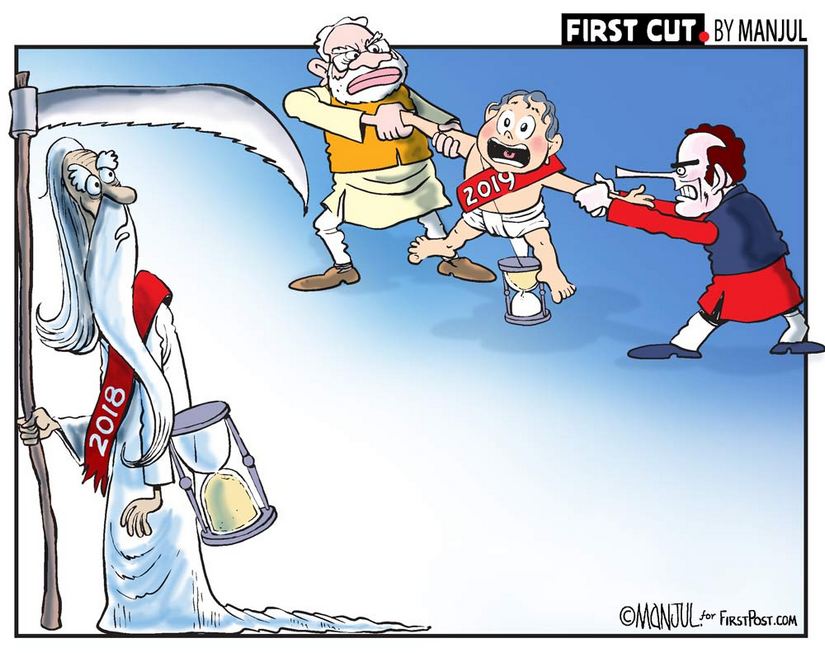 Let's turn to the BJP's lollipop factory. Faced with a massive farmers' rally, and mounting evidence of agrarian discontent, Maharashtra chief minister Devendra Fadnavis, handpicked for the job by Modi and BJP chief Amit Shah, had announced a farm loan waiver in June last year to benefit 8.9 million farmers, which was to have cost his government Rs 34,022 crore (almost the same amount envisaged as a payout by the Karnataka government, though that figure has escalated to around Rs 44,000 crore). It was reported in February this year (about nine months after the announcement) that Rs 12,381 crore had been transferred to 3.1 million farmers' accounts under the scheme. The latter figure was revised to 5.6 million after biometric screening had removed 3 million names. The governor finally said the government had approved payouts to 5.6 million accounts and released funds for 5.4 million.
The farm loan waiver announced and executed by the Adityanath government in Uttar Pradesh was even better. In April this year it was reported that though the government had claimed that the loans of 3.4 million farmers, totalling about Rs 21,000 crore, had been waived, 900,000 complaints had been received about the scheme. Complainants said that though they had received their waiver certificates, banks were still making deductions. There were other complaints as well, some relating to the absence of a waiver in the first place.
Bharataiya Janata Party (BJP) agrarian economics seems to be just a little bit all over the place. Experts, too, are divided on the benefits of farm loan waivers. Though most mainstream economists, actuated by concerns over the impact of 'subsidies' on the fiscal deficit and their general tendency to distort economic processes, suggest that loan waivers are at best useless and at their worst, positively harmful, some experts suggest that waivers can be a useful function in the short term though they tend to get entwined with electoral populism.
The real issue, however, is what kind of farmers waivers help. Experts say, and it is a bit of a no-brainer, that loan waivers help relatively better-off farmers, rather than the small and marginal cultivators who really need assistance because they have extremely restricted access to institutional credit. We're not going to hear any politician say that any time soon. One economist also suggests the creation of an institutional mechanism that will write off loans on a case-by-case basis considering merits. At any rate, the grounds do exist for arguing that in a crisis loan waivers can become an imperative.
Let's finally get to the last part of the Modi argument: that the creation of cold-storage chains, modernisation of procurement and increasing MSP are the ways to go forward. The reportage of the speech didn't actually say that Modi had claimed that his government had moved forward on the first two fronts (for the record, though, it hasn't), but he did claim that his government had increased the MSP on 22 crops. We shall soon see that the 'hike' the prime minister claimed credit for has been largely infructuous, with the marketing season for the kharif crop all but over.
Reports have been flooding in, for instance, of farmers having to sell their produce at throwaway prices. Onions are being sold at prices in the lower single digits – reports have pegged prices at Rs 3 and even Re 1. And it's not just onions. Many kharif crops are selling at lower than the proposed MSP: among them are soya bean and pulses. Rice and coarse grains are also selling at significantly below the MSP. The kharif paddy is probably the largest single crop grown in India.
In other words, the much-touted increase in MSP claimed by the BJP government at the Centre can charitably be described as a fiction, behind which a not-so-clever bit of legerdemain has been conjured. And that relates to procurement, modernised or old-fashioned. In other words, the government has not been procuring enough of the 22 crops it has marked out in its freshly minted package for price-support package named PM-AASHA. Insufficient procurement is either because of incompetence or the result of deliberate government policy as is evident from a report that quoted a trader as saying that the government was entering the market very late, at a time when most cultivators had already sold most of their produce.
At the end of his Ghazipur speech, Modi told his audience that the chowkidar who was toiling so hard and so honestly that thieves were having sleepless nights. He didn't specify who these thieves were, possibly leaving it to the audience to figure out whether they were from the prime minister's party or from outside of it. However hard and however honestly the chowkidar may be toiling, one thing is clear: that farmers have been voting with their feet against the present dispensation at the Centre and in states ruled by the BJP or till recently governed by it.
That is one big reason why the party lost three heartland states earlier this month. And that is why it is the chowkidar who is having sleepless nights. But he could always say that that goes with the territory: after all, it's the chowkidar's job to have sleepless nights.
Your guide to the latest election news, analysis, commentary, live updates and schedule for Lok Sabha Elections 2019 on firstpost.com/elections. Follow us on Twitter and Instagram or like our Facebook page for updates from all 543 constituencies for the upcoming general elections.
Updated Date: Jan 02, 2019 09:54:52 IST