Prime Minister Narendra Modi launched massive celebrations to mark the 142nd birth anniversary of Sardar Vallabhbhai Patel on Tuesday, sending the message that 'Rashtriya Ekta Diwas' will be an occasion second only to Gandhi Jayanti. It's part of an ongoing narrative being propagated by the Bharatiya Janata Party (BJP), where they have repeatedly slammed the Congress for not according due respect to Patel, one of the founding fathers of the Republic.
"People tried to ensure the contribution of Sardar Patel is forgotten. But the youth of India respects him and his contribution towards the building of our nation," Modi said at the Major Dhyan Chand National Stadium on Tuesday.
It's an argument that has been used by the Sangh Parivar in the past as well. This time last year, Modi had said nobody could have a "copyright" over Patel's legacy, a clear reference to Patel's Congress roots. "I am from the BJP and Sardar Patel was from Congress, but I still follow his ideology and beliefs, which belong to no party," Modi had said in 2016.
Twelve months have come and gone, but the argument is the same. The BJP is still trying to ensure Patel, the first home minister and deputy prime minister of independent India, is on the same pantheon as Jawaharlal Nehru and Mohandas Gandhi. That it should be left to the BJP to claim this honour for a life-long Congressman is a deep irony that has only picked up more momentum with time.
But the more important question is why does the saffron party rely on a Congressman, with such secure credentials as Patel, so heavily? The answer may lie in the fact that most freedom fighters and leaders who were part of the Independence struggle were Congress leaders. The BJP, or even the Jan Sangh that preceded the party, came into being post-Independence, and they lack leaders who can provide the spark that was neeeded. If anything, the party owes its ideology to the works of Vinayak Savarkar, who was tried for the murder of Mohandas Karamchand Gandhi.
And though Patel's Congress credentials couldn't be questioned, the fact that he united over 500 princely states gives him a nation building aura, while him being from Gujarat works in favour of the Modi-Shah combine.
When did Patel switch from Congress to BJP?
The BJP has claimed the Congress didn't value Patel, and prevented his rise in order to ensure Jawaharlal Nehru's numero uno position within the party remained intact. It also reportedly launched a WhatsApp campaign earlier this week in Gujarat, highlighting the "insults" allegedly meted out by Congress. The campaign accused the Nehru-Gandhi family of insulting "Gujarati pride" while citing that Patel was never accorded a memorial in New Delhi or given the Bharat Ratna, India's highest civilian honour.
To prove his point that Patel was sidelined by the previous Congress governments, Modi, on Tuesday, also invoked Rajendra Prasad, saying that India's first president was not happy with the way Patel's contribution to India was neglected. The BJP, in the past, had even said Nehru didn't attend Patel's funeral, forcing the Congress to issue video proof to the contrary.
But how much of this is actually true?
As with everything else that took place over half a century ago, a lot of it is misrepresented.
Unfortunately for the Congress, Patel's birth anniversary also happens to be the date Indira Gandhi was assassinated. Caught in a bind over which occasion to mark, it chose Indira Gandhi's assassination.
Historian and author Ramchandra Guha writes in a report in Hindustan Times: "From 1985 onwards, the Congress, when in power in New Delhi, vigorously commemorated 31st October for being the day that Indira Gandhi died, while forgetting to alert the public that this was also the day that Patel was born. Since the Nehru-Gandhis would not praise Patel, the BJP chose to do so instead."
So, with a battle emerging where only one political party could claim rights to the original Iron Man of India, "Indira Gandhi and her descendants have suppressed Patel's contributions, while Narendra Modi and the BJP have set up a tendentious opposition between two Indians who worked together to build this country," Guha wrote, suggesting that tales of Patel and Nehru not seeing eye-to-eye were grossly misrepresented and exaggerated.
Differences between Patel and Nehru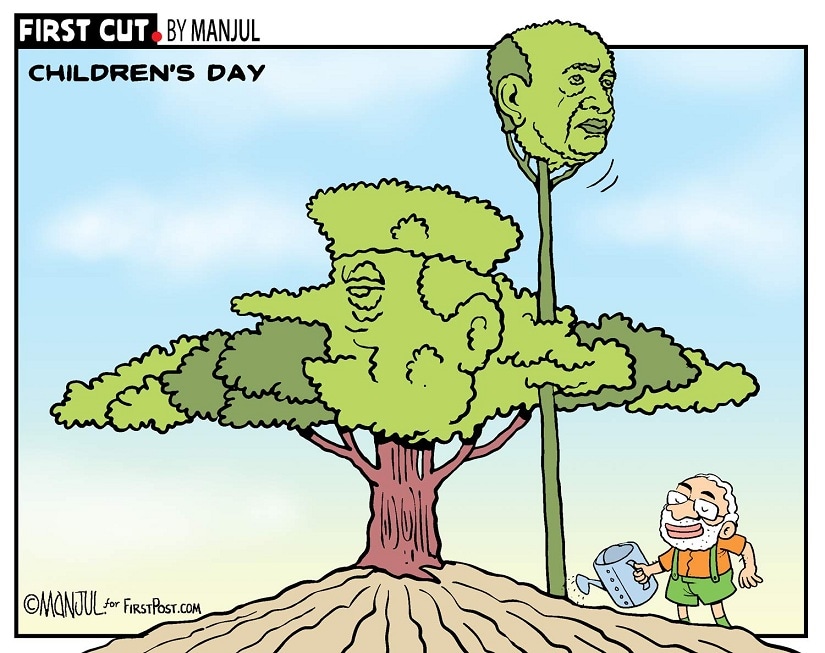 Having said that, however, they did have their differences. As pointed out by Livemint, Nehru was a committed socialist with a firm belief in State-led industrialisation, Patel's borrowed belief in Gandhian self-sufficiency was tempered by his personal advocacy of private capital. Patel argued against nationalisation of industries and was for letting "those who have the knowledge and experience manage the industries and increase the country's wealth". They were also extremely contrasting personalities, the report notes. "Nehru was a visionary, abstract at times, Patel a hard-nosed realist," it said.
But while they differed on numerous things — right from the issue of whether or not the Congress should participate in general elections in 1935, to the Quit India movement in 1942 — one thing that kept these differences from simmering to the surface was their shared faith in Mohandas Gandhi's leadership.
As senior journalist MV Kamath wrote in The Free Press Journal in 2013, "Patel, hailing from a Patidar farming family, was deep-rooted in Indian soil, while Nehru, an upper-class, anglicised Kashmiri Brahmin was, from his very childhood, raised to be British in cultural upbringing. The two differ as chalk and cheese, no matter who the chalk is and who the cheese. They differed strongly on many issues, and if they worked together on many others, it was because they shared one guru: the Mahatma."
But a nuanced version of history that seeks to place things in perspective is hardly possible in the rough and tumble of modern politics. So you have the RSS appropriating Patel as one of their own, which is especially pertinent considering he hailed from Gujarat, the same state as Prime Minister Modi and BJP party president Amit Shah, and the state which is about to witness Assembly election in just over a month from today.
Patel no friend of the Sangh
But a more careful reading of history also tells us that Patel had a few less than flattering things to say about the RSS. And his dislike for the Sangh was no secret. As reported by Firstpost earlier, Patel, a "beacon of secularism", had an extreme dislike for the RSS. He even banned it in 1948. He squarely blamed the Hindu Mahasabha for Gandhi's assassination; and said the "activities of the RSS constituted a clear threat to the existence of the government and the State". He also called Sangh leaders' statements to be "poisonous" in nature. "The speeches of the Sangh leaders are poisonous. It is as a result of this venom that Mahatma Gandhi has been assassinated," he had said.
Even when Patel lifted the ban on the RSS a year after Gandhi's killing, he insisted on a rider: That it would never participate in active politics. It's ironically this rider that led the RSS to push forward the Jan Sangh as its political arm. The Jan Sangh later morphed into what is today the BJP, as elaborated further in this Scroll article.
The article would make for damaging reading for those seeking to pursue the train of thought that in Patel the BJP has found a kindred soul from half a century ago. But it's clearly not so the case. Patel was even more receptive to the idea of Partition than Nehru, it reads. "VP Menon, the architect of the Partition Plan, said that Patel 'accepted the division of India in December 1946, while Nehru would only acquiesce six months later'."
"Abul Kalam Azad, a staunch critic of Partition right till the very end, was disappointed with Patel's support and writes in his memoir India wins Freedom that he was 'surprised and pained when Patel in reply (to why Partition was needed) said that whether we liked it or not, there were two nations in India'," the report further added.
Not words that the Sangh would like to read from the man it has often said should have been the first prime minister of India instead of Nehru.
Even on the contentious Ram Janmabhoomi issue, Patel's views could be inimical to the position taken up by the saffron parties. "In 1949, when an idol of Lord Rama was installed in the precincts of the Masjid, Govind Ballabh Pant was the chief minister of Uttar Pradesh. Sardar was worried because he feared the matter might take an ugly turn; the mob might take the law into its hands He, therefore, wrote to Pant, advising him to exercise restraint, and cautioned him that any unilateral act of force by any party in the dispute must be met by force. And that law-breakers were to be given no quarter at any cost," said an article by scholar Dr Rafiq Zakaria in Rediff.
Do these sound more like the views of a Congressman or a member of the Sangh?
Your guide to the latest election news, analysis, commentary, live updates and schedule for Lok Sabha Elections 2019 on firstpost.com/elections. Follow us on Twitter and Instagram or like our Facebook page for updates from all 543 constituencies for the upcoming general elections.
Updated Date: Nov 25, 2017 15:39:53 IST