Narendra Modi bats for women's rights, says triple talaq should not be politicised in Uttar Pradesh
Prime Minister Narendra Modi on Monday reached Uttar Pradesh to address a rally in the Mahoba district of Bundelkhand region ahead of the Assembly elections in 2017.
Prime Minister Narendra Modi on Monday reached Uttar Pradesh to address a rally in the Mahoba district of Bundelkhand region ahead of the Assembly elections in 2017.
He urged the people to dedicate messages and send wishes to the jawans because it will strengthen them.
He praised the land of Bundelkhand and said that it is special because it has shown "calibre with sword and creativity with pen". However, unfortunately, it has been ruled by people who cared more for themselves than the people of Bundelkhand, he said.
Modi referred to Gujarat and said that unlike Bundelkhand, which has a number of rivers, his former state of Gujarat had a dearth of water. However, when Modi was the chief minister, the state resolved to preserve every drop of rain water and after years of struggling, the state is now free of the water problem, he said.
"Yahan ka kisan tabah ho gya hai (the farmers of Bundelkhand are destroyed)," he quipped while talking about the scarcity of water in the region. However, Modi said that if given water, the farmers of Uttar Pradesh have the capability to grow gold and change the lives of everyone.
He also launched an attack on the Samajwadi Party, which is itself entangled in family mess, and the Bahujan Samaj Party. "The first party just wants to save its family while the latter desires power. Both the parties have looted the state in their own turns but when they come to power, they do not take action against each other," Modi said.
"The BSP is attacking the SP for corruption but when the BSP was in power, did they act against the SP, did they send their people to jail, did the BSP do any welfare work? No. Same is for the SP. They will never act against each other," Modi said.
Because of the shift in power only between SP and BSP, this land never reached its potential, he added. "Uttar Pradesh has seen a lot of politics, has witnessed all types of games. Those who wanted to indulge in playing games, they have done that, those who wanted to gain, have gained," he said.
He also urged the people to get out of this SP-BSP circle. He campaigned for his Bhartiya Janata Party by saying that the picture of the upcoming polls is clear, as it was in the 2014 Lok Sabha polls.
He also revealed that money was provided by the Centre for the development of Bundelkhand but it never took place.
Modi also sent a strong message on the equality of women through his statement on triple talaq. He asked if someone says "talaq" three times over the phone, should we destroy the lives of our Muslim daughters?
He expressed his surprise that some political parties want to keep Muslim women bereft of their natural rights because of vote bank politics. Modi requested everyone not to politicise the issue of triple talaq.
The issue of women's rights is a developmental one and not a political one, he added. Modi also said that justice demands that the government works as per the Constitution and provides gender justice for everyone. He finally urged everyone to take proper measures to give equal rights to women as well.
With inputs from IANS.
India
The prime minister has closely monitored the Kedarpuri reconstruction projects worth Rs 250 crore in Uttarakhand.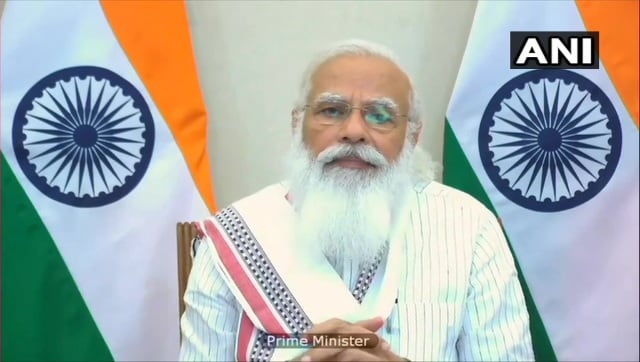 India
Modi cited the government's success in privatising loss-making public airline Air India to assert that this shows its commitment and seriousness.
India
Modi tweeted, "I pray for the good health and speedy recovery of Dr. Manmohan Singh Ji."