Narada sting case: Mamata Banerjee and TMC have nothing to fear from CBI
Despite screaming headlines in media following CBI's move to lodge FIR against 12 prominent Trinamool Congress leaders and ministers in the Narada sting case, Mamata Banerjee has little to fear.
Despite screaming headlines in media following CBI's move to lodge FIR against 12 prominent Trinamool Congress leaders and ministers in the Narada sting case, Mamata Banerjee has little to fear. Her immediate reaction bears testimony to her apparent level of comfort.
In her comments to reporters shortly after CBI booked a bevy of TMC heavyweights, serving ministers and SMH Mirza, an IPS officer, under the Prevention of Corruption Act (POCA), 1988, which enables investigating agencies to arrest the accused even without a warrant, the West Bengal chief minister said, "There is no need to worry. This is a political game and we will fight it politically. Filing an FIR does not prove that the leaders are guilty."
It would be wrong to interpret the Bengal chief minster's apparent dismissive attitude towards a development that may have deep political ramifications as false bravado. This goes deeper. Mukul Roy, Saugata Roy, Aparupa Poddar, Sultan Ahmed, Prasun Banerjee, Kakoli Ghosh Dastidar, Firhad Hakim, Suvendu Adhikari, Sovan Chatterjee, Subrata Mukherjee, Madan Mitra and Iqbal Ahmed — effectively TMC's second rung of leadership — may draw some comfort from the confidence displayed by their supreme leader at a time when they are under the CBI cosh. Yet the defiance isn't just pep talk.
It is interesting to note Mamata's rhetoric. Not without reason does she use expressions such as "political game", "political fight" or "not guilty" even before proceedings have begun. Explicit in her words is an attempt to dismiss CBI's due investigative process into the Narada scam as a "sham" and an effort to paint India's premier investigative agency as a "political tool." Implicit in her words is an accusation that the Narendra Modi government is trying to 'use the CBI' to inconvenience the ruling TMC at a time when Bengal is witnessing the rise of BJP as a rival opposition force.
The problem is, and Mamata is aware of it, that it was the Calcutta High Court that ordered the CBI to look into the Narada sting videos that purportedly showed TMC leaders accepting thick wads of cash. And it was the Supreme Court that upheld the ruling when TMC and the state government rushed to the apex court to get a stay on proceedings.
While the Bengal chief minister charges CBI of being a 'puppet' in Centre's hands, it was a division bench of the Calcutta HC under acting Chief Justice Nishita Mhatre that termed Mamata's police as "puppets" and had made biting observations during proceedings on 17 March this year.
"The state police, unfortunately, puppets on a string, the end of which is with the respondents. Therefore it is of utmost importance that the preliminary inquiry should be conducted by a neutral and independent investigative agency," the HC had held while asking the CBI to initiate an inquiry. The court also reposed faith in CBI's neutrality, holding that "there is no other investigating agency besides the CBI which is independent" and was unflattering in its observations about the Mamata Banerjee government's conduct. "It surprises me that the state in this case, rather than acting independently has supported the respondents with all the vehemence at its command."
The TMC obviously didn't take it well. In a special leave petition against HC order, it accused the High Court of bias in words that were astonishingly abrasive. "Findings of the high court are perverse, done with a pre-conditioned mind. High court has developed a bias. High court has transgressed all constitutional norms and made unwarranted comments". It then had to withdraw the petition and issue an "unconditional apology" before the Supreme Court.
In some ways, the Narada case is a microcosm of the framework under which Indian democracy operates. It encapsulates nearly all symptoms of the disease that affects Indian politics. In his book When Crime Pays, that traces the roots of corruption in Indian body politic and the role that money and muscle play in Indian elections, author Milan Vaishnav shows how criminality instead of being an impediment, is actually an advantage among candidates. Milan's research shows that criminals in India are more likely to get elected and re-elected than candidates who do not have a criminal record.
The author, a senior fellow at the Carnegie Endowment for International Peace in Washington, says that among many other factors, India's embracing of democracy before its civilian institutions, had the chance to develop stability but allowed criminals to step in.
In a recent interview with Reuters, Milan expanded on the nexus between crime and politics in India. According to him, "As elections in India have grown costlier, parties are desperate to identify candidates with deep pockets" and have in the process been forced to ignore their dubious past.
But what about voters? What incentive do they have in propagating criminality? The author says, "Voters have their own reasons to support candidates with questionable pasts. Where government is unable to fulfil its basic responsibilities and social divisions are rife, voters seek refuge in strongmen who can deliver what the state cannot... Whereas the West built institutions before democratising, India embarked on both journeys simultaneously. Layered on top of this, India boasts tremendous ethnic and religious diversity, which politicians can skillfully manipulate to slice and dice the electorate."
This may help explain why parties in India feel no apparent political discomfort even when serious charges of corruption are levelled against them.
For instance, some of the observations made by the Supreme Court against TMC while upholding the HC order are scathing. A bench led by Chief Justice of India JS Khehar, Justices DY Chandrachud and Sanjay K Kaul held, "There are very good reasons why the CBI… the High Court has said you are very powerful person. There is another reason. When a complaint against you was filed with the police in March 2016, nothing happened for more than a year. But when the wife of one of the respondents (TMC leaders) filed a complaint against one of the petitioners, everything was expedited by the police."
What is the fount of Mamata Banerjee's confidence against such damning judicial observations and CBI's FIR against nearly the entire crop of TMC leadership? There are two big reasons. One, there is virtually no political alternative to TMC at the moment. Two, an expansion of the point that Milan Vaishnav makes in his book — the high degree of tolerance that Indians have towards corruption.
Let's take the first point. The TMC is in a sweet spot in Bengal. The Left Front is in an existential crisis, the Congress is non-existent and the BJP, despite its recent political strides, is still too nascent a force to throw a political challenge. BJP's recent growth has been entirely at Left Front's expense while the TMC has been steadily gaining in seats, vote share and confidence. Despite the stink of corruption all around her, Mamata enjoys an image of incorruptibility and has total command over the party.
The demographics of Bengal also works to her advantage. The state's substantial minority population (27 per cent according to 2011 Census) is solidly behind her. She is also aware that BJP's attempts at a larger Hindu consolidation won't be easy in a border state such as Bengal with its unique cultural moorings.
The second point — and here the Bengal chief minister isn't the lone beneficiary — is that Indians have a high degree of tolerance for corruption. In a 2005 paper called 'Do Attitudes Towards Corruption Differ Across Cultures?' authors Lisa Cameron, Ananish Chaudhuri, Nisvan Erkal and Lata Gangadharana did a comparative analysis of Australia, India, Indonesia and Singapore through experimental evidence. Published in ResearchGate, their work elucidates how "subjects in India exhibit a higher tolerance towards corruption than the subjects in Australia while the subjects in Indonesia behave similarly to those in Australia."
The authors posit that, "Higher levels of exposure to corruption in daily life may promote a tolerance of corruption that is reflected in norms of behaviour. A corrupt environment may make it easier to justify one's own corrupt behaviour. Hence, corruption may gain more acceptance as it becomes more widespread and such acceptance of corruption may contribute to its further spread and sustenance (Dey, 1989)."
Simply put, corruption in India is pervasive and minutely ingrained in the body politic. To the electorate, a leader's involvement in a corruption scandal or his/her criminality are hardly decisive factors in electoral fortunes. This allows leaders like Subhendu Adhikari, TMC MLA and state transport minister whose name has been included in CBI's FIR, to say, "All know that the sting was conducted to oust the Trinamool from West Bengal. Still we won elections by a margin of over 30,000 or 40,000 or 80,000. People are the last word in democracy."
Adhikari isn't far from truth. This is also the reason why Mamata has nothing to fear.
India
In recent days, West Bengal CM Mamata Banerjee and her nephew, senior Trinamool Congress (TMC) leader Abhishek, have been surprisingly reticent in directly speaking out against Prime Minister Narendra Modi - their favourite punching bag in normal times
India
Sukanta Majumdar filed a case against the national general secretary of the Trinamool Congress (TMC) at the Bankshal court on Thursday. The issue pertains to the controversial comments by Abhishek Banerjee following the 'Nabanna Chalo' campaign by the BJP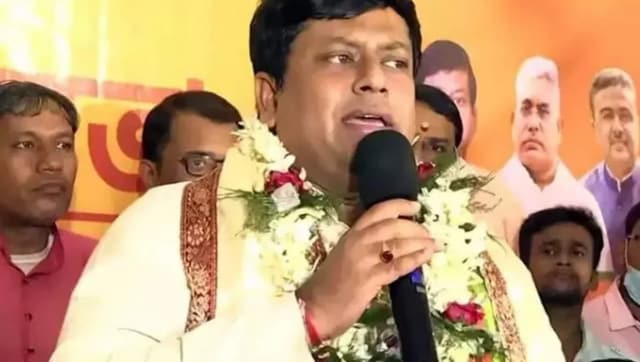 Politics
While visiting the Durga Puja pandal of Dhupaguri's Uttarayan Club that has been constructed as a model of Ayodhya's Ram Temple, BJP leader Sukanta Mazumder hit out at the Trinamool Congress (TMC) leaders and their chief, West Bengal CM Mamata Banerjee