Nagaland exit polls: Ruling NPF to get run for their money as BJP-NDPP projected to clinch 38.4% vote share
C-Voter predicts that the BJP-NDPP alliance will end up with 38.4 percent of the vote share, followed by NPF with 27.1 percent, Congress with 19.7 percent and Others with 14.8 percent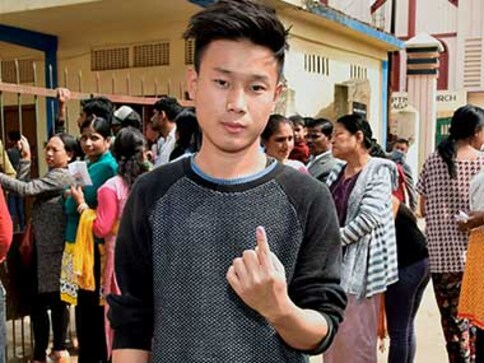 Voting to the Nagaland Assembly election was marred by a clash between supporters of the ruling Naga People's Front and the Bharatiya Janata Party in Zunheboto district on Tuesday, in which one person was shot dead and two persons were injured.
A total of 11,91,513 electorate, including 5,89,806 women and 26,900 new voters, decided the fate of 195 candidates, including five women and many independents. Counting of votes will take place on 3 March.
According to the C-Voter exit poll for 2018, of the 60 seats in Nagaland, the BJP-NDPP alliance is likely to clinch 25 to 31 seats. The ruling Naga People's Front (NPF) is likely to get 19 to 25 seat share, the exit poll predicts. Congress and Others will see 0 to 4 and 6 to 10 seats respectively.
C-Voter predicts that the BJP-NDPP alliance will end up with 38.4 percent of the vote share, followed by NPF with 27.1 percent, Congress with 19.7 percent and Others with 14.8 percent.
Three-time chief minister Neiphiu Rio of the Nationalist Democratic Progressive Party (NDDP) has been declared elected unopposed from Northern Angami-II constituency after lone rival Chupfuo Angami of the ruling NPF withdrew his nomination on 12 February.
The newly floated NDPP has stitched an alliance with the Bharatiya Janata Party and the two are contesting 40 and 20 seats, respectively. However, Chief Minister TR Zeliang voiced confidence that the NPF will retain power.
The run-up to the polls saw several twists and turns, with the core committee of Nagaland Tribal Hohos and Civil Organisations (CCNTHCO) demanding a solution to the vexed Naga problem before the elections, due to which many political parties in the state had decided not to contest the Assembly polls.
In the 2013 Nagaland elections, 90.19 percent voter turnout was recorded.
Here is a look at the C-Voter Nagaland exit poll predictions:
Click here to follow LIVE updates on the Nagaland election results
Click here to follow LIVE updates on election results in all three states
Click here for the seat sharing pattern in all three states
With inputs from agencies
also read
Explainers
Bernand Arnault, who owns LVMH – which includes luxury brands such as Louis Vuitton, Moet & Chandon, and Christian Dior – saw a considerable drop in his fortune after shares of the conglomerate declined five per cent on Tuesday. Arnault's net worth is currently at $192 billion
Explainers
The term 'comfort women' has been given to people that were forced to work as sex slaves by the Japanese Army during World War II. It comes from the Japanese word ianfu – which combines the Chinese characters 'comfort or solace' (i-an) and woman (fu)
Explainers
The trouble kicked off after armed miscreants forced people to shut their shops on Monday afternoon. A mob then torched two homes in Imphal, causing security forces to rush to the spot. Chief Minister Biren Singh has said the situation is now under control