Nagaland Elections: Neiphiu Rio says NDPP-BJP alliance will come to power with absolute majority
Nationalist Democratic Progressive Party's Neiphiu Rio voiced confidence that the NDPP-BJP alliance will come to power with absolute majority in Nagaland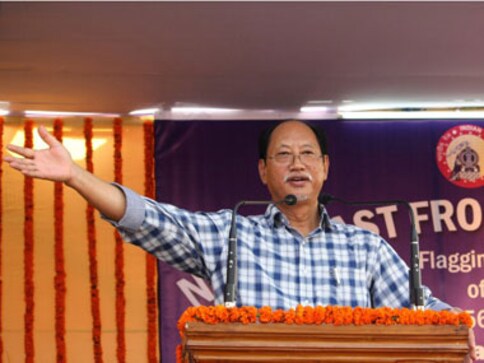 Peren: Nationalist Democratic Progressive Party's (NDPP) Chief Ministerial candidate Neiphiu Rio on Thursday voiced confidence that the NDPP-BJP alliance will come to power with absolute majority in Nagaland.
Although the BJP had been in alliance with the Nagaland People's Front (NPF) for the last 15 years, it favoured the newly-floated NDPP as it had lost confidence in leadership of chief minister TR Zeliang whose tenure was "riddled with massive corruption, instability, misgovernance, propaganda and lies", said Rio, who has already being elected to the assembly without contest.
"Leadership should be visionary, strong and should keep its commitment with the people. His (Zeliang) leadership is without vision, and he leads from behind instead of from the front," he said, while addressing a series of election rallies in Peren district ahead of the 27 February assembly elections.
On the "unabated propaganda" against the NDPP-BJP alliance, the former chief minister said, "We are not going to join the BJP. But we have to maintain a good rapport with the Central government so that we can expedite the peace process and carry forward the development agenda of the Central government for the benefit of our people and by empowering our youth and people living in rural areas".
He said that the BJP's central leaders were aware that the Nagas have an ongoing political issue, and after he conveyed to them the importance of respecting the faith of the Nagas, the BJP settled for only 20 seats and agreed to let the NDPP contest the remaining 40 seats.
"We have not aligned with the BJP to convert but to protect our rights as enshrined in Article 371A and therefore, our relationship with the Central government is very important.
"Article 25-28 under the Constitution of India guarantees secularism and the freedom of religion to all its citizens and therefore, no one needs to fear since it is our constitutional right to profess the faith of our choice. We are Christians and there is no compromise on that," he said.
Politics
Union Minister of State for Home Affairs, Kiren Rijiju on Monday rubbished opponents charge of BJP being "anti-Christian" in the state and said the party was clear that interest of the majority Christian people have to be protected at all cost.
Politics
NDPP chief Neiphiu Rio said he is confident of forming the government in Nagaland and would request Modi to attend the swearing-in ceremony
Politics
Senior NDPP leader Neiphiu Rio was appointed the new chief minister of Nagaland by Governor PB Acharya and would be sworn in on 8 March, a Raj Bhavan source said.