NAC scores self-goals in trying to undercut Anna & prop govt
Members of the NAC are being too clever by half. They claim they are just one voice of civil society to show Anna Hazare his place, but act like they are the only voice government must listen to on legislation.
The more the members of NAC speak out, the more they contradict themselves.
Sonia Gandhi's motley group of civil society activists in the National Advisory Council (NAC) are obviously cut up about the fact that Anna Hazare stole their show by making corruption a talking point with his Jan Lokpal Bill.
We know that Bill is going nowhere, as the government has smartly circumscribed the Anna group by roping in all political parties in defence of Parliament's right to legislate. Now, NAC members are now trying to get their own punches in.
At a two-day meeting of the National Campaign for People's Right to Information (NCPRI) which ended on Wednesday, Aruna Roy and Harsh Mander, both of whom wear the NAC hat, too, attempted to undercut the Anna group by saying that no one can talk for the whole of civil society.
No one can set deadlines for the Bill's enactment, said Roy, as "the process will take time. Personally, I have a great problem with deadlines". This is almost the same language used by the government to send Anna packing. While few people have the stomach for another fast from 16 August, as the Anna camp has threatened, the question is this: Is Roy batting for government or civil society?
But NAC is busy scoring more self-goals in trying to show Anna as an interloper. So it is worth showing up its double-speak for what it is worth.
Aruna Roy said: "There has to be wide public consultation and we need to take in suggestions, revisit the law and principles." She warned people (Anna, please note) against setting deadlines for such a complex law.
Sure, but how many people from civil society did the NAC consult before drafting its versions of the enormously costly Food Security Act? Did it understand the complexity of the economic problems pointed out by even the PM's Economic Advisory Council, leave alone civil society?
Here the NAC seems to have arrogated to itself the right to be the government's first choice of consultant for legislation.
Roy and Mander also argued for "nurturing existing institutions and empowering them, rather than simply drafting new laws and creating new institutions," The Indian Express reported.
Sure, but wasn't it the NAC which drafted the one-sided Communal Violence Bill, which not only intruded into state territory, but also chose to create an entire new law and an entire new bureaucracy for monitoring communal violence and taking remedial action. Wouldn't it have been better to strengthen existing laws like the Indian Penal Code and the Code of Criminal Procedure for the same end?
Harsh Mander went one better, trying to pull down Anna Hazare by claiming he was only one voice. What he said is worth reporting in full, for it not only damns the NAC, but the UPA government itself.
Mander said: "We can only be a voice (of civil society). "I claim to speak only for the voice of my own conscience and that too falteringly. However, to simply say that just because Medha (Patkar, who was also at Wednesday's NCPRI meeting) cannot win an election, you can brush her and others aside is wrong….There must be respect for the diversity of the voices of the unelected."
Here, Mander scores two self-goals. His obvious target is Anna'a Jan Lokpal Bill, which he rightly says cannot be seen as the only alternative. The first self-goal is that this is equally true for every legislation proposed by the NAC. They are only a voice of civil society, not all of it.
The second self-goal is that it makes the UPA government look foolish. Wasn't it a Congress spokesperson who said that the Anna group consisted of people who were "unelected" and "unelectable"? Manish Tiwari, P Chidambaram and Kapil Sibal please note. NAC is attacking your stand on civil society. Medha Patkar, Harsh Mander and Aruna Roy may be "unelected" and "unelectable", but please don't tell them that.
NAC's double-speak is best illustrated when we superimpose the Lokpal Bill version of the NCPRI (which has members common to both NAC and itself) and the NAC's own approach to various Bills.
For example, NCPRI wants the Prime Minister to be accountable and brought under Lokpal, but wants to steer clear of making him accountable for the actions of his ministers. It does not want the PM to be "vicariously" accountable for ministries he does not directly control. In short, if Manmohan lets Raja get away with looting the exchequer, it's not his responsibility. If the defence ministry allows Israeli firms to pay commissions to Indian agents on defence deals, it's not the PM's problem.
As opposed to this, the NAC Communal Violence Bill wants the exact opposite. It wants to introduce the doctrine of "command responsibility" which wants the top man (or woman) to be accountable for things that go wrong in his bailiwick. The attempt here is to get Narendra Modi for his Gujarat failures, but the shot may ricochet on the PM instead.
The NAC is clearly running with the hare and hunting with the hounds. Obviously conscious of the fact that the PM should not be held accountable for all the scams he was a silent spectator to (2G, Commonwealth, etc), the NCPRI wants to free him of his "vicarious" responsibilities.
But what is the purpose of holding a Narendra Modi accountable for lapses in his command responsibility if you are not going to do the same with the PM and Sonia? Don't they have command responsibility for steering the ship of state in the right direction?
NAC's members are being too clever by half. If they are right in what they said at the NCPRI meeting, they should be doing a lot more self-introspection. If they are true civil society members, they should stop being the Congress party's apologists.
Politics
The 57-year-old former Bengal BJP chief is the candidate from Habra which falls under the Barasat Lok Sabha constituency of North 24 Pargana district
World
'It will be difficult, if not impossible, for Pakistan to control the Taliban and other militant groups in Afghanistan as the country spirals into a civil war'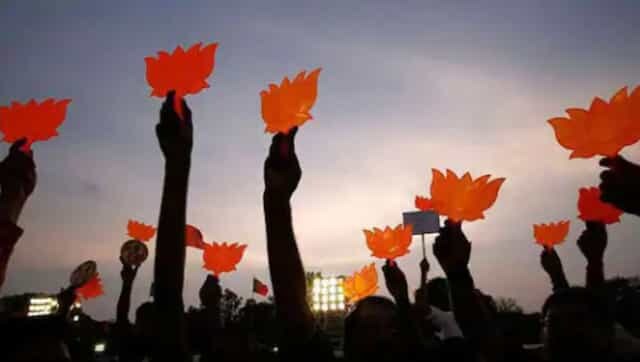 Politics
Jangalmahal is now seen as one of the strongholds of the BJP, and the party claims it will win all seats in the region