Kejriwal leans on Amitabh's Deewar to get back at Modi: Get the other crooks first
It's rare, perhaps unprecedented that the chief minister stands for an officer in his government against whom CBI conducted raids only hours ago.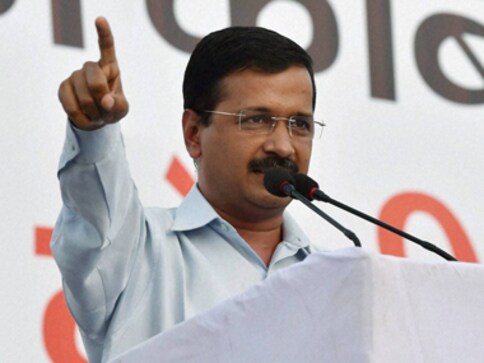 Once the tweet "CBI raids my office" by Delhi Chief Minister Arvind Kejriwal took the media by storm on Tuesday morning, stark similarities of the day's happenings could be seen with Amitabh Bachchan's famous dialogue from 1975 Bollywood blockbuster Deewar. The dialogue goes: "Jao pehle uss aadmi ka sign lekar aao jisne mere haath par ye likh diya tha…." (Go, fetch the signature of the guy who tattooed this on my hand, Amitabh the don challenges brother and policeman Shashi Kapoor when the latter asks him to sign the surrender document.)
Much the same happened after the CBI raided 14 places in the National Capital Region and Uttar Pradesh. A clearly upset Kejriwal said if CBI had to lay hands on his hand-picked principal secretary Rajendra Kumar, it should nab ministers in the earlier Sheila Dikshit government. This, of course, followed by a long list of bureaucrats serving under the then government who allegedly indulged in corrupt practices. Later in the evening he was almost delivered the Deewar dialogue when he addressed Prime Minister Narendra Modi: Modiji...the BJP says I didn't use proper language. My words might not be right, but your deeds are wrong. You first apologise for your deeds..."
Not limiting to that, the Delhi chief minister went a step closer to melodrama of the Bollywood kind: "I will send my son to jail even, if there is evidence of wrongdoing against him." There is not an ounce of doubt that Kejriwal is coming out all guns blazing in defence of his principal secretary but the inherent political spin is unmissable. Kejriwal is deftly making accusations against a person who guarantees big headlines.
In this case, he made accusations against Finance Minister Arun Jaitley, attributing CBI raids to search for files on Delhi District Cricket Association (DDCA), which the senior BJP leader headed for decades. A source, who earlier worked closely with Kejriwal, said since Delhi Assembly elections and more so, after he became chief minister this year, Kejriwal has been very keen to pursue the DDCA case on the basis of accusations of wrongdoing made by two former Test cricketers from Delhi and some other related functionaries. The Delhi chief minister had reportedly asked for all relevant information from varied sources to be made available to him. But the case has so far not made any progress.
Neither is anyone sure of the merit of accusations against DDCA nor has any evidence cropped up against Jaitley but that's how Kejriwal functions. Make big bang charges against the high and mighty, hit the headlines and let it sink in public perception through corner talks at various levels.
In this case also, he didn't elaborate what possibly could be the case against Jaitley other than saying CBI's real motive was to find DDCA files.
In May 2015, Kejriwal had accused the then Delhi acting chief secretary Shakuntala Gamlin, a senior woman IAS officer, of lobbying for private electricity companies, misconduct and insinuating corruption. But with passage of time, once she relinquished the post of chief secretary which she was deputizing for a brief period, none heard of any follow up action against her.
Apart from raiding Rajendra Kumar's office at the chief minister's secretariat, as the Union Finance Minister said in Parliament, searches were conducted "at 14 places against an officer who is attached to the chief minister's office...regarding a complaint for an offense committed before he joined Mr Kejriwal's office." The complaints against Kumar pertain to his conduct during the period between 2007-14.
Kejriwal's accusation against Jaitley or attaching the CBI raids with a particular motive has one major flaw. The CBI couldn't have the seized DDCA file (which Jaitley headed earlier) even if such a file existed there or was in active consideration of the chief minister as the Delhi chief minister, in his own words, said no file stays in his office for more than 10-15 days. Judged against that claim, Kejriwal's barrage of charge against the CBI and the Union finance minister raises more questions than answers.
It's rare, perhaps unprecedented, that the chief minister stands for an officer in his government against whom CBI conducted raids only hours ago. Is Kejriwal overreacting and putting his own reputation in the line just as he did during the arrest of his former law minister Jitender Singh Tomar by Delhi Police in the fake degree case? Or is he fearing that the searches might lead to something else, which could trouble him in future?
Going by the sensitive nature of the case, it is highly unlikely that either the CBI top brass or their political masters would lay their hands on the principal secretary to the Delhi chief minister and conduct raids at his office in the chief minister's secretariat without substantive leads against the concerned officer. Unless some middle level officer has crossed the line and acted out of turn, no government would want to risk it, that too when Parliament session is on.
Now that the raids took place, either the CBI and, by consequence, the Modi government or Kejriwal and AAP will have eggs on their face and no legs to stand as more details would emerge. Conventional wisdom would suggest that CBI must have done its homework well, otherwise it will have to lot of explaining to its political masters. If the agency failed to do so, it should prepare itself to face the wrath of the courts and also to take further beating of its image in public perception. As of now, there is simply too much at stake for the "premier" investigative agency. Perhaps Kejriwal and his colleagues should have shown some patience and wait for contrarian evidence to emerge before going all out against the CBI and Modi-led government at the Centre.
It is surprising that the Delhi chief minister took the liberty to defend his use of unparliamentary language citing his rustic background. For an engineer who is an IIT-Kharagpur alumnus and who once served as an Indian Revenue Service officer to offer such an excuse may be unpalatable for many. That it is from a well-versed script is evident as his deputy Manish Sisodia used the same alibi. It only suggests that Kejriwal has transformed himself into a hardcore politician who is now aware how to swing an adversarial situation into a rhetorical advantage.
Despite the political acumen that the Delhi chief minister gathered in such a short spell of time, there is something he should ponder upon. Many of those on whom he placed his trust with — Jitendra Singh Tomar, Somnath Bharti, Rakhi Birla — all have found themselves in the wrong side of the law. This time, the chief minister has again vouched for another of his trusted lieutenants to the extent that he declared a virtual war against the Prime Minister's Office. One can only hope that Rajendra Kumar's name does not end up clubbed with the names just mentioned.
India
The market unions and CTI mutually decided to keep the retail markets closed on polling day. The high-stakes MCD elections with 250-wards will take place on Sunday and the counting of votes will be held on December 7.
India
A special CBI court at Alipore here yet again rejected the bail prayer of arrested former West Bengal minister Partha Chatterjee and extended his judicial remand till 12 December
India
A case under sections 279 (rash driving or riding on a public way) and 304A (causing death by negligence) of the Indian Penal Code was registered and the offending vehicle has been seized, police said