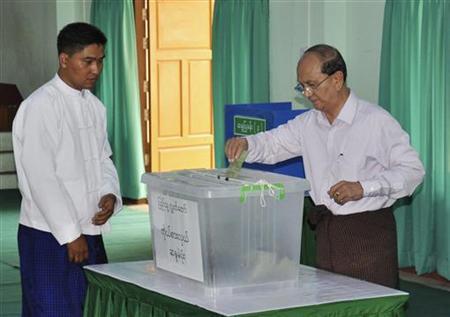 PHNOM PENH (Reuters) - Myanmar President Thein Sein said on Tuesday that landmark weekend by-elections swept by Aung San Suu Kyi's party were carried out successfully, signalling acceptance of a result that will boost the political clout of his party's biggest rival.
"It was conducted in a very successful way," the retired general told reporters during a summit of Association of South East Asian Nation leaders in Cambodia, his first public comment on Sunday's elections for vacant parliamentary seats.
Nobel Peace laureate Suu Kyi's National League for Democracy (NLD) won in a landslide, a victory she hailed as a "triumph of the people" after decades of military dictatorship.
The margin of victory was bigger than had previously been announced. Myanmar's Union Election Commission on Tuesday confirmed the results from the remaining five constituencies, three of which were won by the NLD, giving it 43 of the 45 seats.
The win dealt a crushing blow to a ruling Union Solidarity and Development Party (USDP) created by the former junta that ceded power a year ago to a quasi-civilian government.
However, the participation of the NLD, Suu Kyi in particular, is expected to boost the credibility of a parliament that has been widely dismissed as a rubber stamp for government policies.
The two remaining seats, both for the senate, were won by the USDP and the Shan Nationalities Democratic Party, the UEC said. The NLD will have 37 lower house, four senate and two regional assembly seats.
The international community had previously called for a transparent election in order for economic and political sanctions on Myanmar, a country long starved of foreign investment and rich in natural resources, to be reviewed.
The EU has hinted it may lift some trade embargoes by the end of April while some diplomats say the United States, which has stricter policies, could soon review travel bans on top government officials.
No irregularities big enough to question the fairness of Sunday's ballot have so far been reported.
ASEAN said the poll was "free, fair and transparent" while French Foreign Minister Alain Juppe said his country "salutes the conditions under which this ballot took place".
European Union foreign policy chief Catherine Ashton congratulated the government and voters for their conduct during the election and United Nations Secretary-General Ban Ki-moon said he was "encouraged by the initial reaction of the international community".
Thein Sein's USDP still holds most of parliament's 664 seats, thanks to 2010 elections held while Suu Kyi was in detention and her party boycotted the polls.
Lawmakers on Tuesday told Reuters they expected the upper and lower houses, which went into recess on March 24, to hold their next session in July, which would mark the NLD's debut in parliament after a two-decade boycott.
(Reporting by Prak Chan Thul; additional reporting by Aung Hla Tun in Yangon; Writing by Stuart Grudgings; Editing by Martin Petty and Ed Lane)
Find latest and upcoming tech gadgets online on Tech2 Gadgets. Get technology news, gadgets reviews & ratings. Popular gadgets including laptop, tablet and mobile specifications, features, prices, comparison.
Updated Date: Apr 04, 2012 00:15:07 IST