Mutiny continues in Tamil Nadu Congress: Party struggles to rein in rogue candidate
As the Congress' Tamil Nadu unit battles 41 constituencies in alliance with the DMK next month, one candidate, in particular, is threatening to go rogue.
As the Congress' Tamil Nadu unit gathers up its flagging resources to battle 41 constituencies in alliance with the Dravida Munnetra Kazhagam (DMK) next month, one candidate, in particular, is threatening to go rogue.
The Press Secretary of the Tamil Nadu Congress Committee and former Youth Congress leader S Jothimani has gone public, airing grievances about the Aravakurichy seat in Karur district being denied to her. The seat, which is held by a sitting DMK MLA KC Palanisamy, has been retained by the Dravidian party in the seat sharing agreement.
Speaking to The Lede, Jothimani lashed out at the Tamil Nadu Congress President EVKS Elangovan for not bargaining hard for that particular seat. "All over India, educated youth, youth who do not have any opportunity and are in the lower rungs of the society should come up as leaders – that is the goal of Rahulji," she stated. "That is the reason why many youngsters and I contested in the two previous polls. But, the approach, deeds and the way the seats were shared shows that the TNCC president EVKS Elangovan is completely against the goal of Rahul Gandhi. In this manner, he has done a grave injustice to the growth of the next crop of youngsters to lead the party," she stated.
Jothimani had, by herself, announced that she would contest for the Congress from her native Aravakurichy seat earlier this year, and had even begun canvassing aggressively for votes since January.
She has been steadfast in conducting door-to-door canvassing in the constituency, has visited farmlands to ask for votes and to playgrounds in this area to persuade the youth to vote her in. Jothimani's face also beams from calendars hanging in the homes of many in her chosen constituency.
Jothimani, who had earlier worked closely with Congress Vice-President Rahul Gandhi while in the Youth Congress, said she believed that Rahul would somehow intervene and get her the Aravakurichy seat. She states that she was shocked when the list of 41 constituencies allotted to the Congress was announced and Aravakurichy did not find a mention.
Jothimani has taken the fight to social media, posting in her Facebook account – "There is no change in my contesting and this has reassured the people." Her followers have responded with support – some comments on her timeline are as follows – "If it is a problem for you then it is also a problem affecting us;" "We will not sit back. Just tell us when to come and what to do and we will do it," they declare. Jothimani in turn posted – "Parties and their leaders can be bought with the fraudulent money from selling sand but the people cannot be bought that way. This has given me a sense of peace and surety. With the people's great affection and great support begins my Aravakurichy travel."
The Congress President for Tamil Nadu was to blame for not landing the seat, charged Jothimani. Sources tell Firstpost that when seat sharing talks were on between the DMK and the Congress, DMK leaders pointed to Jothimani's antics. Congress state president EVKS Elangovan is mockingly said to have uttered - "It is just her own enthusiasm."
Jothimani contested from Karur constituency in the 2011 Assembly elections and also in the 2014 Parliamentary polls. She lost both times. This is why she has shifted back to her native Aravakurichy and is campaigning hard before even a promise of a ticket. The DMK is reluctant to part with the seat to the Congress since they already have a sitting MLA there. DMK MLA KC Palanisamy refused to comment on the issue, when contacted.
Jothimani though is adamant. "If necessary, I will contest as an independent candidate," she stated.
It is evident that the state Congress president is fed up. Speaking to reporters on 9 April, EVKS Elangovan said, "When the seat sharing talks started we decided to retain our own seats. So, we got our own 5 seats and Aravakurichy went to the DMK. They refused to part with it. It is a setback for Jothimani but she has to overcome that and work for the alliance candidate without rancour." He has also warned of severe action against Jothimani unless she changes her mind about contesting as an independent.
Jothimani is unfazed in the face of such warnings. "I do not know what he said to the press, but Elangovan has promised to try for Aravakurichy seat for me," she said. "I am waiting for his decision. I will not change my decision for any reason. I have worked here for the last 20 years and as a Congress representative and I have made promises to them. If I back out at this stage it would dent the Congress' credibility," she added.
"As per Rahul Gandhi's direction I have taken a different route, a route of change in politics," she continued. "Instead of the leaders nominating the candidates, the person desired by the people should be made the candidate, as Rahul Gandhi always reiterates. I am the desired candidate of the people of Aravakurichy," she said, dogged in her decision.
The Congress, already weakened with the exit of former Union Cabinet Minister G K Vasan and his loyalists in 2014, is hoping to piggyback on the DMK in the upcoming elections in May. Recently, around 150 members of the Congress who had left with Vasan, rejoined the Congress along with senior Congress hand Peter Alphonse and former MP Viswanathan. They stated that they were unhappy with Vasan's alliance with the People's Welfare Front (consisting of Vaiko, Thirumavalavan and the two Left parties) and would work hard to secure a win for the DMK-Congress alliance in the state.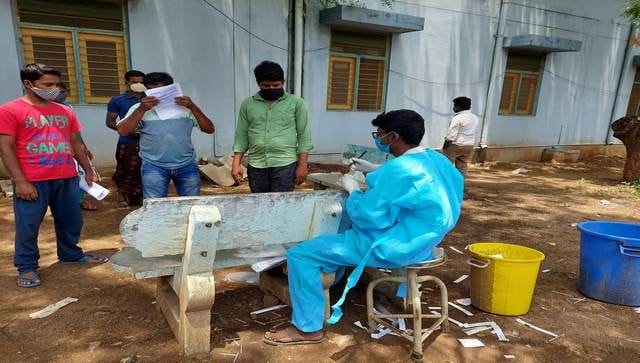 India
India reported 94,052 cases on Thursday, after daily infections fell below 100,000 on Tuesday for the first time since the beginning of April
First Cricket News
The wiry framed left-arm orthodox spinner's rise through the ranks has been possible because of his hunger to learn and soak in as much knowledge as possible like he did during his month-long stint at the CSK.
First Cricket News
Rupa, the first woman president of a BCCI affiliated unit, is a full-time Director of India Cements Limited and has been found guilty of indirect conflict of interest for the company's close association with Chennai Super Kings Cricket Limited (CSKCL).