Mulayam will do justice to me and Akhilesh, says expelled SP MLC Udayveer Singh
Udayveer Singh, a Samajwadi Party MLC and one of the closest aides of Akhilesh Yadav, was on Saturday expelled from the party days after he wrote to SP supremo Mulayam Singh Yadav suggesting him to elevate the Uttar Pradesh chief minister as the party's national president
Lucknow: Udayveer Singh, a Samajwadi Party MLC and one of the closest aides of Akhilesh Yadav, was on Saturday expelled from the party for "undignified" conduct days after he wrote to SP supremo Mulayam Singh Yadav suggesting him to elevate the Uttar Pradesh chief minister as the party's national president.
A decision to expel Singh was taken after the inaugural meeting of the executive committee of SP's Uttar Pradesh unit adopted a resolution seeking action against him for his "derogatory" comments against Mulayam.
"Udayveer Singh has been expelled from the party for six years for his undignified and indisciplined behaviour," state party spokesman Ambika Chaudhary said.
"The party will not tolerate undignified behaviour and indiscipline. It has reached where it is in 25 years because of discipline," Chaudhary said.
In the four-page letter to the party supremo earlier this week, Singh had said, "SP state president Shivpal Yadav and other members of his family have misled you (Mulayam) and hatched a conspiracy against Chief Minister Akhilesh, who should be made party national president and given all the powers."
Singh, whose association with Akhilesh is over three decades old, with both studying in school together, had reportedly also made some comments about Mulayam's second wife and chief minister's step mother, which angered the SP's first family.
Reacting to the development, Singh said he had only put before Mulayam his thoughts about the "conspiracy" against the chief minister.
Asked to comment on his expulsion, he said, "I will give my version only after getting the letter."
Maintaining that he had no regrets about the points raised by him in the letter, Singh said,"Netaji is the patron of the party. I am confident that he will do justice to me and the chief minister."
"Those who used foul language against the party chief are still in the party, but those who are the real well wishers and wrote letters are being expelled," Singh said.
Gaurav Bhatia, SP spokesman, said Singh had crossed the "Lakshman Rekha" in choosing the words he wrote in his letter to Mulayam which also hurt party workers.
"Questioning the leadership of Mulayam Singh Yadav, who is an elected president of the party, was wrong. An MLC cannot dictate who the party president will be. Anybody committing an act of indiscipline has to be punished and this is what has happened," he said.
On Singh's claim that a conspiracy has been hatched against Akhilesh, Bhatia said," These are unsubstantiated allegations".
Reacting to the recent developments in the party, old war horse Beni Prasad Verma, who returned to the party fold from Congress recently, said,"Netaji (Mulayam) is deeply pained. What has happened (Singh's letter to Mulayam) hurt Mulayam Singh's prestige. I would request Akhilesh to get things sorted out. It is time to close ranks (with assembly polls just months away)... there is little time."
Singh's explusion came a day after Akhilesh Yadav skipped a crucial meeting called by state party chief Shivpal Yadav to strategise for the assembly polls due early next year where the latter declared him the party's chief ministerial face.
Though Shivpal, the younger brother of SP supremo Mulayam Singh Yadav, had met Akhilesh to personally invite him to a meeting of SP district and city units presidents, the chief minister kept away, indicating all was not well in the party despite repeated claims by its senior leaders to the contrary. These delegates had later met Akhilesh separately.
Akhilesh, with whom Shivpal is engaged in a running feud over the last few months, had recently made it clear in a letter to Mulayam that he would be proceeding on his 'rath yatra' on November 3 to highlight the development work done by his government, in a clear indication that he would skip that event too.
With the tense stand-off between Akhilesh and Shivpal continuing, speculations about a possible split in the party are rife.
As a crisis-like situation obtained in the party, several top leaders including Beni Prasad Verma, Naresh Agarwal and State Assembly Speaker Mata Prasad Pandey met Mulayam earlier in the day. They were later closeted with Akhilesh in order to bring about rapprochement in the SP's first family.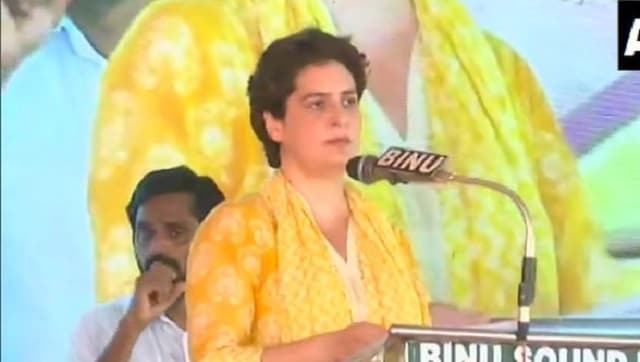 Politics
Had the Congress been serious about women empowerment, it would have made such statements in Punjab, Uttarakhand, Manipur and Goa where it is in serious contest for power in the 2022 elections
India
Arun Valmiki was accused of stealing money on Saturday night from a police station's evidence locker. He died in custody
India
Social media was abuzz with wishes for Ram Navami; however, the occasion is marked in the Hindu month of Chaitra (March-April)