Almost the last thing Mufti Mohammed Sayeed did before his government shifted to Jammu for the winter at the beginning of November was to insist that a Pandit family which has lived in Delhi since 1990 that they come to Srinagar and spend a few days with him. After several telephone calls, he sent their tickets, hosted them on the bank of the Dal lake, and spent quality time chatting with them.
Some of his closest friends, with whom he often enjoyed a hand of Bridge, were Hindus. Some of his most dedicated political workers are Sikhs and Hindus in Ranbirsinghpora, south of Jammu city. For years, his private secretary, both in power and while he was out of power, has been a Pandit. His most trusted aide in the current government was the Pandit, Amitabh Mattoo.
Mufti Sayeed apparently imbibed the idea of a multi-cultural, inclusive India when he was a student at Aligarh Muslim University. His daughter Mehbooba described it as India's 'Ganga-Jamuni culture' on a TV show last summer. The concept has shaped his politics and his administration.
Yet, unfortunately, his politics has sometimes been presented as communal and anti-national. The reason is antagonistic propaganda, another reason is to be found in the complex cross-currents of Kashmir's recent political history. Over the past four decades since the accord between Indira Gandhi and Sheikh Abdullah, a variety of grassroots political activists who were opposed to the dominant National Conference have been drawn to support Mufti Sayeed – as the Abdullahs' most potent opponent.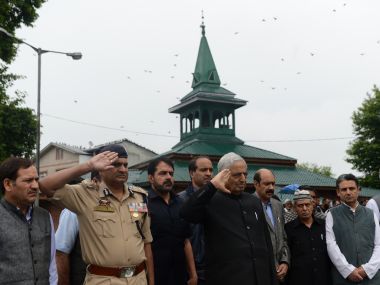 Many of these were secular leaders – for instance, Muzaffar Beigh, who became deputy chief minister when the Congress-PDP coalition was led by Ghulam Nabi Azad from 2005 to 2008, or Nizamuddin Bhat, the party's current general secretary.
On the other hand, a number of those who chose to support Mufti Sayeed against the NC were Islamist. Many of them, particularly in areas of south Kashmir such as Kulgam (which is not far from the Mufti family's native Bijbehara) belong to the Jamaat-e-Islami. Particularly after they, their orchards and their properties were attacked by NC workers following Zulfikar Ali Bhutto's hanging in 1979 (since Abdullah publicly highlighted General Zia-ul Haq's association with Jamaat), Jamaat activists viewed even the most pro-India alternatives as a better bet than the NC.

Since many of the Jamaat cadre voted for their party, the Muftis engaged with them. This actually worked to nationalist advantage, since it opened opportunities to wean back into the mainstream Hizb-ul Mujahideen cadres affiliated with the Jamaat – or those Jamaat-oriented youth who might have been attracted to join Hizb.
It is easy for his opponents to misrepresent Mufti Sayeed's bold and farsighted politics. Indeed, it has particularly suited those who have a vested interest in maintaining the counter-insurgency infrastructure. But this is a grave injustice to him. It stems from a caricatured view of all members of Jamaat in an undifferentiated light. As with any organization, the reality is nuanced – and remains in flux. At least one Jamaat leader, Ghulam Hasan Zargar, was shot by Hizb gunmen in Saali village in south Kashmir for having interacted with Mufti Sayeed.
The ghost of another horrible event haunted Mufti Sayeed's career later: abduction of his daughter Rubaiya from 8 to 13 December 1990, and the release of five militants in exchange for her release. It is true that the release of five was unnecessary. All that the kidnappers wanted was one – Hamid Sheikh. And if they had remained under pressure, they might have released her without obtaining his release.
However, it is also true that the super-sleuth Ashok Patel and governor Jagmohan were dispatched by Mufti Sayeed. Patel, who had destroyed all the scores of Kashmiri militant groups other than Hizb by the time he was recalled two years later, had initially been reluctant to go. But Sayeed, the then Home Minister, had threatened to punish him for insubordination if he did not go.
It is also a fact that militancy was all but over by the time Mufti Sayeed had been chief minister for three years. And it had been achieved with so much finesse that it had not alienated the public at large. The crumbling of Indo-Pakistan negotiations after 2007 and the alienation and gross repression caused during Omar Abdullah's stint in power (2008-2014) combined to bring a new militancy to life in Kashmir.
This militancy has been deliberately projected via the internet during the last summer by forces inimical to peace, as if it has come up as a reaction to Mufti Sayeed. It would be grossly unfair to him to believe this lie. On the contrary, he deserves credit for doing more to restore public confidence in Kashmir than any other Kashmiri leader – and against great odds.
Firstpost is now on WhatsApp. For the latest analysis, commentary and news updates, sign up for our WhatsApp services. Just go to Firstpost.com/Whatsapp and hit the Subscribe button.
Updated Date: Jan 07, 2016 13:21:38 IST