Monsoon Session of Parliament: BJP condemns cow vigilantism with caveats, Opposition looks to take advantage
Sparks flew in Parliament in the first week of Monsoon Session as the Opposition sought to corner government on the increasing incidents of cow vigilantism.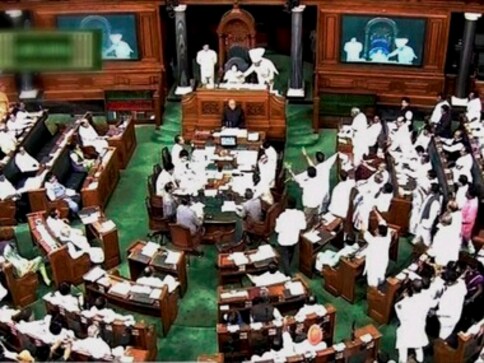 Sparks flew in Parliament in the first week of Monsoon Session as the Opposition sought to corner government on the increasing incidents of cow vigilantism.
However, the BJP counter-attacked, slamming the 'selective amnesia' of the Opposition as a minister raked up the 1984 anti-Sikh riots and the 2002 Godhra train burning.
The ensuing debate saw the BJP top brass talk tough on mob lynchings and violence in the name of cow protection.
Union finance minister Arun Jaitley said the government will show no sympathy to those lynching people in the name of cow protection.
Minister of State for Home Affairs Hansraj Ahir echoed a similar sentiment, saying the Modi government was neither anti-Dalit nor anti-Muslim.
Minority affairs minister Mukhtar Abbas Naqvi also called for a united fight to isolate and tackle those behind such crimes.
However, we would be misquoting BJP leaders if their statements, which were laced with caveats, were not reproduced in full. The strongly-worded condemnations tapered off with 'buts' and the words that followed reflected a balancing act rather than sincere criticism.
Besides, '...in the name of cow protection' is another pet catch phrase in the BJP lingo.
The message is clear: The party top brass have been tasked with distancing the BJP, the holy cow, and the RSS — the fountainhead of right-wing ideology — from cow-related violence. For the party, cow protection and vigilantism are as different as chalk and cheese. However, the Opposition argues that it is a slippery slope and one leads to the other.
Firstpost looks at some recent statements made by BJP bigwigs with all their ifs and buts, clauses and sub-clauses and brings you their unvarnished perspective:
Union HRD minister Prakash Javadekar, responding to the debate of cow vigilantism in the Rajya Sabha, said that mob violence must be condemned but it should not be done "selectively".
"I condemn mob lynching but I do not suffer from selective amnesia like some of our Opposition colleagues," Javadekar said. "In 1984, Sikhs were lynched or burnt alive, at least 3,000 of them. In 2002, Ram 'bhakts' (devotees) returning from Ayodhya were lynched in Godhra. We condemn all such incidents," the HRD minister said.
However, he did not mention the Godhra riots. Interestingly, the two incidents occurred just days apart and the latter claimed many more lives.
He also that said there were 16 mob lynchings in 2012 and 14 in 2013. "Where are the culprits involved in the lynchings in 2012 and 2013? Where are the culprits involved in anti-Sikh riots of 1984?... Very few of them are in jail, rest are roaming free," Javadekar said.
Union finance minister Arun Jaitley told the Upper House that the government would show no sympathy to those lynching people in the name of cow protection. However, the minister said it was also not proper to "eulogise" cow slaughter in states where there was no prohibition on cow slaughter.
"Nobody has the right to take law in his hands. And if somebody does, he should be condemned, arrested and prosecuted. The government's stand is very clear: Nobody is allowed to do that," Jaitley told Rajya Sabha.
"...there is no rationalisation, no argument about hurting of sentiments can be an explanation for the crime," he said, adding that the central government was absolutely committed on the issue and had already sent an advisory to the states.
On the atrocities against Dalits, Jaitley said oppression in the name of caste would not be tolerated and that stringent laws were in place to protect Dalits. "The way we have historically treated one section of our brethren is a black spot in our history. We owe it to ourselves, if not to them, to reverse that process of history," the minister said.
The BJP leaders often referred to Prime Minister Narendra Modi's statement, who also condemned violence by 'hoodlums masquerading as gau rakshaks' three times in three years of power. Here's what Modi said: Killing people in the name of cow is unacceptable. No one has the right to take law into his/her hands."
However, in his condemnation, the prime minister was careful to distinguish between "asli and nakli gau rakshaks".  
"The cow protection which Mahatma Gandhi used to talk about cannot be wrong. But these fake gau rakshaks are not concerned about cows," he added.
Union road transport minister Nitin Gadkari also exhorted media to not link lynchings with the BJP.
Gadkari said that the BJP did not support such people and violence in the name of protecting cows should not have happened.
"This is not our agenda. These are not our people. Those who did it are wrong. We are not with them. Prime minister had condemned (them).We all have condemned (such violence). Why are they being hoisted in our name?" he said. "BJP, VHP, RSS and our government do not support such elements.
Gadkari, however, went on to clarify that cow protection was another matter entirely and said that the party was against cow slaughter. It's a matter of belief, he said, adding that he uses cow urine for therapeutic purposes.
Another statement made by a BJP MLA on the sidelines of the Una Dalit flogging incident, which occurred on 11 July, 2016, is important in its own way, even though the leader who made it wasn't a prominent face in the leadership.
Raja Singh, BJP MLA from Hyderabad, lauded cow vigilantes for thrashing seven Dalit youth for allegedly killing a cow. He said: "Jo Dalit gai ke maas ko le ja raha tha, jo uski pitai hui hai, woh bohut hi achhi hui hai" (Those Dalits who were taking the cow, the cow meat, those who were beaten, it was a very good thing to happen).
Singh said that many members of the community dedicated their lives to the cause of "gau raksha" and extended support to gau rakshaks who took it upon themselves to teach the "galeez" (filthy) Dalits a valuable lesson.
To be fair to the BJP, such comments, in no way can be deemed a fair representation of right-wing ideology and may not reflect the views of other more liberal leaders.
Singh, a local MLA from Hyderabad could be dismissed as a loose tongue. But the fact that Singh's bluster and Modi's parsing between asli and nakli gau rakshaks should give the BJP — and the rest of us — food for thought.
Else, let the voter beware.
Explainers
The early days of March have seen record-breaking temperatures in parts of Argentina. Experts say that while the La Nina weather phenomenon has driven the heatwave, climate change may be making matters worse
Explainers
Accenture, which currently employs over seven lakh people, has said it will cut 19,000 workers, while job portal Indeed has announced a stuff reduction of 15 per cent in 'nearly every team, function, level, and region'
Explainers
Taiwan on Tuesday unveiled six drones developed by the military-run National Chung-Shan Institute of Science and Technology. The self-ruled island, which lives under constant threat of an invasion by China, said UAVs are the key to its 'asymmetric warfare' strategy