Monsoon Session of Parliament updates: PM chooses to go on trips and skip House sessions, says Mallikarjun Kharge
LIVE NEWS and UPDATES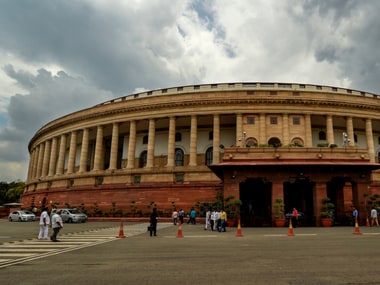 10:06 (IST)

Updates of 26 July, 2018 begin here

15:36 (IST)

Kerala floods: IMD functioning not satisfactory, says CPM leader P Karunakaran

In the discussion on the Kerala floods in Lok Sabha, CPM leader P Karunakaran said the functioning of Indian Meteorological Department is not satisfactory. The cyclone warning is not functioning well. We suffered during Ockhi (cyclone) too, said Karunakaran. "Wanting the floods to be declared a national calamity, Karunakaran said Centre should increase compensation and the National Mitigation Fund should be used. Defence stations must have motorised boats and Indian Air Force should be allowed permanent posting in the districts. The state requires a flood warning station," he added. Members on both sides of the House argue for a bit.

Congress leader KC Venugopal said despite his ill health, he came to the House to speak about the plight of his people in Alapuzzha.

15:31 (IST)

How to recognise a fugitive economic offender?

Who is a Fugitive Economic Offender? A person is declared an FEO if: (i) an arrest warrant has been issued against him for an offence where the value involved is over Rs 100 crore, and (ii) he has left the country and refuses to return to face prosecution. https://t.co/uFeriux8M3

— PRS Legislative (@PRSLegislative) July 25, 2018

15:30 (IST)

10 percent of black money is outside India, says Congress leader Vivek Tankha

Congress leader Vivek Tankha initiates a debateHe where he says only 10 percent of the black money is outside India. He asked what has the government done to get back the money in India and wanted to know why a threshold of Rs100 crores. "Are we not being strict enough for offenders who fall within Rs100 crore offence?"

15:24 (IST)

Minister of Finance Piyush Goyal presents the Fugitive Economic Offenders Bill 2018

The effort behind Fugitive Economic Offenders Bill 2018 is to deter people from running away from India and those who have run away India to force them to come back & submit themselves to the process of law: @PiyushGoyal

— Piyush Goyal Office (@PiyushGoyalOffc) July 25, 2018

14:21 (IST)

Discussion on Fugitive Economic Offenders Bill begins in Rajya Sabha

The Fugitive Economic Offenders Bill aimed at preventing culprits from evading the legal process and fleeing the country.

Debate on The Fugitive Economic Offenders Bill, 2018 begins in the #RajyaSabha. #MonsoonSession

— PRS Legislative (@PRSLegislative) July 25, 2018

14:12 (IST)

Rajya Sabha proceedings begin

Rajya Sabha proceedings resume. In Rajya Sabha, home minister Rajnath Singh spoke on the Rohingya issue and said, "We've issued orders to all states that no Rohingya should possess Indian documents, so that we can talk to government of Myanmar and EAM Sushma Swaraj can speak with the foreign minister of Myanmar."

13:53 (IST)

PM chooses to go on foreign tours and skips Parliament sessions: Mallikarjun Kharge

A Parliament Joint Committee should be made, as it was done in Bofors case, to state facts of Rafale Deal. If it is cheaper, then PM should have stated it during #NoConfidenceMotion. Now statements by BJP are just afterthoughts to mask corruption: Mallikarjun Kharge, Congress pic.twitter.com/kiCAJpWrgF

— ANI (@ANI) July 25, 2018

PM is out on a 5-day tour when the Parliament session is on. The meeting could have been avoided. It was not an inevitable meeting. But, since he has the absolute majority, he chooses to go on foreign tours and skips Parliament sessions: Mallikarjun Kharge, Congress pic.twitter.com/6t66tOP7gC

— ANI (@ANI) July 25, 2018

13:51 (IST)

Govt has a clear stand on Rohingya issue, won't be allowed in India: Kiren Rijiju

The govt has a clear stand on Rohingya issue. They are illegal and won't be allowed to thrive in India: Kiren Rijiju, MoS Home pic.twitter.com/4uq3LsHTjz

— ANI (@ANI) July 25, 2018

13:29 (IST)

Lok Sabha adjourned till 2.25 pm

13:04 (IST)

Rajya Sabha adjourned till 2 pm

12:39 (IST)

Proceedings resume in Lok Sabha, Speaker asks members to remain within limits

​

Proceedings have resumed in the Lok Sabha after a short adjournment, Speaker Sumitra Mahajan said it is natural to feel angry over allegations but you should not remain within your limits.

12:37 (IST)

Fugitive Economic Offender's Bill to be taken up for discussion soon

The Fugitive Economic Offender's Bill which was already passed by the Lok Sabha, is likely going to be discussed in Rajya Sabha on Wednesday. The law will allow authorities to attach personal property of the fugitives with the case against them.

12:19 (IST)

Congress leader Mallikarjun Kharge moves privilege motion against Prime Minister Narendra Modi

Congress leader Mallikarjun Kharge moved a privilege motion against Prime Minister Narendra Modi while Jyotiraditya Scindia moved a privilege motion against defence minister Nirmala Sitharaman. Speaker Sumitra Mahajan said the motions are consideration.

As sloganeering begins, Lok Sabha is adjourned ill 12.30 pm.

12:07 (IST)

On women's safety Venkaiah Naidu says 'Not Bill but political will, administrative skill needed to kill social evil'

In Rajya Sabha on the topic of women's safety, Chairman Venkaiah Naidu said "What you need is not a new bill but the political will, the administrative skill and you can go for kill of the social evil" during the proceedings after Jaya Bachchan raised the issue in the house.

11:56 (IST)

Digvijaya Singh raises issue of Narmada contamination

In Rajya Sabha, Congres leader Digvijaya Singh brought the issue of contaminated water in the Narmada river while Kerala CPM leader Binoy Viswam said that normal life has been affected for the past many weeks due to flooding. Meanwhile, BJP MP Rajeev Chandrasekhar said that Bengaluru lakes are dying due to the apathy of the government. He requested Environment Ministry to intervene.

11:42 (IST)

'PM, home minister and finance minister in both Houses, they have misled nation about 14th Finance Commission'

#EXCLUSIVE | PM, Home Minister and Finance Minister in both Houses, they have misled the nation about 14th Finance Commission. Even BJP minister are now starting to understand the injustice done to Andhra Pradesh: Jayadev Galla, TDP MLA tells @_pallavighosh | #ParlMonsoonSession pic.twitter.com/O8hdAC0YSk

— News18 (@CNNnews18) July 25, 2018

11:41 (IST)

On Adarsh Railway Stations, Piyush Goyal says increasing number of stations would cause delay, isn't feasible

In response to a question on increasing the number of stops in express train routes, railway minister Piyush Goyal said additional stoppages will increase the delay and feasibility would be a big issue. "We will still consider these proposals though," he told Lok Sabha.

11:30 (IST)

In Lok Sabha, MPs complain of poor phone connectivity, call drops

In Lok Sabha, Kerala Congress leader KC Venugopal mentioned the continuous call drops while TMC leader from West Bengal Arpita Ghose said that no connection of BSNL works in South Dinajpur and many such remote areas. The minister said that he will look into it. He added that Airtel and Jio have completely rolled out 4G services. The government-run BSNL is providing 4G in Tamil Nadu and Kerala, we will expand soon, he said.

11:27 (IST)

Chairman Venkaiah Naidu asks members to adhere to time limit

In Rajya Sabha, YSRCP member Vijaisai Reddy apologised for what happened on Tuesday and told the Chair that he wasn't given adequate time. "I am sorry for the incident that happened on Tuesday," he said. Leader of Opposition Ghulam Nabi Azad said whatever happened on Tuesday was unfortunate. Chairman Venkaiah Naidu asked the members to move on and mentioned that members are not adhering to the time limit.

11:19 (IST)

T Subbirami Reddy to miss rest of session owing to ill health: M Venkaiah Naidu

In Rajya Sabha, Chairman M Venkaiah Naidu told the House that T Subbirami Reddy would not be missing rest of the session owing to ill-health. Since, Reddy is known to bring many amendments to every government Bill, Naidu said no amendments in the rest of the session, in a lighter vein.

11:07 (IST)

Congress MP KC Venugopal gives adjournment notice in Lok Sabha over NEET data leak issue

Congress MP KC Venugopal has given adjournment notice in Lok Sabha over NEET data leak matter. (file pic) pic.twitter.com/z8Gw8RDtZe

— ANI (@ANI) July 25, 2018

10:51 (IST)

Centre claiming it has fulfilled 90% of promises made in AP Reorganisation Act 'is misleading': Chandrababu Naidu

Andhra Pradesh chief minister Chandrababu Naidu has asked his MPs to consider moving a privilege motion against Prime Minister Narendra Modi and Union ministers. Naidu said Centre claiming it has fulfilled 90 percent of the promises made in Andhra Pradesh Reorganisation Act "is misleading".

10:47 (IST)

TDP MP Naramalli Sivaprasad dresses up as freedom fighter Uyyalawada Narasimha Reddy in protest

Delhi: TDP MP Naramalli Sivaprasad dresses up as freedom fighter Uyyalawada Narasimha Reddy to protest over the demand of special status for Andhra Pradesh. Sivaprasad has earlier dressed up as a woman, a washerman & a schoolboy among others #MonsoonSession pic.twitter.com/yjcinnHCcL

— ANI (@ANI) July 25, 2018

10:26 (IST)

List of Bills to be taken up for discussion in two Houses

Bills listed for consideration in #LokSabha Trafficking of Persons (Prevention, Protection and Rehabilitation) Bill, Homeopathy Central Council (Amendment) Bill, Criminal Law (Amendment) Bill, Constitution (123rd Amendment) Bill.

— PRS Legislative (@PRSLegislative) July 25, 2018

Bills listed for consideration in #RajyaSabha:
Fugitive Economic Offenders Bill, Negotiable Instruments (Amend) Bill, National Council for Teacher Education (Amend) Bill.

— PRS Legislative (@PRSLegislative) July 25, 2018

10:24 (IST)

TDP moves to file privilege motion against PM, finance minister for 'misleading the House' about special category status

#BREAKING -- TDP moves to file privilege motion against PM Modi and Finance Minister for 'misleading the House' about special category status to Andhra Pradesh; Chandrababu Naidu tells MPs to move privilege motion, directly accusing PM for lying | #ParlMonsoonSession pic.twitter.com/yuMXAM0Cmf

— News18 (@CNNnews18) July 25, 2018

10:22 (IST)

Updates for 25 July, 2018 begin here

18:15 (IST)

Lok Sabha passes The Prevention of corruption (Amendment) Bill, 2018; House adjourned till 25 July, 11 am

18:08 (IST)

Congress behind delay in Lokpal because it failed to become largest Opposition party, says Jitendra Singh

In the Lok Sabha, Union minister Jitendra Singh addressed the issue of delay in the setting up of Lokpal. "The efforts to set up Lokpal are underway. I always avoid to be political in my replies, but please allow me to say that the cause of delay is not the ruling party but the Congress party. This is because it failed to secure the number of seats to be recognised as the majority Opposition party. We had suggested that let us have the leader of the largest party to be member of the committee," he said.

17:58 (IST)

Rajya Sabh adjourned till 25 July, 11 am

17:44 (IST)

Rajnath Singh speaks on Centre's efforts to develop Andhra Pradesh

In Rajya Sabha, Home Minister Rajnath Singh said, "Our government will fulfill commitment by the current and the former prime ministers. We want all states to progress because we believe that unless they all progress, the country won't develop. We do politics for the interest of the country, not just to form the government. We are committed to fulfil the promises made in the AP Reorganisation Act. Even those incentives not mentioned the Act are being given to Andhra Pradesh. We have fulfilled 90 percent of the promises."

17:31 (IST)

'What's in a name?': Piyush Goyal on demand for SCS for Andhra Pradesh


"We care for the people of Andhra Pradesh. The Cabinet made special measures to give support to Andhra Pradesh. We received a response from Chandrababu Naidu addressed to Arun Jaitley dated 24 October 2016, where he says 'I once again thank the Government of India for offering support and assitance to the success of the state of Andhra Pradesh."' Goyal said that Naidu, in his letter, mentioned that the state might have received additional funds through the Centre's efforts.


"What's in a name? The idea is that the people of Andhra Pradesh get benefitted, and that is what the Modi government is committed to," he said.

17:30 (IST)

Manmohan Singh asks Centre to honour commitment to Andhra Pradesh; Piyush Goyal responds

In the Rajya Sabha, former prime minister Manmohan Singh spoke in the Rajya Sabha said that he made the commitment of special category status (SCS) while keeping in view that the revenue generated by Hyderabad will go to Telangana. "I made the commitment after consultation with the then Leader of Opposition Arun Jaitley. I request the government to honour the commitment made in the August House. Commitments made on the floor of the House have to be honoured and fulfilled. I had expected my distinguished successor to fulfill the commitment I had made after consultation with his colleagues," he said.

Finance Minister Piyush Goyal said that the Modi government is committed to implement the Andhra Pradesh Reoganisation Act in totality. He also quoted Singh's words on central assistance, but added that the 14th Finance Commission had also increased the share given to states to 42 percent. Goyal said that the commission provided additional funds, and Andhra Pradesh received the revenue deficit gap. "Suppose we consider a SCS, we may have to reassess the revenue deficit gap and this gap would come down substantially," he said, adding that the state would not have received extra funds with the SCS.

16:52 (IST)

D Raja says Narendra Modi govt should honour promises made by UPA govt
Extending his support for the demand for special status for Andhra Pradesh, CPM leader D Raja said, "I share the agony of the people of Andhra Pradesh. We wanted both states (Andhra Pradesh and Telangana) to prosper without bitterness. The promises given by then prime minister should be honoured and fulfilled by the present government. I was present when the Andhra Pradesh Reorganisation Act was discussed."

16:46 (IST)

CPM MP questions delay in Lokpal

As the Lok Sabha discussed The Prevention of Corruption (Amendment) Bill, 2018, CPM leader Badaruddoza Khan said, "It is a matter of great regret that those expelled by our party on charges of corruption are accepted by other parties. Then how will the corruption be stopped? Our prime minister has zero tolerance, but how will the public trust the government?"

He asked why the Centre was not coming up with Lokpal when other parties had been speaking in favour of it.

16:17 (IST)

Watch: Odisha has been demanding special status since the time of Biju Patnaik, says BJD's Prasanna Acharya

Sh. Prasanna Acharya's remarks|Short Duration Discussion on Andhra Pradesh Re-Organization Act, 2014: https://t.co/KSGnOzrfU4 via

— Rajya Sabha TV (@rajyasabhatv) July 24, 2018

16:09 (IST)

Derek O'Brien says BJP should reflect on why its allies are turning against it

In Rajya Sabha, TMC leader Derek O'Brien blamed BJP's governance for the issues with its allies. "The Shiv Sena and BJP go back 29 years. Today the Shiv Sena is not with them because of the way the Andhra Pradesh Reorganisation Act has been implemented. I think its for the BJP to reflect why somebody who has been with them through thick and thin are questioning them. The Shiv Sena was your largest ally in 2014. You second largest ally is expressing themselves here, and they also brought the no confidence motion," he said.

15:25 (IST)

GVL Narasimha Rao slams TDP govt in Andhra Pradesh over development of investment zones

As the Rajya Sabha held short duration discussion on Andhra Pradesh Re-organisation Act, BJP's GVL Narasimha Rao said, "Two districts in Andhra Pradesh have got National Investment and Manufacturing Zones. The state government has not moved an inch on this since 2015. I have a letter dated 3 July. Is the state government simply not acting? When you have two investment manufacturing zones, which can transform the area, why are they not being worked upon? Is this not special focus for Andhra Pradesh?

"No other state has five industrial cities and two investment manufacturing zones. Look at the inaction. The central govt has informed 27 July 2017 that they are committed to develop another port city in place of Dugarajapatnam Port. You don't act, you don't follow up. You only want to do politics."

14:53 (IST)

Have to ensure both Telangana and Andhra Pradesh progress: Ghulam Nabi Azad

"We have to ensure that both Telangana and Andhra Pradesh progress. Telangana has the advantage of having the capital city however, Andhra is like a newborn child and it requires the attention of the government," said Ghulam Nabi Azad.

14:42 (IST)

Govt deceiving people of Andhra Pradesh: Ghulam Nabi Azad

Azad said that the government has mentioned a special package for Andhra Pradesh on several occasions in lieu of special status, However, they have not fulfilled any promises and they are deceiving the people of Andhra Pradesh, he added.

14:34 (IST)

Lucky to be associated politically with Andhra Pradesh: Ghulam Nabi Azad

Ghulam Nabi Azad said that he is lucky to have been associated with Andhra Pradesh politically. He further said that knowing the history of the Andhra people, they deserve full sympathy from the entire nation.

14:20 (IST)

Lok Sabha is adjourned till 2:30 pm

14:19 (IST)

Rajya begins debate on Andhra Pradesh Re-Organisation Act 2014

As the Rajya Sabha took up short duration discussion on implementation of State Reorganisation Act that led to the bifurcation of Andhra Pradesh, TDP member Ramesh points out the home minister is absent in the House. Congress leader Jairam Ramesh asked who is going to respond on behalf of the government and Chairman Venkaiah Naidu said Rajnath Singh will.

14:12 (IST)

TDP leader slams Centre for "violation of reorganisation Act"

As proceedings began in Rajya Sabha, TDP leader YS Chowdry (TDP) initiated the debate. He thanked 5 crore people of Andhra Pradesh and criticised Centre's "blatant violation of reorganisation Act". He said the promise of Manmohan Singh wasn't honoured and said BJP 's political agenda is "all for power." He also accuses the Centre of violating federal structure of Constitution.

13:49 (IST)

Those talking about lynching incidents are hypocrites, says BJP MP Meenakshi Lekhi

Earlier, BJP MP Meenakshi Lekhi told Lok Sabha that those talking about the lynching incidents are hypocrites and select such incidents for protest. She said that those who are protesting have forgotten the anti-sikh riots of 1984 and the alleged lynching of karsevaks in 2002. Why was there no uproar on the killing of a Dalit boy in Rajasthan for marrying a Muslim girl, she asked.

13:36 (IST)

Lok Sabha adjourned till 2 pm

13:33 (IST)

In Lok Sabha, pension issue is raised

Premachandran brought up the issue of pension being paid by the EPFO.In response, Parliamentary Affairs Minister Ananth Kumar assured him the process would be expedited. MB Rajesh (CPM) said abolishment of UGC will increase political control of higher education, academia and free thought. The academia is unhappy with the government's decision. This is not in sync with federal principles as well as against higher education, he said.

13:23 (IST)

If state govt recommends CBI inquiry into Bihar shelter home incidents, we will do it: Rajnath Singh

If state govt recommends this, we will consider a CBI inquiry: Home Minister Rajnath Singh in reply to Congress MP Ranjeet Ranjan in Lok Sabha who demanded a CBI inquiry over the incidents of rape at shelter home in Bihar's Muzaffarpur pic.twitter.com/r0dUIlDPEr

— ANI (@ANI) July 24, 2018
Monsoon Session of Parliament Latest Updates: On the sixth day of the Monsoon Session of Parliament, Congress leader Mallikarjun Kharge moved a privilege motion against Prime Minister Narendra Modi while Jyotiraditya Scindia moved a privilege motion against defence minister Nirmala Sitharaman. Speaker Sumitra Mahajan said the motions are in consideration. Congress leader Mallikarjun Kharge slams Prime Minister Narendra Modi for going on Uganda trip and missing Parliament session.
On Wednesday, the Trafficking of Persons (Prevention, Protection and Rehabilitation) Bill and the Criminal Law Amendment Bill will be taken up for discussion. The Lower House will also witness debates on Homeopathy Central Council (Amendment) Bill, 2018, Criminal Law (Amendment) Bill, 2018, Constitution (One Hundred and Twenty-third Amendment) Bill, 2017. In Rajya Sabha, Fugitive Economic Offenders Bill, 2018, Negotiable Instruments (Amendment) Bill, 2017 and the National Council for Teacher Education (Amendment) Bill, 2017 will be taken up for discussion.
The Parliament on Tuesday passed an anti-corruption bill that provides for punishment to bribe givers and takers, and extends prior approval for the prosecution to former public officials with Lok Sabha, giving its assent to the law.
On the fifth day of the session, issues such as cases of mob lynchings and the alleged rape and murder of a girl at a shelter home in Bihar figured in both Houses of Parliament. Home minister Rajnath Singh assured action from the Centre on both matters.
The Andhra Pradesh Re-organisation Act was also one of the subjects discussed in the Rajya Sabha, where the Telegu Desam Party (TDP) and other Opposition parties asked the BJP-led government to honour its assurances in letter and spirit by granting special category status to Andhra Pradesh. However, the home minister virtually ruled out granting the special status to the bifurcated state, saying that the Centre was providing more assistance than what it would have got under that tag.
The Prevention of Corruption (Amendment) Bill, 2018, passed by the lower House after a reply by Minister of State for Personnel, Public Grievances and Pensions Jitendra Singh, was passed by Rajya Sabha last week.
The bill makes specific provisions related to giving a bribe to a public servant and giving a bribe by a commercial organisation, and it also modifies the definitions and penalties for offences related to taking a bribe, being a habitual offender and abetting an offence. It also provides for imprisonment from three to seven years, besides fine, to those convicted of taking bribes. Bribe givers have also been included in the legislation for the first time and they can be punished with imprisonment up to seven years or fine or both.
In his reply, the minister said the bill provides safeguards to officers who perform their duties with honesty. "We have brought amendments so that honest performing officer does not get intimidated or his initiatives get killed," he said. Jitendra said the "historic legislation" has provisions to ensure speedy trial in corruption cases.
Noting the ideal situation is when the nation and society become incorruptible, he said, "But maybe we are yet to evolve to that level of evolution. To be fair, 70 years is a very small life span in the history of a democracy or a nation. We are still evolving and when we evolve to that level of incorruptibility, then we will not require a legislation like this or any further amendments."
Referring to a delay in appointment of Lokpal, Jitendra blamed Congress, saying it did not get enough seats for its leader to be recognised as the Leader of Opposition in the Lok Sabha.
The Leader of Opposition is a member of Lokpal selection panel. Jitendra said the government had sought to include the leader of the largest Opposition party in the meetings concerning appointment of Lokpal. Many members who took part in the debate stressed on the need for electoral reforms to curb corruption.
With inputs from agencies
Updated Date: Jul 26, 2018 10:10:21 IST