Modi's swearing-in: Why Nawaz shouldn't expect chicken biryani
The banquet being hosted at Rashtrapati Bhavan on Monday evening for SAARC leaders, including Pakistan Prime Minister Nawaz Sharif, will not have chicken biryani on its menu. However, several chicken dishes and other non-vegetarian delicacies will be there.
Dinner diplomacy can at times be imbued with politics. In any case, there is hardly any India-Pakistan engagement which is without diplomatic and political symbolism and this time too it is not going to be any different.
The banquet being hosted at Rashtrapati Bhavan on Monday evening for SAARC leaders, including Pakistan Prime Minister Nawaz Sharif, will not have chicken biryani on its menu. However, several chicken dishes and other non-vegetarian delicacies will be there, sources familiar with the banquet arrangements told Firstpost on Sunday evening.
It is, however, not clear whether the Rashtrapati Bhavan staff has received clear instructions from someone on behalf of Narendra Modi or whether Rashtrapati Bhavan has decided on its own to play politically correct or whether the hospitality staff of the Rashtrapati Bhavan has genuinely left out chicken biryani from the menu without pondering over the political import of this particular dish.
On 13 May 2013, Narendra Modi, who was then only the chief minister of Gujarat and four months away from his eventual anointment as the BJP's prime ministerial candidate, had ridiculed the UPA government for serving chicken biryani to Pakistani leaders even as Indian soldiers were being beheaded by Pakistani troops on the Line of Control. Modi made this remark in a video-linked hour-long address to Indian community in 20 American cities in an obvious reference to the then Pakistani premier Raja Pervez Ashraf's private visit to Ajmer.
Modi repeated the chicken biryani jibe as the BJP's prime ministerial candidate at a rally in Baghpat (UP) in March this year.
On Thursday when India was awaiting Nawaz Sharif's response to Modi's invite, Congress leader and former union minister Shashi Tharoor had mocked Modi by remarking thus: "If Nawaz Sharif does accept the invitation, let's hope Narendra Modi will serve him chicken biryani!"
This is why and how chicken biryani has got transformed from a culinary item into a political issue. So, while there would be no chicken biryani as such at Monday's banquet, the Rashtrapati Bhavan has ensured a rich spread of non-vegetarian (and vegetarian) dishes from many SAARC countries.
Incidentally, it is a bit of oddity that though SAARC leaders are coming on the invite of Modi, the banquet in their honour is being hosted by President Pranab Mukherjee where apart from foreign dignitaries and their delegates newly-appointed ministers would also be among the 100-odd invitees.
The reason for this is logistics, not security issues. Sources said the suggestion for keeping the banquet venue as Rahstrapati Bhavan had come from Modi himself. The idea was that since the inauguration ceremony will conclude only around 7.30 pm (just about the right time for meals for foreign guests), it would be better that foreign dignitaries are ushered straight into the banquet hall in Rashtrapati Bhavan.
Moreover, apart from inconvenience to foreign dignitaries, keeping the banquet venue at Hyderabad House (where PM would have hosted the banquet) would have caused inconvenience to the people of Delhi as the entire route from Rashtrapati Bhavan to Hyderabad House would have to be closed several times during the peak hours.
Three Ladies In-charge of Hospitality
Incidentally, the arrangements for Modi's oath-taking ceremony and the banquet at Rashtrapati Bhavan on Monday are in the hands of three ladies: Omita Paul, press secretary to president Pranab Mukherjee, Ruchira Kamboj, a diplomat, and Gayatri Kumar, joint secretary to the President.
Kamboj, the former Chief of Protocol, has been specially roped in for lending her expertise for overseeing the arrangements for foreign dignitaries. The dynamic lady, currently India's envoy to UNESCO in Paris, has vast experience in diplomatic protocol. In the past three years she was the vital cog in the wheel for making all arrangements in several high-profile major international events like BRICS summit, Asia-Europe Meeting (ASEM) and IOR-ARC (Indian Ocean Rim Association for Regional Cooperation) that were held in New Delhi.
The three ladies' major challenge is that it is for the first time that such a huge foreign dignitaries-studded gathering is expected at the Rashtrapati Bhavan on Monday. More than four thousand people are expected to attend Modi's swearing-in ceremony, a record in the history of independent India.
The writer is a Firstpost columnist who tweets @Kishkindha.
India
PM Modi speech Updates: The prime minister announced that the Centre will now be responsible for procuring COVID-19 vaccines starting from next two weeks. Vaccines will be available free of cost for all above 18 years, while, those who want to pay, can get it at private centres, he said
India
Meanwhile, a slew of BJP leaders including JP Nadda, Rajnath Singh and Smriti Irani praised the prime minister's announcements and said the decisions showed the government's committment to the public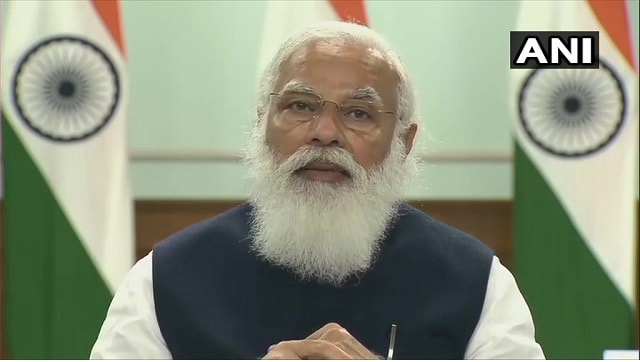 Sports
PM Modi was briefed that a total of 100 athletes have qualified for Tokyo Olympics across 11 sports disciplines and about 25 more athletes are likely to qualify, the PMO statement said.