Modi's road to Delhi: real challenges and illusory ones
Those who say Modi won't find it easy on the national stage are overestimating his challenges, just as his supporters are underestimating it.
If the exit polls are correct, Narendra Modi may be about to storm back to power in Gujarat tomorrow. More importantly, he is likely to overturn national politics in the years to come.
The problem is for political analysts who have always demonised Modi. Having got it wrong repeatedly, on his electability and their hopes for a Congress revival in the state, they are busy floating wilder theories on what could happen now.
Some of these theories include the following: That the Congress wanted Modi to win, so that it can scare the minorities into voting for the party in 2014 ( heard this on TV last Monday); that Modi's first challenge will be in his own party and the RSS (Dileep Padgaonkar says so in The Times of India); that Modi may have won due to Gujarat's communally polarised  social polity, but he won't get anywhere on the national scene (many columnists have said this); that Modi will have problems getting allies for the NDA, and if does get them, they will tie him down (Swaminathan Aiyar says this); that Gujarat is not India (sure); and that minorities outside Gujarat will not accept Modi at any cost (almost everyone's assumption).
There is some validity to all such arguments and we have heard them before.
The real truth is, neither his critics nor his fans may be right on his challenges. They may both be underestimating his strengths and opportunities, and overestimating his challenges.
When you unleash an irresistible force in national politics, there is no way anyone can foretell what the impact will be. For three reasons: one can't presume that Modi will not change his tactics, whether it is towards allies, or party rivals or towards minorities; two, one does not know how his known antagonists will react (among them, minorities or parties dependent on the minority vote); and, three, the doubtful assumption that all other political parties will live up to their professed secularism the way the media expects them to.
But power has its own logic. If the Communists in Kerala can team up with rank communalists from Muslim groups (breakaway factions of the Muslim League in the past, the PDP of Abdul Naseer Madani in 2009), the possibility that every so-called secular party in India will continue to treat the BJP under Modi as an untouchable is laughable.
The history of Indian politics also proves that even so-called principled parties get into opportunistic alliances for electoral advantage (the CPM has tied up with both DMK and AIADMK on different occasions, Mamata Banerjee was with the NDA and UPA, Nitish Kumar is even now in bed with the BJP, and the CPI was actually in Deve Gowda's government).
The only thing that can be said with certainty is that when Modi enters the national scene, the law of unintended consequences will apply. His initial challenges lie within the BJP, but not in the direction everyone assumes. It is not Sushma Swaraj or Arun Jaitley or Nitin Gadkari or the RSS who will try to scuttle his chances, but the powerful CMs of Madhya Pradesh and Chhattisgarh, of whom at least one nurses national ambitions. Of this, more later.
For a start, let's question the assumptions that experts make about Modi and his inappropriateness for the national stage.
First, assuming that there is only one party playing the Hindu card and several vying for the minority vote, the competition will thus be for the regional minority vote. Those who say India is not Gujarat are basically saying that unlike Gujarat, which has less than 10 percent Muslims, in the rest of India the minority vote cannot be ignored.
The fact is, three-quarters of India's Muslims live in seven or eight Indian states – Jammu & Kashmir, Assam, West Bengal, UP, Bihar, Jharkhand, Karnataka, and Kerala. It is here that minority votes matter most.
Every other state has minority populations below that of Gujarat. As for states with high minority concentrations, the fact is these are precisely where there are high chances of a reverse polarisation – especially states such as UP and Assam, and possibly Bihar. In UP, the BJP was the major party all through the 1990s, and in Assam it could well emerge as one. In Karnataka, it has been the ruling party in the last five years. In Maharashtra, it has always been a contender for power along with the Shiv Sena.
This is not to suggest that Modi will try — or should try — to polarise votes along communal lines, but the assumption that Gujarat is a special case is open to question. Every state is a special case, and a lot would depend on how Modi plays his cards in each one of them.
Second, in states with two strong regional parties (like UP and Bihar), will minority votes split or coalesce to vote for one of them? If it is the former, the BJP could benefit. If it is the latter, the BJP could still benefit if one kind of minority consolidation pushes non-minorities to consolidate the other way. So we can't say how Modi's entry will impact voting patterns. The BJP had 55 seats in UP as late as 1998.
Third, the assumption that the RSS and the BJP will now be busy scuttling Modi is just wishful thinking. While one can't rule it out, the fact is both the BJP and the RSS have reasons to acquiesce in Modi's designs for their own reasons. While rival national-level politicians in BJP may be miffed that Modi may emerge stronger after the Gujarat vote, politicians are the first to bow to superior power when it suits them. Ditto for the RSS. The RSS knows the shape the BJP is in, and that no one in the current BJP has the popular following to bring in the vote. The Sangh may not like an uncontrollable Modi as BJP head, but would they want to ruin his chances because of this? Most unlikely. The RSS needs a friendly government in Delhi — and Modi may be happy to oblige if they let him take control of the BJP.
Fourth, one of the lessons from Gujarat is this: we wrongly give caste and other affiliations more value than the people themselves give them. Before the polls, it was widely assumed that Keshubhai Patel would carry the Leuva Patel vote and dent Modi in Saurashtra. We will know if this is true by tomorrow. But the exit polls don't show a huge fallout.
Fifth, Indian demography is changing. India is 32 percent urban, and the middle classes are surging in numbers. Class is becoming as important of caste in urban areas. Indians are looking for governance and this is what Modi promises.
Sixth, Modi is widely criticised for his authoritarian streak. But what his critics fail to see is that Modi is merely doing what every other party is doing: run the party under one authority. Every successful regional party in India — from Mayawati's BSP to Jaya's AIADMK to Naveen Patnaik's BJD to Jagan Mohan Reddy's YSR Congress to Mamata's Trinamool — is a one-person show. The BJP was the sole democratic party that gave its leaders a larger role for doing their own thing. Modi could change that. He will probably make the BJP more like any currently successful regional party, and the voters are not bothered by one-man rule as long as he is seen to deliver.
Seventh, the most important change the next general election will see is the rise of regional parties as the dominant political forces. Both Congress and the old BJP are spent national forces. Modi, as a strong regional power, has thus as much chance of building a coalition of regional parties for grabbing power at the centre as anyone else.
But surely Modi is not going to get a cakewalk. His first challenge will be to convince the strong Chief Ministers in his own party to back his candidature. Modi's real test is not the current national leaders in the BJP, but the state-level powers. It is difficult to see how successful CMs like Shivraj Singh Chauhan in MP, Raman Singh in Chhattisgarh and, possibly, Vasundhara Raje in Rajasthan after the next assembly polls, will toe his line unless he builds a good equation with them. Trying to unsettle them by planting his own cronies in those states will not work.
If Modi meets this challenge successfully, figuring out the allies outside the BJP will be easier. As Indian elections get more presidential in nature in the TV age, Modi has many things going for him.
Subscribe to Moneycontrol Pro at ₹499 for the first year. Use code PRO499. Limited period offer. *T&C apply
Politics
Kerala Assembly Elections 2021 Live Updates: The Union Home Minister also slammed the Left-led ruling alliance LDF and the Congress-led alliance UDF over corruption cases during their regimes in the state
Politics
Azad's remarks come a day after he and other 'G-23' Congress leaders, pressing for a leadership change and organisational overhaul, at an event in Jammu said the party is 'weakening'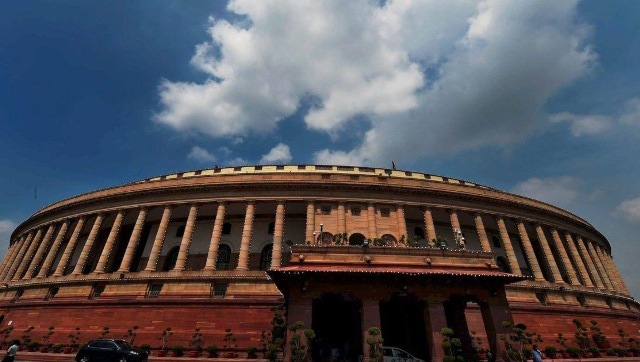 India
The report painted an overall grim picture for the principles of democracy across the world, but the alleged downturn in India's democratic values meant that now only 20 percent of the world's population lives in a liberal democracy