Modi's real pitch was to BJP: Focus on Jammu, Ladakh for Assembly polls
Narendra Modi who visited Leh, Kargil today would be aware that with support in Jammu at an all-time high, the BJP must focus on the four Assembly segments of Ladakh.
When Narendra Modi was elected prime minister, a ray of hope had emerged in the Kashmir valley, with conflict-weary residents of the Muslim dominated valley expressing hope that Modi would deliver an early resolution to the decades-old conflict. Now, well over two months later, that glimmer of hope is fading fast among the people.
"We had thought that his first visit would be to Kashmir, not to Jammu. After all, this is a politically sensitive place," said Kashmiri industrialist Shakeel Qalander. "There were expectations that he might announce some confidence-building measures and remove the Armed Forces Special Powers Act (AFSPA) at least in the city areas. But it appears that he is not even coming close to Atal Behari Vajpee's endeavors for Kashmir."
On Tuesday, Prime Minister Modi become the first PM to visit the state of Jammu and Kashmir twice within a span of a couple of months. But, like his previous visit, he avoided the Muslim-majority valley, at the centre of the conflict.
He arrived in Leh, the capital of the Himalayan region of Ladakh, to inaugurate the 45 MW Nimo-Basgo power project in Leh and the 42-MW Chutak project in Kargil, besides laying the foundation stone for a massive 375-km transmission line that will connect Ladakh to the Northern Grid. He addressed two rallies.
Only last month, Modi had also inaugurated the 240-MW Uri-II Hydro Electric Project (HEP) located near the Line of Control (LoC) in north Kashmir's Baramulla district, and reviewed a special security meeting inside the Army's Badami Bagh Cantonment. On that occasion too, he avoided addressing a public rally in Kashmir.
The BJP is trying to consolidate its promising show in Ladakh in the Lok Sabha elections, while simultaneously strengthening its presence in Kargil district. BJP nominee Thupstan Chhewang won the Lok Sabha seat in Ladakh, a commendable victory for the BJP even if the margin was narrow. But while Chhewang polled 27,429 votes in the two Assembly segments of Leh district, his performance in Kargil was abysmal with 3,275 votes.
That was possibly why the BJP despatched senior BJP leader Mukhtar Abbas Naqvi to camp in Kargil district for the past three days, to ensure an impressive gathering for Modi's first public rally in Kargil.
In the once war-torn district, Modi chose his words carefully. He promised development, jobs and policies to stop the forced economic migration of Ladakh's Muslim majority population.
Modi's speech was well-planned, keeping in mind coming Assembly elections in the state later this year. After all, it will be in Ladakh that the BJP will reap the benefits of Modi's visit when Assembly elections are held.
Sources say the BJP is eyeing the four seats in the Ladakh division. Of Zanskar, Kargil, Leh and Nobra Assembly segments, the BJP already has Nobra, whose MLA was just elected MP. In Leh too, there is a good amount of support for the BJP.
That leaves Zanskar and Kargil, both with the NC and facing anti-incumbency, and also both key seats for the BJP's campaign in coming months. The work to garner votes has already begun in these two seats, especially in Kargil which is the more difficult of the two.
Incidentally, Kargil is a Shia-dominated region and the BJP has already forged relationships with two key clan leaders among the Shias whose support was critical in making Tuesday's large public gathering for Modi's rally possible.
That is clearly why the Prime Minister's visit, even if it was not an election campaign visit but an official one, is important for the BJP which is trying to get a foothold in the Kargil seat, say political observers.
Jammu region, which comprises 37 Assembly segments, is more or less assured of a good performance by the BJP. Apart from Jammu, the BJP strategists are obviously targetting Ladakh's four seats, bringing it closer to the 44-plus seats that it has made its target.
In Kashmir today, Professor Gul Muhammad Wani, Director of the Kashmir Studies Institute in Srinagar, says Modi would perhaps like to come to Kashmir when he has something concrete in his hand. "Kashmir is not a priority for the BJP in terms of electoral arithmetic, Jammu and Ladakh are. ... Only when he is able to move forward on Kashmir he may come to Kashmir."
Wani pointed out that the Foreign Secretaries of India and Pakistan will meet on August 25 to discuss a roadmap for dialogue. "That means the backchannel diplomacy is also working on different issues, and the new government is cautiously taking steps to bring stability in the south Asian region," he said.
The Bharatiya Janata Party (BJP) won three Parliamentary seats from the state of Jammu and Kashmir, out of six. The party had shocked political pundits by winning a vote share of 32.4 percent. Of the votes cast, the BJP received 1.15 million votes.
In the 2014 Lok Sabha elections, the BJP candidate won the Ladakh seat, securing 23,471 and 3,958 votes from Leh and Nobra segments, and 1,936 and 1,339 votes from Kargil and Zanskar.
Political analysts say if the BJP is able to win all the four seats in Ladakh in the coming assembly elections it would move close to its target of 44 plus.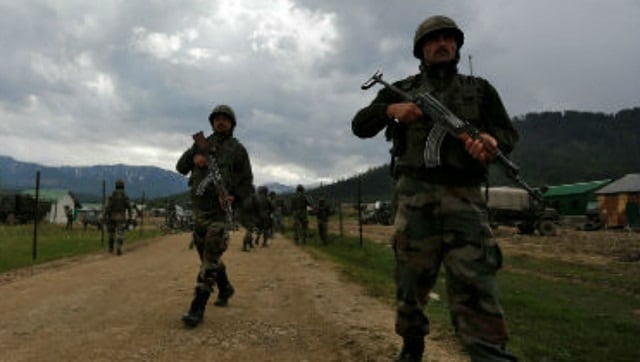 India
The encounter broke out in Budgam's Zolwa village late on 6 January, 2022, a police official said
India
A police spokesperson said the arrested militants were identified as Suhail Qadir Khanday and Suhail Mushtaq Waza, both residents of Pulwama district
India
These include priests, people performing seva, security guards, sanitation workers and others