Modi's rallies don't worry me, AAP can win 50 seats in Delhi: Yogendra Yadav
Aam Aadmi Party leader and eminent political scientist Yogendra Yadav puts on the psephologist's cap to analyse the opinion polls that various agencies have conducted on the forthcoming Delhi Assembly election.
Aam Aadmi Party leader and eminent political scientist Yogendra Yadav puts on the psephologist's cap to analyse the opinion polls that various agencies have conducted on the forthcoming Delhi Assembly election, and why his party is ahead of the BJP.
Here are excerpts from the interview:
How do you think is the mood in this year's election different from what the Aam Aadmi Party encountered in 2013?
It is different in the sense that we face a very different challenge. Last time we were rank outsiders. The challenge was to convince people that the Aam Aadmi Party is politically viable. This time we are a recognised player. This time the challenge was to convince people that we should be taken seriously for governance. Last time we were pure energy without any structure. This time we are energy plus organisation.
Do you think people are convinced that AAP is serious about governance?
I think so, I'd like to believe so. For the last three months the Aam Aadmi Party has gone out of its way to lay out an agenda for governance. It must be for the first time that for any state election, or federal election for that matter, that a party has laid out the blueprint of governance in such meticulous detail. The Aam Aadmi Party has indeed done that.
Though the media hasn't given it as much of attention, we took out a white paper on electricity, a white paper on water, then the Delhi Dialogue detailed reports on women, health, education, youth employment, housing and unauthorised colonies. All these are very unusual initiatives. For the first time, the party has taken out a positive agenda, and I think it has resonated. It has resonated also because we have focussed exclusively on a positive agenda. Our opponents – primarily the BJP – have focussed on a pure negative agenda.
Can you define the BJP's negative agenda?
The BJP's advertisement issued across all of newspapers today morning (it shows Kejriwal swearing in the name of children that he wouldn't take the support of the Congress) is a classic example of how negative you can get. Today's advertisement captures what the BJP has been doing– throwing muck at Arvind personally, showing the Aam Aadmi Party in a negative light, portraying its 49-day rule as a failure.
The trouble is no one buys it. All the surveys have shown that whenever people are asked to assess Kejriwal's government of 49 days, they give it a positive rating. These very surveys also give Mr Modi's government a positive rating. So here we are not dealing with people who hate Mr Modi. What you have are people interested in a positive agenda. It is precisely why this kind of negative campaign doesn't work.
Ironically, BJP is doing exactly what the Congress did to the BJP in the Lok Sabha elections of last year. And we know the results.
Have you analysed the opinion surveys which various agencies have conducted? Have you seen their primary data?
If you take a bird's eye-view of all the surveys together – I mean the surveys which are credible and not those who are known to manufacture results on the table – then the indication you get is that every single survey has Arvind Kejriwal as the No 1 chief ministerial candidate, predating both Kiran Bedi's nomination and also post her nomination. We also have indications that Ms Bedi's ratings have fallen a week after she was declared to be the BJP's chief ministerial candidate.
Third, in each of the opinion polls which have done more than one round of survey, the Aam Aadmi Party has gone up and the BJP has come down. So what you have is an upward trend for the Aam Aadmi Party, a trend which has continued post-Bedi nomination and post-Prime Minister's rally of early January.
Now, for the first time, two credible opinion polls – AC Neilson-ABP and Headlines Today-Cicero – have stuck their neck out and declared that the Aam Aadmi Party has overtaken the BJP. Neilson has actually shown us having a lead of nine percentage points over the BJP. Now a nine-point lead means a tsunami in our favour. Even if you are looking at a more moderate lead – I am not saying the poll is wrong, I hope they are right – but for the sake of analysis, take a more modest figure of 5 or 6 point lead, then in the first-past-the-post system it still means a huge majority for us.
Are you willing to put a figure to this majority?
Oh yes, what you are looking at is 40 plus seats for the Aam Aadmi Party. But don't be surprised if the number of seats for us crosses 50.
Come again?
Yes, five zero, 50, you heard me right. I know this looks unbelievable but do remember what the BJP did in Uttar Pradesh. It got 73. Did anyone even imagine it would get that number?
To my mind this particular election has all the classic symptoms of a wave election. In a classic wave election you can see the whole election tilting in one direction. But it seems only an edge and no more. Every informed political analyst will tell you that such and such party has an edge, but let us not to go over the top, that there are other factors at play. But once the election results come you realise that X, Y, Z didn't mean anything. This is very nature of the first-past-post system.
It is quite evident to everybody that the Aam Aadmi Party has a huge edge, it is obvious from election rallies, it is clear from the response to our road shows.
Don't you feel this lead could be overturned, particularly now that Modi is to address rallies in Delhi and BJP MPs and Cabinet ministers are to carpet bomb the city?
Let me say what worries me and what does not worry me. What does not worry me is the PM's rallies. It doesn't mean the prime minister has become unpopular. I still think he is not unpopular. Opinion polls don't show that he is an unpopular prime minister as yet. But the issue here is – can he translate his popularity in the context of a chief ministerial contest, in which Arvind Kejriwal is there? The prospect of 18 Cabinet ministers and 150 MPs carpet bombing Delhi just doesn't worry me.
So what worries you?
What worries me is the dirty tricks part of it. I suspect the government's unusual control – unusual even for a ruling party – over the media will be used to plant stories against the Aam Aadmi Party, plant stings against it, stories and stings which would ultimately be proved fake, but which could sway the voters in the 72 hours before the polling day. This is what happened last time.
My second worry is the simple, straight use of money and muscle power in the end; money to buy our organisation people. There have been several attempts to approach our workers and most of them said no to their offer. I think huge money will be thrown in. Money will be used for vote buying and liquor, of course. Strongarm tactics could also be used on the polling day, particularly in the outlying areas of rural Delhi. These are things which could affect how I read this election.
Do you think the projection of Kiran Bedi has helped or boomeranged on the BJP?
Finally, it has boomeranged. Purely on paper, she did seem to be the BJP's normal choice. Her popularity rating was higher than that of the best candidate the BJP had, that is, Dr Harsh Vardhan. She also brought her association with the Anna movement with her. But there is enough evidence to now show that she has not been able to stop the BJP's slide. She has, in fact, contributed to it. This is partly because she has found it difficult to negotiate the political environment. Getting media coverage for NGO work is one thing. To be interrogated by the media on politics is quite another. That has proved to be very difficult for her. On top of it, as everyone in Delhi can see, she has found it difficult to negotiate the BJP as a political party.
What about the middle class? Is its alienation with your party over?
There is a distinct moving away of the middle class, even upper middle class, from the BJP. I don't fully understand this phenomenon. But it is true that those who wouldn't tolerate a question to Mr Modi are now themselves asking questions of him. So things are definitely changing.
It may be or may not be because of their disenchantment with Modi. I, personally, don't think that a full-fledged disenchantment with him has set in. It may be more because of the statements that have been coming from the BJP MPs over the last two months. All those extremely irresponsible rhetoric about dharam parivartan, demanding women to have five children, the statue of Godse… But, yes, something has happened to rattle the people about the BJP.
Politics
The West Bengal chief minister addressed back-to-back rallies in Hooghly, Howrah and South 24 Parganas districts, where constituencies are set to go to polls on 6 April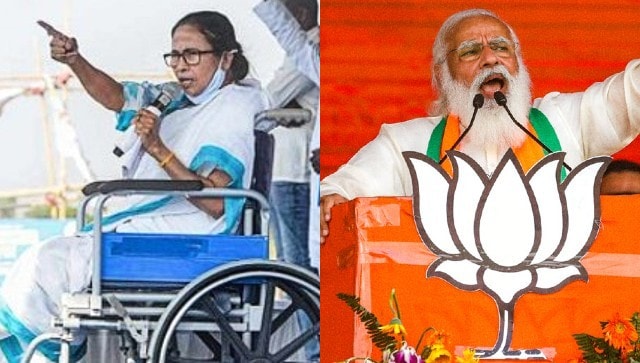 Politics
Addressing a rally in Sonarpur, Modi added, 'When British tried to divide us, Netaji Subhas Chandra Bose said that India is one. Today, Mamata is going against his ideology'
Politics
Forty-four assembly seats are going to polls in the fourth phase of the Assembly polls in Bengal on 10 April