Modi's Gandhi attack in Amethi: Unnecessarily personal
His speech, laced with exceptional and unnecessary vitriol, reminded the larger national audience of the very apparent downside of electing Narendra Modi as their prime minister.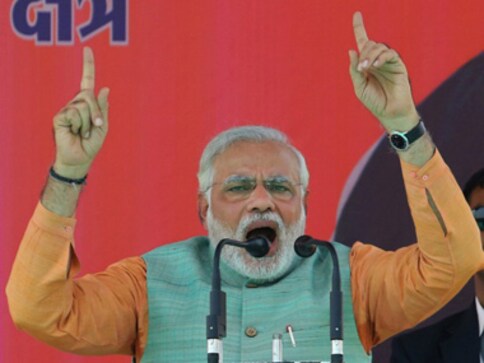 by Lakshmi Chaudhry and Sandip Roy
He came, he saw, he slandered. Dressed in immaculate white under a blazing Amethi sun, Narendra Modi tarred the entire Gandhi dynasty with ruthless precision in little less than two hours. The entire show was an unapologetic, unrestrained show of Modi power, from the giant tent that looked like a spaceship plonked down amidst the fields of rural Uttar Pradesh to the massive, exultant crowds brought in on boleros and buses from around the region, and even as far as Haryana and Gujarat. Call it close encounters of the Modi kind.
This was less an Amethi rally than a pre-victory lap with an upbeat Modi pronouncing the demise of the "maa-beta sarkar."
The much anticipated speech started out on a positive, even good humoured note. Following a flat if enthusiastic Smriti Irani -- who delivered her lines as though she were reciting a rehearsed script -- Modi sprung to animated life from the very first "Bharat Mata ki jai!" The initial part was devoted to an extended and uncharacteristic hard-sell of his "choti behen" Smriti Irani. While Modi usually prefers to sell himself as the candidate on the ballot -- vote for X is a vote for me -- this time around he expended a great deal of energy touting her virtues, and with great personal warmth. "I have sent Tulsi to reduce Amethi's difficulties not to increase Rahul's difficulties," he said, telling his supporters, "I have chosen Smriti, you now need to choose her."
But all this turned out to be just the warm up act -- and one that got a lukewarm response from an audience that cared little about Irani, or the miracles she might achieve in Amethi. They had come from far and wide to see the great man, and to revel in his imminent elevation. Much like their leader, their heart wanted more.
The real show began soon after Modi declared, "Hum badla nahin chahate, hum badlav chahte hain." The cheeky reference to Amit Shah's controversial remarks was soon followed with a 'confession' of why he Modi had come to Amethi: "I have come to make your pain my pain. To share in your sorrow... For 40 years, this family has ripped apart the dreams of three generations. Your dreams have become my dreams that is why I am here."
Then Modi was off and running, talking not about dreams but of the nightmare that is the 'parivar'. He railed, as he has before, at its 'ahankar' (arrogance) that spans the seventh heaven, the looting, the lies, and finally, a new one, the anger. The Gandhi family's 'gusse ki rajnithi', which he illustrated with a series of unverified anecdotes of personal malice. First came the story of Rajiv, who as the president of the Congress party made the Andhra Pradesh Chief Minister cry when he came to receive him at the airport. Then it was Sonia's turn who not only had her men personally lift Sitaram Kesri and throw him out on the footpath, but later refused to allow Narasimha Rao's family to perform his last rites in Delhi. Last came Rahul whose relatively minor sin was to tear up a deliberately unspecified document and declare it nonsense.
There is no doubting Modi's intention, which was to offer the spectacle of his presumption; the presumption of a "chai bechne wala" humiliating the "raj parivar" in their own backyard. The class warfare trope, beloved of old socialist-era Hindi films, played beautifully to his exceptionally large gallery. They cheered each time Modi pronounced 'Sssonia madam' with his now trademark sibilant hiss. And yet even they remained strangely listless when Modi roared, "Pradhan mantri ki pagdi kisne uchhali?" No one, not even the most ardent Modi fan, cared very much about history -- more so a history of allegedly petty vindictiveness as opposed to grand wrongdoing. The Gandhi history of misgovernance, which spans Bofors, 1984 riots, 2G et al, offers far worthier grist for a political rival -- especially one who insisted over and again, "Main lootne ke liye nahin aaya, main maangne ke liye aya hoon."
The truth is that Modi didn't really need to go there. Yet he did because, simply, he could -- hold a giant rally in Amethi and heap personal invective on the Gandhi family.
Any Modi PR extravaganza is far too immaculately plotted to be ever considered a failure, but his Amethi outing contained far more missteps than the Gujarat Chief Minister typically allows himself. The speech, laced with exceptional and unnecessary vitriol, reminded the larger national audience of the very apparent downside of electing Narendra Modi as their prime minister.
Modi can become so intoxicated with his own power that he doesn't know when to say when. Ahankar, as it turns out, is not the sole preserve of the parivar.
India
On 25 November, Ravindra Jadeja conducted a road show to campaign for his spouse Rivaba.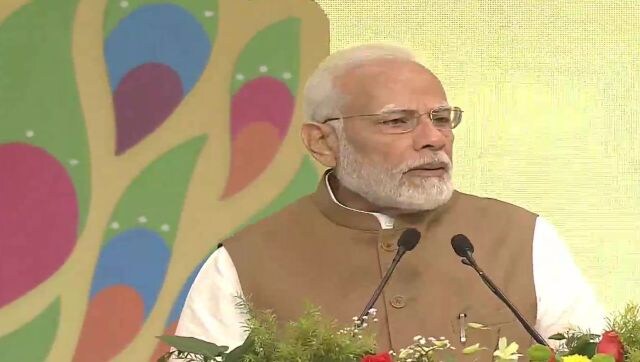 Politics
'In the past, the Congress had used words like 'neech aadmi', 'maut ka saudagar' and 'naali ka keeda' for me. I urge you to talk about development instead of playing this game of 'aukat', he said
Opinion
Already there are Muslim voices on social media expressing discomfort and even disgust about his overtly saffron optics