Modi's first two years: Foreign policy shiniest diamond in BJP govt's crown
Foreign policy has been the most visible dimension of this government's term so far. Modi's international visits have been the most visible manifestation of the BJP government's foreign policy.
Whether it's in high school, college or university, the sophomore year is usually the 'make-or-break' one. And this isn't a phenomenon limited to education. In a series, it's usually the second book, film, album or TV show episode that makes or breaks the author, filmmaker, musician or screenwriter respectively.
Exactly a year ago, similar sentiments were being expressed about Prime Minister Narendra Modi's second year in office and now seems as good a time as any to take a review of his government's sophomore year.
On Thursday, Congress leaders Kapil Sibal, Ghulam Nabi Azad and Mallikarjun Kharge held a press conference to lambast the government and question just what it was celebrating. Amid jibes about acche din, Make in India and jumla, attention was paid to the government's foreign policy.
Foreign policy has been the most visible dimension of this government's term so far.
Sibal went on to take potshots at Modi's foreign visits, stating, "If he was to be sent to the Moon or Mars, we'd all celebrate".
Modi's international visits have been the most visible manifestation of the BJP government's foreign policy.
But before we get into what's worked and what hasn't, it's worth revisiting the BJP's election manifesto ahead of the 2014 Lok Sabha polls and looking at what progress has been made in the areas highlighted, rather than merely looking at 'Modi's foreign policy' in isolation. A little over a page was devoted to foreign policy goals, but the most instructive part was probably the first paragraph:
BJP believes a resurgent India must get its rightful place in the comity of nations and international institutions. The vision is to fundamentally reboot and reorient the foreign policy goals, content and process, in a manner that locates India's global strategic engagement in a new paradigm and on a wider canvas, that is not just limited to political diplomacy, but also includes our economic, scientific, cultural, political and security interests, both regional and global, on the principles of equality and mutuality, so that it leads to an economically stronger India, and its voice is heard in the international fora. (emphasis added)
So where are we now?
Rightful place
What at first looks like a rash of visits up, down and all around the globe, makes a lot more sense if you split the visits up temporally. But first, here are those visits:
Modi's first year in office kicked off with an invitation to the leaders of Saarc countries (and Mauritius) to his swearing-in ceremony. The manifesto had clearly indicated that "(in) our neighbourhood we will pursue friendly relations" and Modi began with a 'neighbourhood first' policy, making Bhutan his first foreign destination and Nepal his third (with the little matter of a Brazilian sojourn for the Brics Summit sandwiched in between). Visits to Sri Lanka and Bangladesh — which came slightly after the one year mark, but we'll allow it — followed and an emphasis on India's neighbourhood was clear. While the signing of the Land Border Agreement between India and Bangladesh was a high point of the government's neighbourhood policy, the breakdown of India-Nepal relations in the context of the latter's new Constitution was a major low point.
The other focus of the first year was the series of high-profile interactions with the permanent members of the UN's Security Council (China, US, UK, Russia and France) and Brics countries (Brazil, China and Russia). The government was sending out the message that India's 'rightful place' was as much with its neighbours, as with the upcoming world powers and indeed, the established global powers.
The second year saw a new focal point. Of course, interactions with these countries would remain on the agenda, but Year Two would see a conscious and multi-pronged — External Affairs Minister Sushma Swaraj and Foreign Secretary S Jaishankar played major roles — outreach to Central Asian nations and the Islamic world. Having set about establishing India's place in the world, it was time to power that vision and energy was high on the agenda during these two sets of interactions. However, India is also home to a syncretic form of Islam — Over 14 percent of India's population is Muslim as per the 2011 Census — and so, reaching out to Islamic countries sent out an important message from the BJP to stakeholders at home and abroad.
A large part of diplomacy and international relations is perception and with stadium engagements with the Indian diaspora, India's global profile got a much-needed shot in the arm.
Reboot and reorient foreign policy
One of the biggest success stories of India's foreign policy in the past two years has been the speed with which New Delhi-Washington relations have improved and more importantly, deepened.
The prime minister is set to make his fourth visit to the US sometime next month.
The process began with the thaw in India-US ties brought about by former prime minister Manmohan Singh and former president George W Bush in 2005. It was, however, the Modi government that pushed the relationship to a new level, prompting President Barack Obama to term it one of the 'defining partnerships of the 21st Century'.
But it's not just Modi's meetings with Obama that have propelled bilateral ties. While those may have been the media-friendly, high-on-optics interactions, Swaraj and Defence Minister Manohar Parrikar, and their American counterparts John Kerry and Ashton Carter respectively have been equally instrumental in ironing out the finer details of landmark agreements (the Logistics Exchange Memorandum of Agreement, for instance). While this shift is historic — considering it completely goes back on India's long-term policy not to align overtly with either of the world powers — it is also, it can be argued, the need of the hour.
China and Pakistan's enduring friendship and the their belligerence on India's borders has necessitated this move and India under Modi has pragmatically moved in this direction. The impact on relations with Russia has yet to become fully clear, but for now, things aren't looking too bad.
On the topic of Pakistan, things began warmly enough — see swearing-in ceremony and the garment exchange that ensued, but soon degenerated into the calling-off of diplomatic talks. The bilateral relationship, however, saw a reboot marked memorably by Modi swinging by Lahore to meet Nawaz Sharif on Christmas Day. And since then, while India and Pakistan have engaged in a lot more dialogue, the usual hostilities remain and New Delhi has conveyed its displeasure to Islamabad often enough — which, to be honest, is a fairly acceptable result. More importantly, it's in line with the manifesto, where the BJP promised to strive for friendly ties with neighbours, "(h)owever, where required we will not hesitate from taking strong stand and steps".
A wider canvas
It's all well and good to connect with other foreign leaders, but what about those people who (most of the time) put those leaders in office? All over the world, foreign ministers, ministries and world leaders have taken to Twitter and Facebook to connect with people, share their strategies and disseminate information about their missions.
In India, if there is one department that has understood the importance of social media, it is the MEA, with over 130 Twitter handles, according to an RTI query. Swaraj has a formidable presence online; she has been acknowledged and appreciated for her efforts in helping Indians facing problems abroad with assistance. A career politician, she took over the role as Minister of External Affairs on 2014 and has been using Twitter for over six years now. According to data collected by Twiplomacy, she tweets on an average, twice per day. She is also the most followed foreign minister on Twitter. Swaraj has 4.96 million followers, far ahead of her US counterpart Secretary of State John Kerry, who has only 1.33 million followers.
A simple google keyword search shows you that when you also search for Sushma Swaraj, 'badass' shows up in the suggestions. This is perhaps for good reason — the minister has through various rescue operations shown her mettle in providing Indians abroad with good care.
Just recently, she helped coordinate the evacuation of 29 people from Kerala in Libya. She's helped civilians during the Nepal earthquakes and about 168 Indians held hostage in Iraq last year. Where Swaraj has really excelled is at boosting people's confidence in approaching her directly. Those in distress and their relatives have approached Swaraj on the internet through her Twitter profile and almost always, Swaraj has provided them relief.
For example, an Indian woman in Johannesburg was being held under house arrest, Swaraj immediately sent help. Three workers in Saudi Arabia who were being kept in inhuman conditions were rescued. She helped Yemeni woman Saba Sahwesh and her eight-month-old Indian son during the Yemen crisis. She saved a woman from being trafficked in UAE. She extended assistance to a woman who had lost her passport in Germany. It is not just Indians Swaraj has been helping, her rescue efforts have included Germans, Pakistanis and more. Swaraj has sent out a clear strong message that she is approachable and that she has the solution (and if she doesn't she will figure it out).
Diplomacy, as mentioned earlier, is mostly about perception and Swaraj has been creating the right aura around herself and therefore around the country.
India helped evacuate also Germans out of Yemen. Thank you India! @narendramodi @MEAIndia @SushmaSwaraj

— Michael Steiner (@Amb_MSteiner) April 7, 2015
US spends 10 times as much on its military as India does - but tells Americans in #Yemen to call the Indians if they want a lift out!

— Jon Williams (@WilliamsJon) April 6, 2015
The more cynical among you may point to the fact that it isn't actually Swaraj going out and rescuing people, but that would be to miss the point. Organising the rescue of members of other nationalities sends a clear message that India is a strong country with great resources and it signals that it is in the best interests of other nations to be on good terms with India.
And that's diplomacy done right.
Where next?
Over the next year, one major target for the government will be to reach out in a meaningful way to African countries. South Africa is a Brics member, Nigeria is an important trade partner, Kenya and Tanzania are home to a large Indian diaspora, and so on. Inviting the entire lot of African leaders to one mega-summit was nothing more than a start. It's time to start engaging with them on a deeper level, particularly considering the opprobrium rightly being heaped on India by African envoys in light of the treatment of Africans in India.
A second goal will be to secure membership of crucial dual-technology denial regimes (Nuclear Suppliers Group, the Australia group, the Wassennaar Arrangement and Missile Technology Control Regime) as well as on regional organisations like the SCO. Membership of these groups moves India closer to its goal of getting a permanent seat on the UNSC.
Another goal, although this can be a more long-term goal, will be to collect a chunk of the investments that a variety of countries have committed to India. Here's a small sample: Japan has assured an investment of $35 billion over five years, South Korea $10 billion, China $20 billion, France $2 billion and more.
For now though, the government has been staying the course as far as its manifesto promises are concerned and the expectation is that it isn't likely to stray from this plan any time soon.
India
The leaders voiced their support towards spreading awareness about the ongoing vaccination drive and provided their ideas and suggestions for preventing the third wave, as per the PMO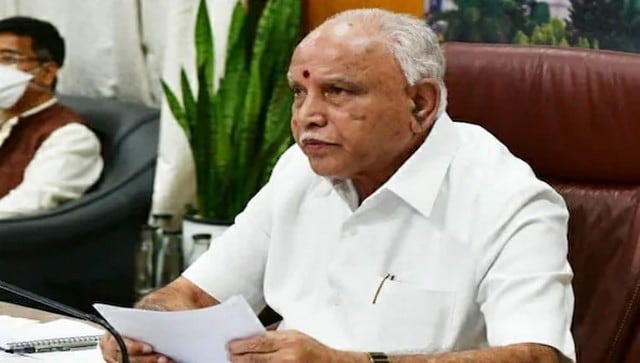 Politics
The 78-year-old Yediyurappa belongs to the older generation of politicians who started their service to the public as a teenager (in his case with the Rashtriya Swayamsevak Sangh) and did not hail from either a political or an affluent family
World
The two sides are expected to focus on ways to augment trade and investment ties, besides looking at opportunities in healthcare, education, digital domains